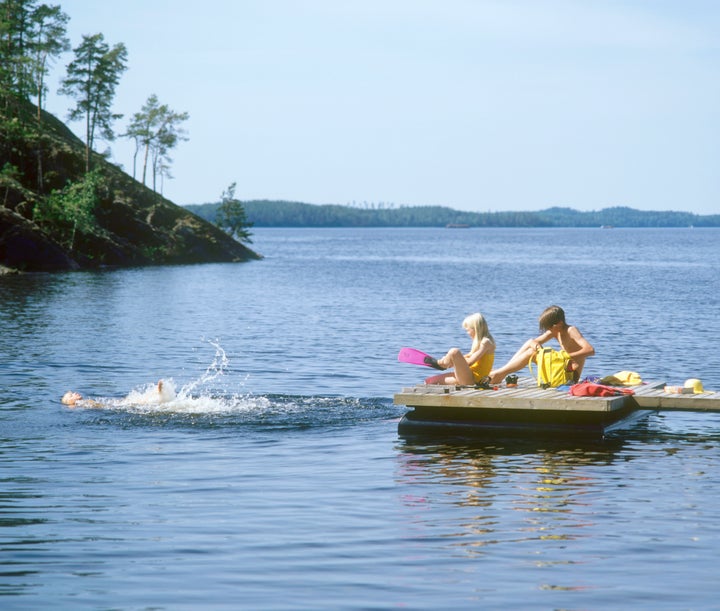 I do not have a reference letter from a lawyer at an international human rights law firm. My resume does not sport impressive summer internships from government agencies or non-profits. Instead, I have a hand-written note that hangs next to my desk that reads, "thank you for giving me the opportunity to be comfortable with myself."
This summer, like pretty much every summer for the last 10 years, I will be heading up to rural Street, Maryland, for a summer of fun-in-the-sun at Habonim Dror Camp Moshava. For the last two summers, I was a regular counselor for elementary and middle school age kids, and this summer I will be returning as one of two technical directors.
There has been a good bit of discussion lately about the potential personal and societal value of working at a summer camp versus getting an internship (paid or unpaid) at a non-profit or government agency. As someone with a deep attachment to my summer camp specifically and to summer camping as an institution, I felt like I had to weigh in on the discussion. I want to note, however, that I write only from my own experiences and I recognize that many summer camps are very different from my own.
I credit my summers as a camper and later a counselor at Camp Moshava (or, as we call it -- "Mosh") as the single most defining part of my life. Those of you who have read any of my past articles know that I have a passion for feminist and labor rights causes. At Mosh, and in the Habonim Dror Labor Zionist youth movement that our camp is a part of, we stress the Jewish value of Shivyon Erech HaAdam, the equality of human value, and as such, we regularly educate our campers about contemporary social justice issues such as sweatshops, poverty, racism, sexism, and homophobia.
We also run a variety of your standard summer camp activities, such as arts and crafts, canoeing, sports, and swimming. With each of these activities, we strive to make every camper feel valued, and that they have a stake in the day-to-day operations at camp. An example of this can be seen in a Huff Post article by one of our soon to be counselors-in-training, Hannah Weintraub.
Working at camp, I get the opportunity to have a fun, meaningful summer and work with some of the most genuine, passionate people I have ever known. The friends who I met growing up at camp and with whom I have remained close to while working on staff are among my best friends in the world, and are the people whom I can regularly trust to challenge my behaviors and help me become the best person I can be. At camp, I have the satisfaction of having an impact on the individual self-confidence, happiness and critical thinking ability of more than two hundred kids each summer, as well as the greater societal impact of producing socially conscious, progressive young adults who are ready to address today's many social ills.
I accept that most summer camps do not have structural elements like the ones we have at Mosh that allow me and my friends to regularly lead activities for our campers about social justice issues and the like. Campers of every age at and at every camp look up to counselors as role models and as older, "cool" authority figures who can provide structure and supervision without the potentially overbearing feeling of a parent. As such, whether it is the senior counselor showing her campers that you do not have to diet and shave your legs in order to feel beautiful and confident, or the junior counselor challenging his campers' usage of homophobic language as negative epithets, everyone who works at summer camp has the ability to seriously impact and change the life of children.
By creating an environment where sharing, support, and collective responsibility are the norm, we can offer a tangible alternative to the consumerist, cutthroat conditions of everyday life. And perhaps most importantly, by providing a supportive and open space for kids to be themselves, counselors can make camp a welcome relief from what may be painful and uncomfortable lives at home and at school. Though in most institutions, children and teenagers are regularly ignored and dismissed, taking the time to listen, care, and encourage them at summer camp can be a truly powerful act.
Do not get me wrong: I think internships can have serious value to college students who are looking for "real-world" experiences and can be a space to do work that has a positive impact on the world. However, I have also heard many negative stories about internships from friends and acquaintances where despite high hopes, they ended up feeling undervalued and bored. I want to challenge my peers to think critically about what the real value of an internship is, both for our own lives and for how our work affects others.
It needs to be recognized that not everyone has the privilege of working at summer camp. Financial barriers for both campers and counselors can make the experience inaccessible for many, and the opportunities found with internships can be important in the larger picture for the long term plans of students. I know that I have an immense privilege in being able to participate in this lovely community, and wish that those opportunities were more available.
I love working at camp. The experiences I had there as a camper and as a counselor have made a huge positive impact on my life, and I know that I have made a similar impact on other kids' lives. I may not make the best professional connections or meet important people at summer networking events. I do not make much money during the summer or earn academic credit. But when it all comes down to it, I am glad my resume says "Camp Counselor" instead of "Intern."
Related
Popular in the Community