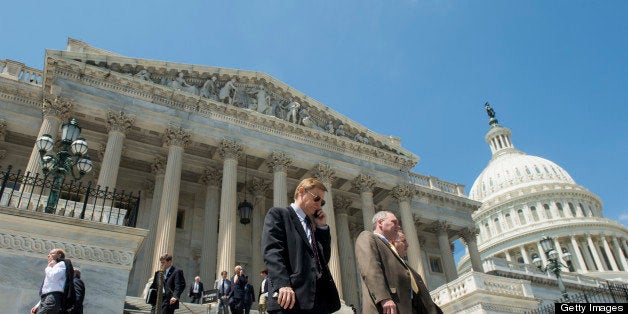 When travelers recently felt the sting of airline delays due to sequestration, Congress quickly acted to provide additional money for air traffic controllers. As more cuts are rolled out over the next few months, a cadre of interest groups will press to restore funding to various federal programs. One group that needs Congress' attention and action right now: the millions of low-income families who rely upon federal housing assistance to keep a stable roof over their heads and are being threatened with losing access to these funds. If Congress does not act, deep cuts to federal housing programs will do more than just delay a vacation or business trip -- they will push thousands of families into needless homelessness. And these cuts will encourage private property owners who participate in these programs to take a pass the next time they are offered a chance to help house the nation's poor.
The Housing Choice Voucher program, which gives low-income individuals and families a subsidy they can use to afford housing in the private market, is the dominant source of federal housing assistance for the nation's poorest households. Because of sequestration, however, housing authorities across the country already have been forced to stop issuing newly available vouchers to households on their waiting lists -- many of whom have been awaiting this help for years -- and are even taking vouchers back from the households that were most recently given assistance. It is estimated that by the beginning of next year approximately 140,000 fewer households will be using vouchers to access affordable housing.
Without this assistance to keep housing costs stable and at an affordable level, low-income households will face an ever-present risk of eviction. Families will be forced to double up with other households, or will wind up in shelters. Children who are forced to change schools will fall behind. Parents who lose access to public transportation will lose jobs. Both physical and mental health will suffer for the whole household. Family members will be separated as they struggle to find a way to stay off the streets. And those families who do manage to find a way to keep their homes will have to sacrifice other necessities such as utilities, food, and medicine.
The nation's public housing resources are also threatened by the impact of sequestration. Cuts to the public housing operating and capital funds will mean the further deterioration of a housing stock that is already experiencing a severe backlog in addressing capital needs. At some point deferred maintenance cannot be undone, and we will lose these housing units dedicated to serving low-income individuals and families forever. Sequestration is doing long-term damage to our ability to meet the need for low-income housing -- a need that already outpaces the assistance that is available by more than 8 million households.
Even as sequestration pushes more low-income families who rely on housing assistance toward homelessness, it will also deprive local communities of the homeless assistance funds that they use to keep people housed in times of crisis and to move families from shelters into permanent housing.
Furloughs of our nation's civil servants will be tough to be sure, but homelessness creates far greater burdens -- not just for the families that experience it, but also for the communities where they live. The debate over sequestration needs to address restoration of funding for the rental assistance programs that keep millions of Americans in stable housing.
REAL LIFE. REAL NEWS. REAL VOICES.
Help us tell more of the stories that matter from voices that too often remain unheard.