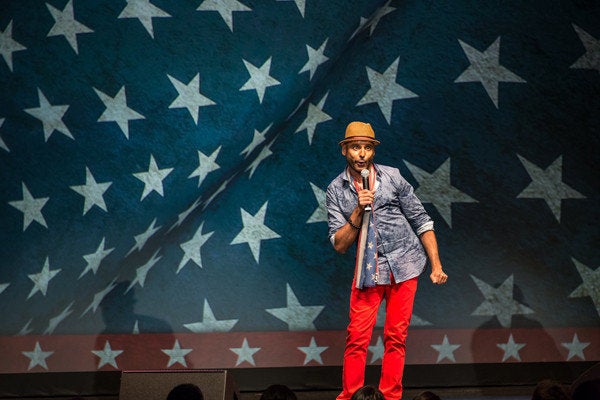 I began my career in stand-up comedy at an inauspicious time, by taking a class at the Manhattan Comedy School on the evening of Sept. 10, 2001. The morning after my class, New York City and the whole world looked like a completely different place. It was impossible to even comprehend the impact of what had happened at that time. But that night began my journey as one of the first openly gay South Asian stand-up comics, which has taken me through both success and failure, and through no small amount of discrimination and adversity. And it will soon culminate in what I feel is one of the greatest moments of my career: a featured role in the upcoming Showtime special Pauly-Tics, airing nationally on Showtime on the evening of Oct. 26. This is my story.
Back in 2001 you didn't see many South Asian faces in stand-up comedy; this was before comedians like Aziz Ansari became household names. I was certainly one of the first faces to hit the circuit who was both gay and South Asian. I remember bombing in front of an audience at the Manhattan club Don't Tell Mama, where the booker subsequently told me, "It's because of the way you're dressed. They think you look like a terrorist." I was wearing camouflage as a fashion statement.
And although gays, LGBT people overall and South Asians have all become far more visible on television in recent years, LGBT South Asians are all but nonexistent. If you're South Asian you could be cast as a cab driver, a terrorist or maybe a doctor. But I somehow doubt that anyone would have considered casting a South Asian actor as one of the gay dads on The New Normal.
I guess that explains why it took me years to get the courage to pursue an entertainment career. Having grown up in Kolkata and New Delhi and experienced severe bullying there, I was a confused, depressed and even suicidal teenager. I had the opportunity to escape from India in the 1980s when I got a scholarship to attend a renowned international high school in Wales. I then tried to excel in academics, as that's what my peers were doing, and was what I thought I had to do to gain any sort of respect within the Indian community. I graduated from the London School of Economics and attempted a Ph.D. in economics at the University of Chicago. Failing miserably at the Ph.D., I moved to Los Angeles and finally started coming out as a gay man. Petrified at the thought of what would happen to me as an out gay person in India, I got a job as a market research analyst at Blue Cross and had them sponsor me for a green card. That was the extent of my American dream.
I continued in the corporate world and steadily moved up the ranks and ended up working for prestigious blue-chip companies like Booz Allen and Deloitte Consulting. Although successful on the outside, I felt like I was dying on the inside, stifled by a white, heteronormative corporate world of rigid suits. Was I ever going to be who I was really meant to be? After much pain and soul searching, I began exploring what really made me happy and finally decided to take the stand-up comedy class.
Fast-forward to February 2008. I had a couple of specials and an award from MTV's LOGO channel under my belt and was auditioning for 3,000 potential college bookers at the National Association of Campus Activities in St. Louis, Mo. This was a hopeful time for the country. Obama was close to winning the presidential nomination and was likely to become the president. I was inspired by being a double minority. As both a South Asian and a gay man, I felt that I, too, could have an impact on the history of the country. I killed it in front of that audience and landed bookings at over 150 college campuses all over the country. I was soon traveling around the country exposing students in red states, blue states and purple states to the experiences of a South Asian gay immigrant. And with these students, I experienced the elation of watching a man of color be elected president for the first time.
I built an international following from these performances and toured India, the Caribbean, the Middle East and South Africa, performing for mainstream audiences of color, and pushing boundaries; no doubt, they had never seen themselves represented by an out gay person before. But despite all my success, I still was unknown to American television viewers. The recession hit, we all suffered, and I was wondering whether to give up on the dream. The entire industry shrank, and it seemed impossible to get to the levels of success I had dreamed of. The triumph of hope that was Obama's election seemed a fading memory.
This year was one of the toughest I've experienced. My closest friend in the world, a gay Pakistani whom I had known since college, suddenly passed away of untreated AIDS. Denial and shame had kept him from getting himself tested and getting the support he needed to live a healthy and proud life. He passed away on Feb. 15, my birthday. This was what lack of visibility and self-expression could do to my community. A few days after his death I auditioned again for the same conference of 3,000 college bookers that I had won over in 2008. I had a terrible set and walked away without a single college booking. In all my emotions I felt so defeated and was tempted to give up and resign.
I decided to take some time off and went through a period of self-reflection and self-examination. What I realized was that whatever impact I had made on the world, in my own way, was still valuable, and that I can have the freedom to create what I want in any way I want to and define "success" how I want to. I realized that my failures and the obstacles I had faced were were all just part of the journey that is show business -- and the journey that is trying to inspire people. The bigger your goal, the greater the obstacles in your way.
As soon as I came to that realization, I got back into action . And as soon as I got back into action, I got a call from my agent, who had been approached by the comedian Pauly Shore. One thing led to another, I performed at a taping of the Pauly-Tics show in D.C. in June, and thus my television debut was set.
I'm one of the first out gay South Asian comics, and I know that I will not be the last, because amidst the jokes and laughter, I know that I can and will inspire someone else -- an LGBT person, a South Asian or anyone who's never seen someone like himself on television before -- to realize that no road is closed off. Including comedy.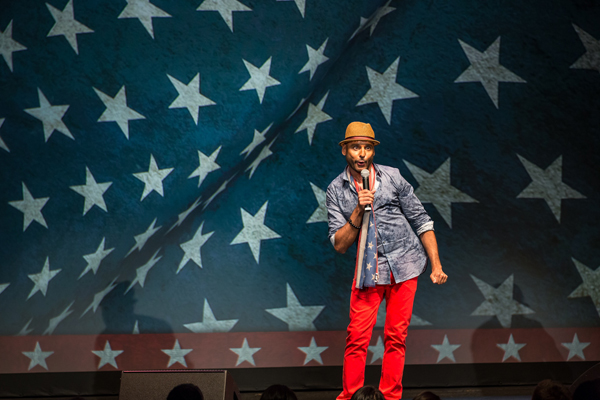 REAL LIFE. REAL NEWS. REAL VOICES.
Help us tell more of the stories that matter from voices that too often remain unheard.