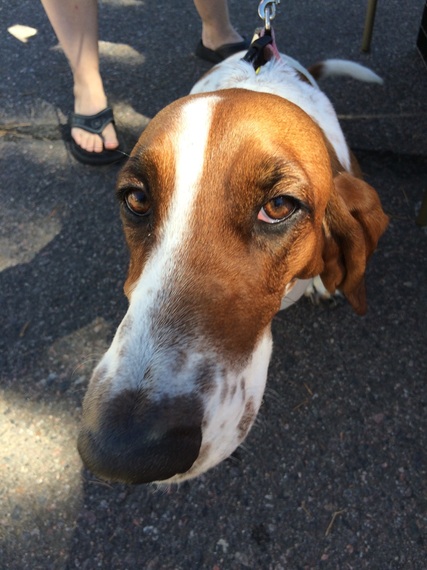 Recently I had a conversation that broke my heart, then mended it and ultimately made my day. I was speaking with Denver resident Theresa O'Connor, who has faced many challenges in her life. She told me she survived a childhood in which she and her pets were abused, so as an adult, "I love my dogs with my life." But after her husband became disabled in 2001 and she had to stop working to care for him, it became a challenge to feed her three beloved dogs Bella Amor, Jazzi and Boss. Since food stamps don't cover dog food, she began buying human food and cooking it for her dogs - while going hungry herself.
"Then I came across the Colorado Pet Pantry," she said through tears. "They've really helped me a lot. They are so good to me and my dogs. I appreciate them and I thank God for them, I mean it ... when my dogs are happy, I am happy."
The Colorado Pet Pantry is a Denver-based nonprofit that partners with human food banks five times a month to distribute dog and cat food to local homeless and low-income people who need help feeding their pets. In 2014, the nonprofit distributed 30,553 pounds of pet food to 1,500 families to feed 3,296 pets. It was founded in 2013 with seed money from the nonprofit PawsCo by marketing professional Eileen Lambert, who says it's a labor of love.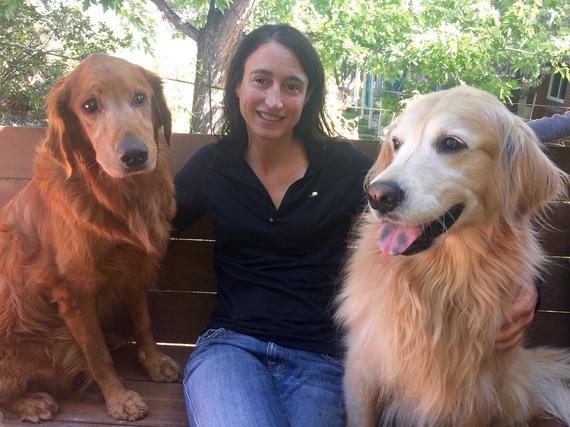 "It's a lot of work but it's a lot of really good work," she told me.

The Colorado Pet Pantry's warehouse is stocked with donated kibble and cans of food. There's nothing wrong with the pet food; it's just not sellable. Pet stores donate ripped kibble bags, food near its expiration date, and products from brands they no longer plan to stock. And pet food companies make large donations when they make a packaging change. This summer, Redbarn Pet Products donated a whopping $130,000 worth of dog and cat food simply because they were changing their logo. (Colorado Pet Pantry organized the distribution of the food to 20 nonprofit animal organizations across the state due to lack of warehouse space for 22 pallets of food.)
"We're just giving this food a place to go," Lambert said. "I always say, 'You need food, we have food' - it's as simple as that."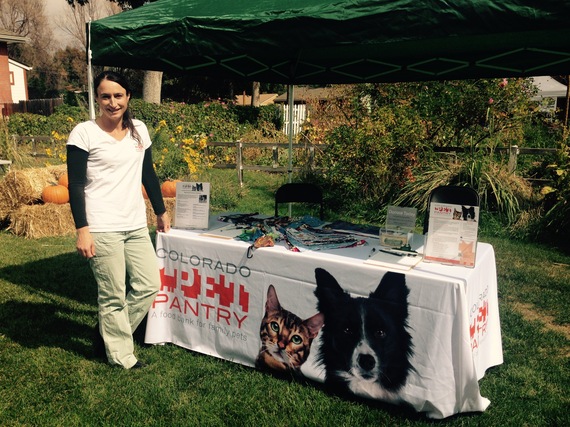 In doing so, the program keeps animals from being relinquished to shelters, saving lives as well as the hundreds of dollars it typically costs a shelter to rehome a pet.
"What we really want to do is help families who are temporarily in a jam - someone loses a job or you have some medical bills," she said. "Our whole goal is to keep animals in the families that love them."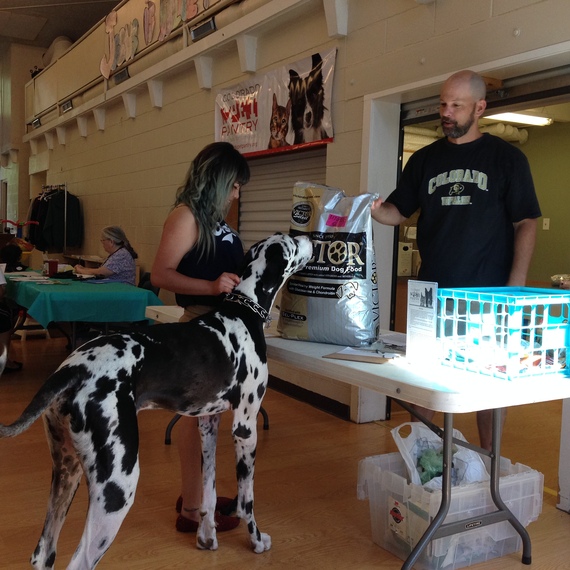 The Colorado Pet Pantry's model discourages dependence on the program by permitting clients to visit once every two months, and not providing food for pets acquired after becoming a client.
"Just like a human food bank is supplementary, we are supplementary. We don't want to enable," she said before noting, "No one wants to go to a food bank longer than they need to."
Cinda Gillilan, MSW, PhD, said she started volunteering with Colorado Pet Pantry after recognizing its importance to the community. She works for a nonprofit that provides affordable housing, and realized residents were taking tuna and canned chicken from the emergency food pantry to feed their cats. When she asked a disabled senior citizen if she was having trouble feeding her two cats, the woman responded tearfully, "I have to make sure I feed my cats. They're the only family I have."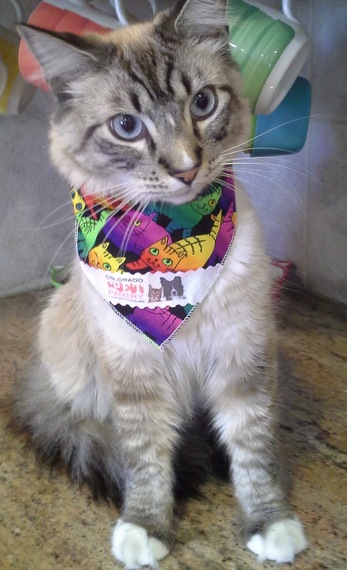 "It really touches your heart," Gillilan said. "We've got two dogs, and I can't imagine what I would do. When times have been tough, the dogs have eaten better than we have. And that's exactly what my seniors were doing."
Gillilan told me it's wonderful for her clients to be able to keep their pets because it makes them more accountable for their own health - they have to "stick around" to be able to care for their animals. And it gives them a common interest to discuss. She shakes her head at detractors who claim low-income people shouldn't have pets.
"We bond with pets the way we bond with people, and we love them just the same. And the benefits of having those relationships are huge. Anything that can help people feel hopeful gives them that little bit of oomph that they need to keep going when they're in those situations. When you really love your animal and you end up in a situation like that, your love for the animal doesn't change. You do what you have to do."
So she finds it incredibly rewarding to volunteer on distribution days for the Colorado Pet Pantry and meet the people and pets in line for food.
"If you have a pet and love a pet, being able to help somebody keep their pet and love their pet is just an amazing feeling."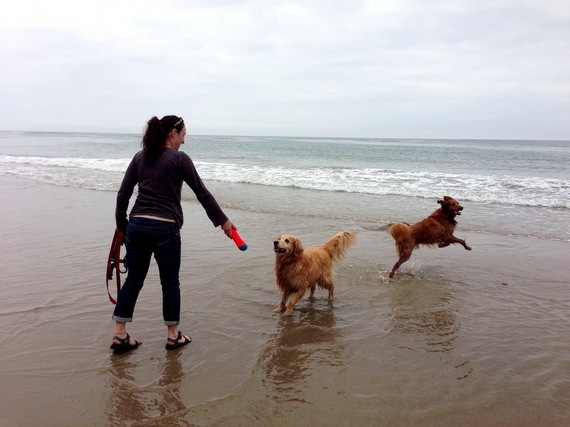 Popular in the Community