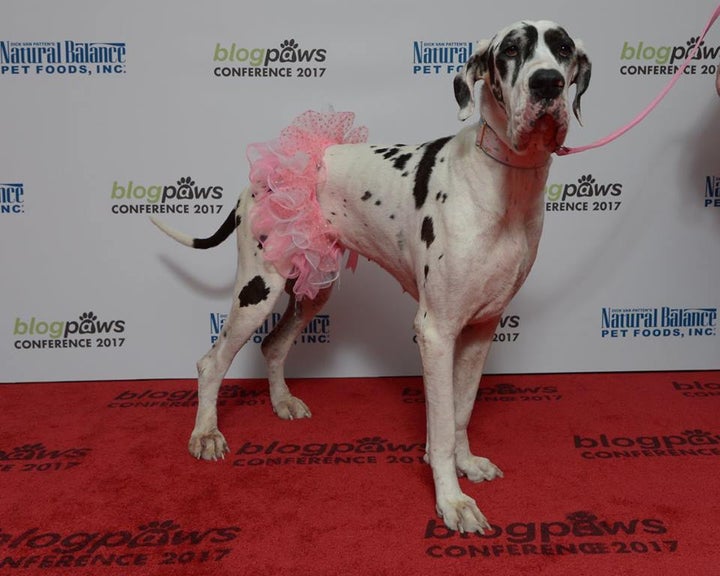 I just got back from Myrtle Beach, and I'm still glowing from the experience – not from relaxing in the sun on the beach, but after spending three days indoors at the BlogPaws Conference, an annual gathering of pet bloggers.
As president of the Dog Writers Association of America, I'd been invited to speak on a panel of "content experts" about tips for bloggers who want to become professional journalists. I wasn't sure what to expect from the conference, but I figured at the very least, I'd meet lots of cute cats and dogs.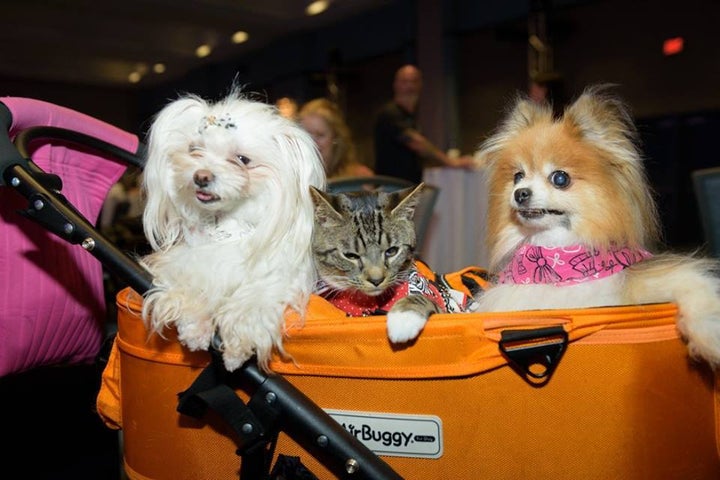 The animals proved to be an excuse to meet interesting people. Immediately after checking in at the registration desk, I saw dog ears sticking out of a stroller and made a beeline to investigate.
"This is Bowie. He's deaf," his handler told me.
She turned out to be Christina Lee, the founder of Deaf Dogs Rock, which helps deaf dogs get adopted. Her blog shares resources for people with deaf dogs and ways they make wonderful pets, like that they "hear with their hearts."
"Deaf dogs used to be euthanized right away, but now shelters are reaching out to us," she said. "We sponsored over a hundred into rescue last year."
The next dog I met turned out to be a former stray rescued during the Sochi Olympics. I was already feeling inspired by the time I hit the opening reception.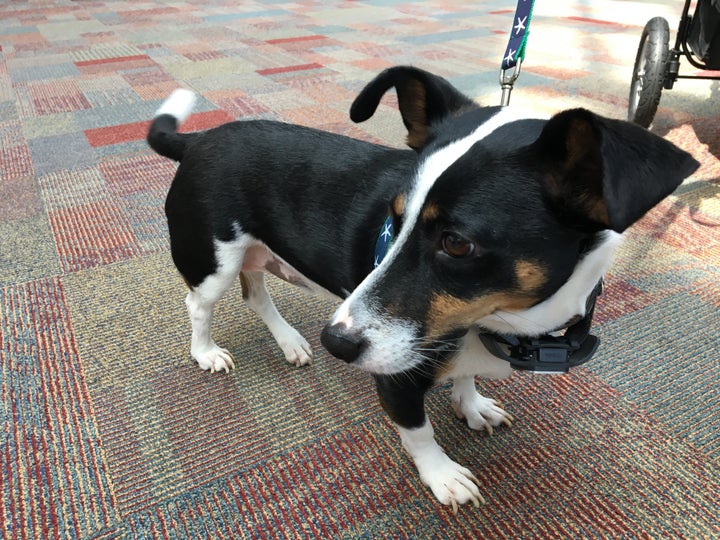 Chloe DiVita, whose BlogPaws title is Chief of Everything, welcomed the group and announced the Zero Waste Initiative, and that Myrtle Beach officials worked with conference organizers to help create an environmentally sustainable event and were now interested in implementing zero-waste initiatives for the city itself. Everyone cheered. Then we all cried watching a video of abandoned puppies being rescued from a cave by the dedicated folks at the nonprofit Hope for Paws (think: a man wearing a headlamp squeezed into the mouth of a tunnel and two women yanking him out by his legs as he cradles a pup). Soon we were applauding wildly as DiVita announced a number of surprise donations.
"We worked with an anonymous partner who believes in helping shelters and rescues and understands veterinary costs and keeping pets healthy and well through local veterinarians is a big burden on expenses," she said.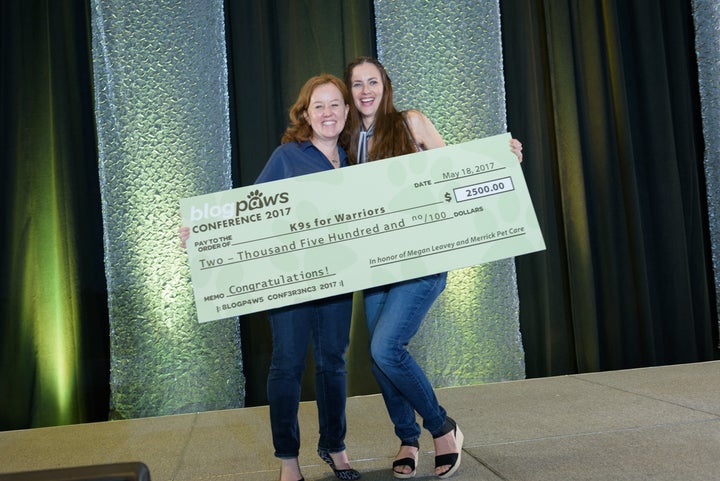 And that was just Day One.
During the course of the conference, I met many more animal lovers working at nonprofits that make the world a better place for people and pets, like Dogs on Deployment, which has volunteers around the country who foster dogs for members of the military when they're deployed overseas. I had lunch with a blogger from the Colorado Pet Pantry, which provides dog and cat food for the pets of homeless and low-income people, and raised a glass at the Cat Writers' Association's awards banquet (held in conjunction with BlogPaws) to a filmmaker for "The Cat Rescuers," a documentary about volunteers working in Brooklyn to help over 1 million abandoned and feral cats through TNR (Trap-Neuter-Return). I was overwhelmed by the passion and commitment of the attendees and speakers.
Keynote speaker Jay Baer told us that before we get out of bed each morning – even before we check our phones – we should close our eyes and ask ourselves, "How can I help?" (I've done it every morning since, and it's definitely a better way to wake up than by cursing at the alarm clock.) In another inspiring keynote, Kathleen Gage told us about the "Delaney Effect" – the effect rescuing her dog had on her:
"It's doing what life puts in front of you. You answer the calling."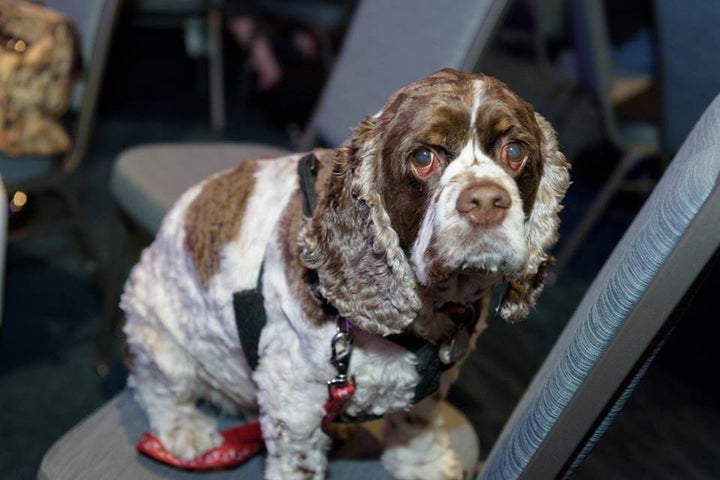 Clearly many in attendance were answering the calling in their personal and professional lives, and even just by showing up to the conference. Carol Bryant, marketing and social media manager for BlogPaws and founder of the Fidose of Reality blog, said this year's 495 BlogPaws attendees helped donate to and support a "pawsome" amount of philanthropic causes, including:
· $10,500 to shelters, rescues and animal welfare organizations across the country
· $7,000 to shelters and rescues chosen by winners of the Nose-to-Nose Pet Blogging and Social Media Awards
· A whopping $50,000 to veterinary hospitals that support animal shelters and rescue organizations
· Body armor for a local police K-9 named Daisy
· Over 1,050 letters to senators in support of the Pet and Women's Safety (PAWS) Act to aid domestic violence survivors and their pets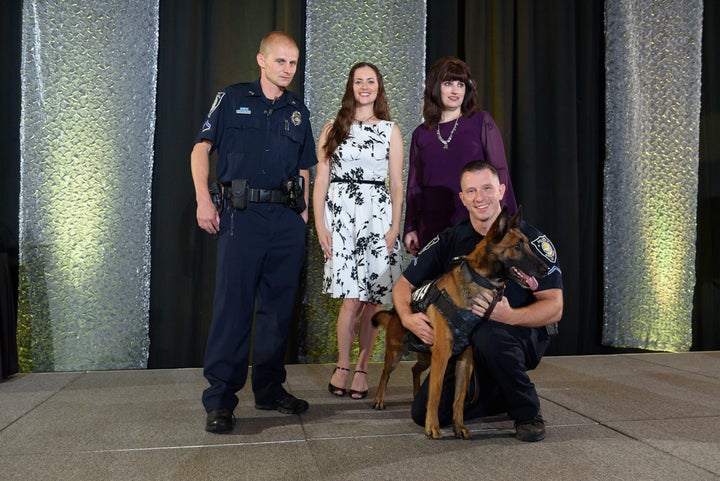 "BlogPaws is all about community and at the core of that community is pets – helping them, and fostering the human-animal bond between people and their pets," Carol told me.
It was sure fun to see it in action.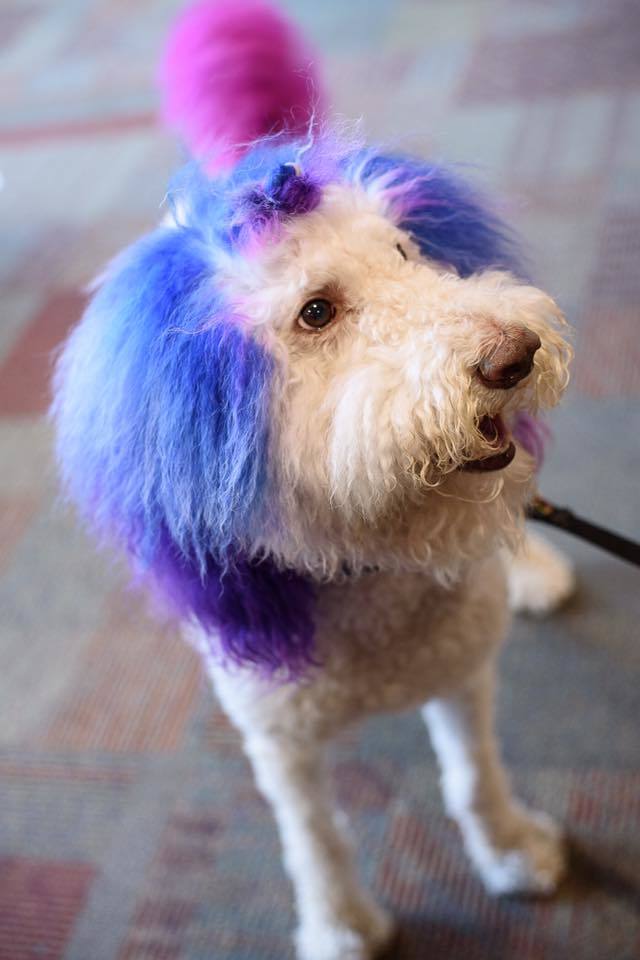 Popular in the Community