As more people turn to veganism, there is a growing demand for restaurant menus to include plant-based foods beyond raw salads and smoothies. In Jenkintown, a neighborhood of Philadelphia's suburbs, a 16-seat enterprise has become the city's new favorite vegan spot. Flora Vegan Restaurant was the vision of four high-school friends, Dan Brightcliffe and Patrick Durision (now 25), who shared a passion for food. Together they grew up working at family-run restaurants (Leila's Bistro and Forcella both also in Jenkintown), and with the help of their former employers, decided to start a small neighborhood establishment that caters to a niche clientele. Except the head chef, none of them are trained culinary professionals but have learned basic techniques by working in the kitchen of fellow owners' Jose Vargas and Jennifer Brennan's other establishments Leila's Bistro and Forcella through school and college. They wanted to create a place that was intimate like a family living room, located in a small urban neighborhood, used locally sourced ingredients, and serving healthy dishes.
Brightcliffe and Durison, with the help of Vargas and Brennan were able to accomplish this in December 2014. The tiny space is hardly noticeable from the street. Once inside, it looks like a contemporary loft with a refined palate. White napkins are placed alongside mason jar glasses, while painting of vegetables gives diners a subtle suggestion of whats to come. A wooden bar acts like a chef's table, where you may end up chatting with one of the owners.
What distinguishes Flora from other vegan restaurants is originality and flavors. Unlike other places that substitute tofu and gluten to make imitation meats, Flora retains ingredients in their original form. The dishes are inspired from all around the world, and adapted to vegan personalities. They also try to source food from local areas, including their own gardens. In fact, many of the people who come here are not necessarily vegans, but hooked on Flora's promise to deliver a healthy, nutritious and fresh meal in a romantic restaurant setting.
Menu changes with the season and offers three and four course options. We start off with couple of salads that are pleasing visually and to taste. Sliced carrots delicately spiced with Moroccan seasoning, puree of chickpeas and garnish of homemade pickled radishes and parsley leaves come together in a symphony of flavors. As expected, the dish is light, healthy and delicious.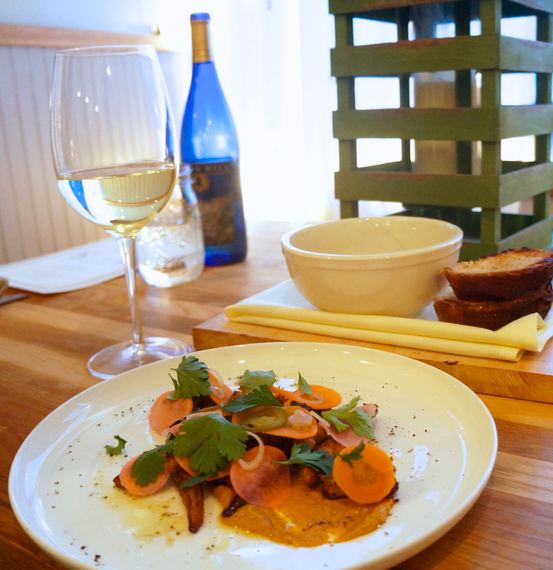 Thinly sliced roasted beet with clementines, blood oranges and kumquats, drizzled with a crunchy pistachio vinaigrette are a clear evidence that cheese is not always essential to a well rounded salad. This plate is too pretty to eat, but we managed to clean off every morsel.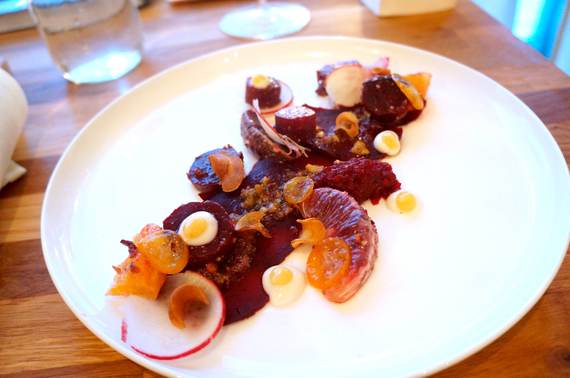 One of my favorite dishes was the roasted brussels sprouts with a tangy onion marmalade, and wafer thin crackers made out of rolled out and fried sushi rice. The brussels are cooked to perfection - soft with a crisp bite. It takes a creative genius to bring together such varied combinations, and Chef Max Hosey is just that.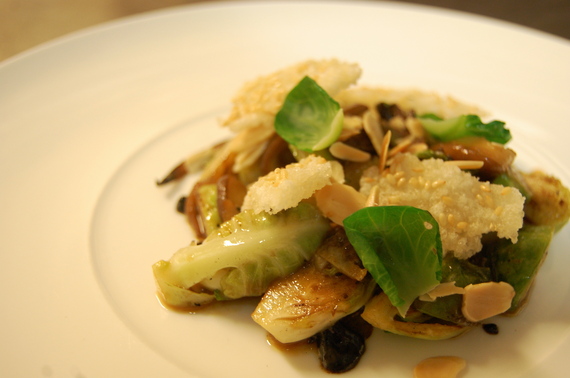 A vegetarian Thai coconut curry with peppers, okra, potatoes, rice and peanuts, is fragrant with herbs and spices, as it should be when freshly prepared. It is the perfect comfort dish on a chilly March evening in Philly.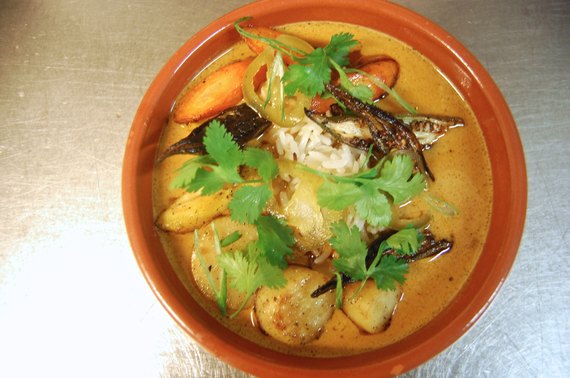 We continue this culinary journey around the world with a twist on Mexican tamales. This one is stuffed with mashed lentils and served with a salsa verde sauce. The chipotle kicks in at every bite making this the spiciest dish on the menu.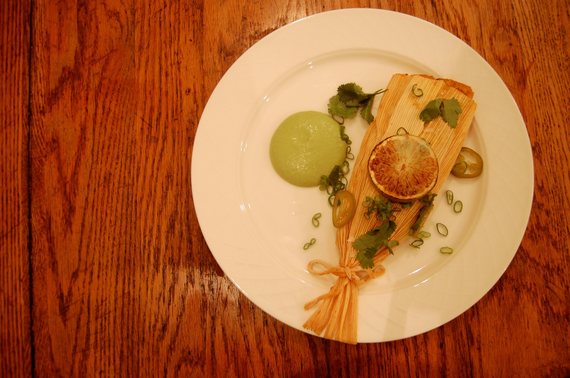 For dessert we head to New Orleans. I can never refuse fresh warm beignets with melted chocolate. I peek into the tiny kitchen to see if they are actually being made to order and yes, powdered sugar is drizzled on top as they make their way to my table. As soon as I finish the treat, I want to order another one.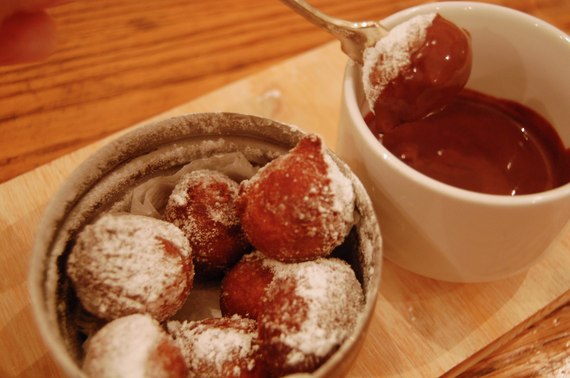 It was a refreshing change to eat food that tastes fresh, original and true to its flavors. Add to that stunning presentations and we have the perfect vegan restaurant. I ask the chef to share his recipe so vegans and non vegans everywhere could get a flavor of his art.
Flora Restaurant seats just 16, so reservations are recommended. Dinner is served Tuesday-Saturday 5-9 p.m. Menu 3-course $35, 4-course $40. BYOB. Cash and check only. Find Flora at 307 Old York Road in Jenkintown; phone: (215) 779-7945.
2 tablespoon olive oil
2 shallots, sliced
2 garlic cloves, sliced
1 jalapeno pepper
2 poblano peppers
1 red pepper
1 green pepper
1 pint hen of the woods mushrooms
4 allspice seeds
1 teaspoon coriander seeds
1 teaspoon fennel seeds
1 teaspoon whole black pepper
1 teaspoon curry powder
1 teaspoon ground turmeric
1 teaspoon cumin seeds
2 tablespoons tomato paste
1 dried ancho pepper
3 tablespoons fresh ginger
1 cup white wine
1 pint vegetable stock
1 14-oz can coconut milk
1 large carrot, chopped quarter inch
1 cup okra, whole
1 sweet potato
1 yellow plantain
Toast spices in oven for 3 minutes at 350F, then grind together using a mortal and pestle or spice grinder. Roast peppers over open flame until charred. Then steam them by covering with foil and leaving at room temperature for 15-20 minutes. Remove cover, peel off the skin with your hands and chop the pulp coarsely.
In a large pan, heat oil on medium. Caramelize onions and mushrooms till light brown. Add shallots and cook for 1 more minute. Then add the ground spices, peppers, garlic, ginger, and tomato paste and cook for 5 more minutes. Slowly add the white wine, coconut milk and vegetable stock. Simmer on low heat for 30 minutes until the spices absorb. Strain the sauce, reserving the liquid in another pan.
Boil carrots, okra, sweet potatoes and plantains in a pot, drain water and add the vegetables to the sauce mix. Stir well and serve with steamed jasmine rice.
~ Sucheta Rawal is a food critic and cooking instructor, specializing in international cuisines. Follow her blog for more reviews and recipes.
Popular in the Community