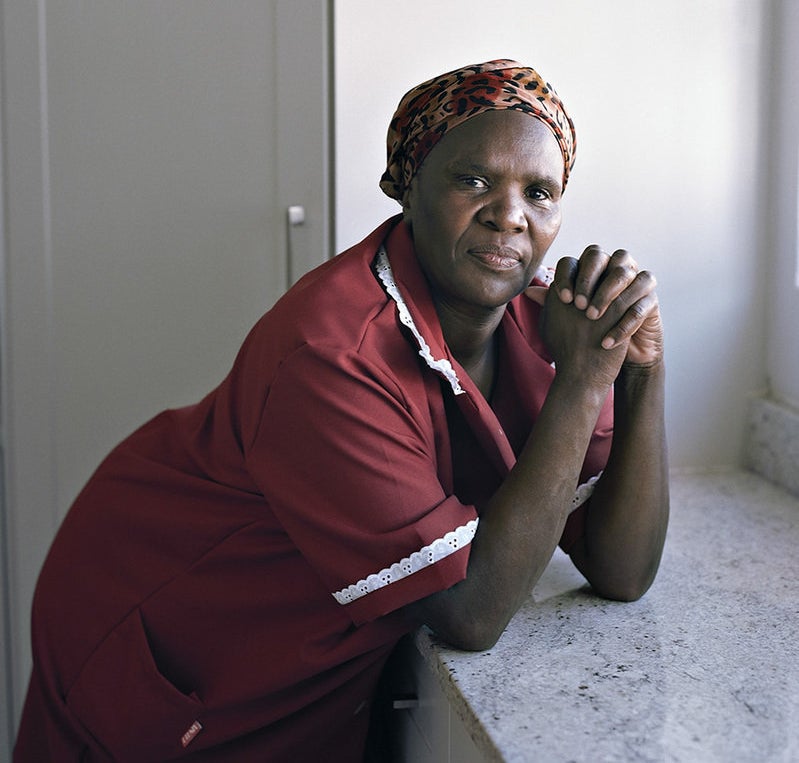 Apartheid ended 22 years ago in South Africa, but a sense of segregation can still be felt strongly in its urban fabric.
Under apartheid, black communities were separated from white communities via a combination of physical obstacles, both manmade and geographic. Over the past two decades, the nation has tried to dismantle the divisive urban planning that was put in place during apartheid, not always successfully.
Growing up in post-apartheid South Africa, London-based photographer Alice Mann decided to explore another residual form of apartheid-era segregation, namely social division. In a series of portraits dubbed "Domestic Bliss," Mann captured black domestic workers in the homes of their wealthy employers in an effort to investigate lingering issues of race and social segregation in Cape Town. She captures her female subjects inside their employers' homes, suggesting, as she writes online, "a sense of alienation and displacement associated with their roles within these intimate spaces."
Mann contrasts "Domestic Bliss" with her previous series "Southern Suburbs," a series that focuses on an exclusive and mostly white segment of South African culture. The portraits of domestic workers show individuals of a starkly different socioeconomic background, but who inhabit the same geographic area as "Southern Suburbs."
Mann, a white woman, explains further that she is interested in not only exploring post-apartheid notions of representation, but also the way her own privilege and race affects the ways her images are perceived. Critics across the internet have questioned what it means for a white woman to photograph black subjects in contemporary South Africa, and whether or not her photos are capable of illuminating the realities of these domestic workers.
According to her online statement, Mann hopes to continue her series by photographing the domestic workers and their employers together and incorporating the various reactions and responses surrounding her work.
See more of "Domestic Bliss" below.
An earlier version of this piece originally appeared on HuffPost Italy and has been translated into English.
Calling all HuffPost superfans!
Sign up for membership to become a founding member and help shape HuffPost's next chapter
BEFORE YOU GO
PHOTO GALLERY
Surreal Mother Portraits