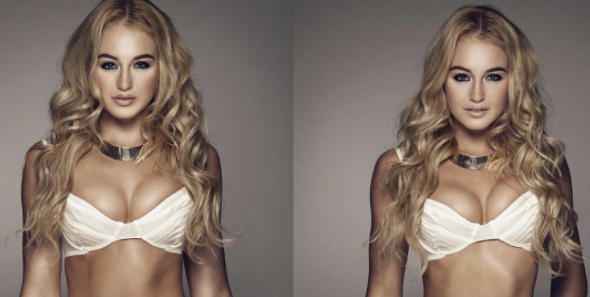 Iskra Lawrence recently posted a photo of herself to Instagram. The weird thing about it? It looks nothing like her.
"You might be wondering who that random blonde girl is. Well it's me! About 6 [to] 7 years ago," she wrote in the caption.
Lawrence, a model and body-positive advocate, posted the photo on Monday to show the dramatic effects of Photoshop. It's clear from the image the effect retouching can have: Lawrence looks like a completely different person.
She noted in the caption that although she may have been "a few dress sizes smaller" when this photo was taken, there are other big differences that show just how retouched the images were.
"That smooth a$$ skin? Not mine ― a computer programme did that. The full thick hair ― extensions," she wrote. "...Waist + legs + arms slimmed with a photoshop tool. No eye bags, well actually no nothing that makes me resemble the real me. And the WORST thing about it... I WANTED TO LOOK LIKE THIS!!!"
Lawrence wrote that she thought "perfected images" like this one would lead to a success and happiness. Unfortunately, it led to neither.
"In reality seeing retouched images of myself gave me even more insecurities and body image issues because I couldn't even look like or relate to the image of myself!" she wrote. "So please NEVER EVER compare yourself to images you see, many aren't real. Perfect does NOT exist so trying to achieve that is unrealistic and editing your pictures will not make you happy."
What will make you happy? Being "your imperfectly perfect self," Lawrence wrote. "That's what makes you magical, unique and beautiful."
Popular in the Community