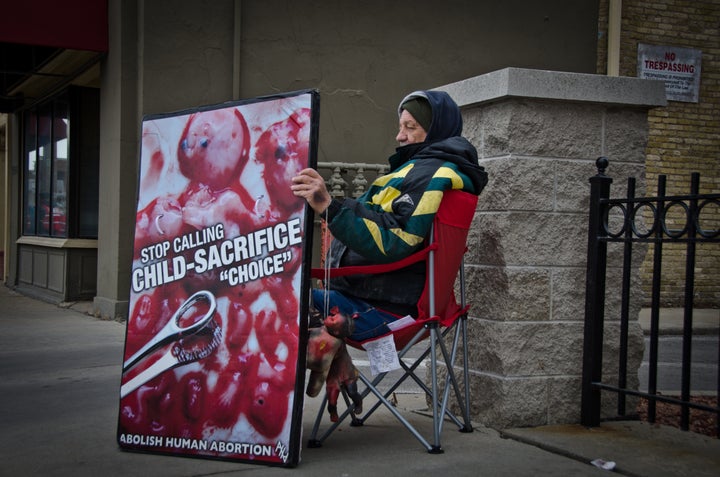 Wendi Kent, a freelance photographer based in Madison, Wisconsin, decided to embark upon a challenging experiment: turning the lens on anti-abortion protestors, and stripping them of their anonymity. Her photo series, called "Faces of the Fight," is an ongoing photo project where Kent takes candid shots of protests in front of abortion clinics across the U.S.
The inspiration for the project came in 2014, when Kent says a friend of hers posted an image of a "wanted" style photo of herself on Facebook. The image, created by an anti-abortion group, included her friend's full name and information, and listed her occupation as "Pro-choice journalist." Two other women were included in the image, with a caption that read, "Please pray and fast for these three women during Lent."
"I realized that I never see portraits of these [anti-abortion] protesters," Kent told The Huffington Post. "I've only ever seen the same half a dozen stock photos of their vulgar signs but I didn't know anything else about them. And neither did the general public. I set out to remedy that by photographing them."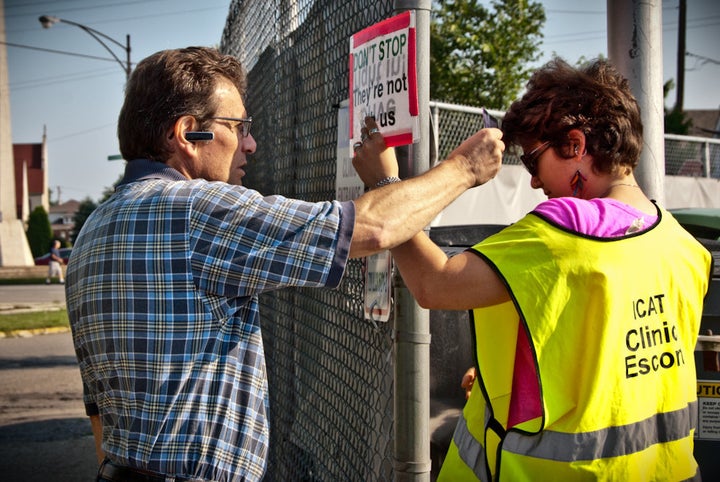 The goal of the project, Kent says, is to "shine a light on what women face everyday, at clinics across the country."
By photographing anti-abortion protestors all over the United States, Kent also hopes to dispel the myth that all protestors in the movement are harmless. Over the course of the project, she's photographed protestors following clinic-goers to their cars, or screaming at them and their companions. In a way, the project is showing the stark, often unflattering humanity of these protestors. 
"I want to show these protesters what they look like," Kent adds. "I believe that the majority of them believe they aren't intimidating... I want to force them to see that [they are]."
In addition to stripping the anonymity away from these protestors and fixing a harsh spotlight on their harassment, Kent said that her mission is also to inspire med students to seek out abortion education, and encourage people to volunteer to escort women who visit clinics. 
Unsurprisingly, Kent has been met with her fair share of pushback from protesters. So far, the photographer has snapped protestors at clinics in four different states, including New Jersey and North Carolina, and has encountered varying degrees of hostility from anti-abortion activists who do not want their pictures taken. Many are often shocked or thrown-off by her presence. Often, they'll respond to her presence by holding signs in front of their faces, or glaring at her ominously while telling her that she's "in their space."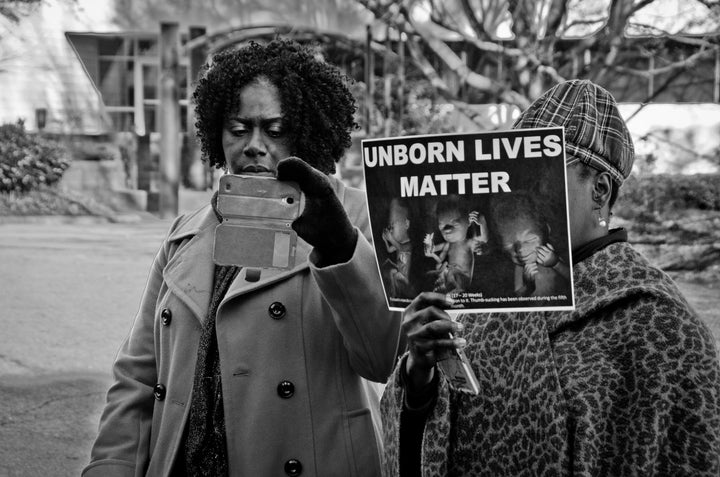 Once, Kent remembers, "I had a woman stand directly behind me by about 10 inches and every step I took, she would step with me. She was saying, 'Well I'll just stand behind you just like this and then you can't get my photo!' She was laughing. It was like something a child would do."
But there's a powerful flip-side to Kent's project. In documenting these protestors, she's also documenting the clinic escorts and defenders who must deal with them head-on. It's their reactions to the harassment and conversation that have been most striking for her. 
"They are amazing. What really shows is that their number one concern is that women and their companions make it safely into or out of the clinic of their own free will."
The significance of the project, especially on the 43rd anniversary of Roe v. Wade, isn't lost on the photographer, who believes it is incredibly important that the abortion rights movement includes the trans community and anyone needing abortion care. And so, Kent, keeps going. She funds the project out-of-pocket and relies on donations from supporters via her fundraising page. She's eager to connect with volunteers, clinic staff and escorts, and eager to document the realities of the harassment they face.
The beauty of Kent's project is that her goal isn't to villianize anti-abortion protestors. She's simply attempting to show them as they truly are.  
View more photos from the "Faces of the Fight" project here.
PHOTO GALLERY
Myths About Abortion That Need To Be Busted
Calling all HuffPost superfans!
Sign up for membership to become a founding member and help shape HuffPost's next chapter