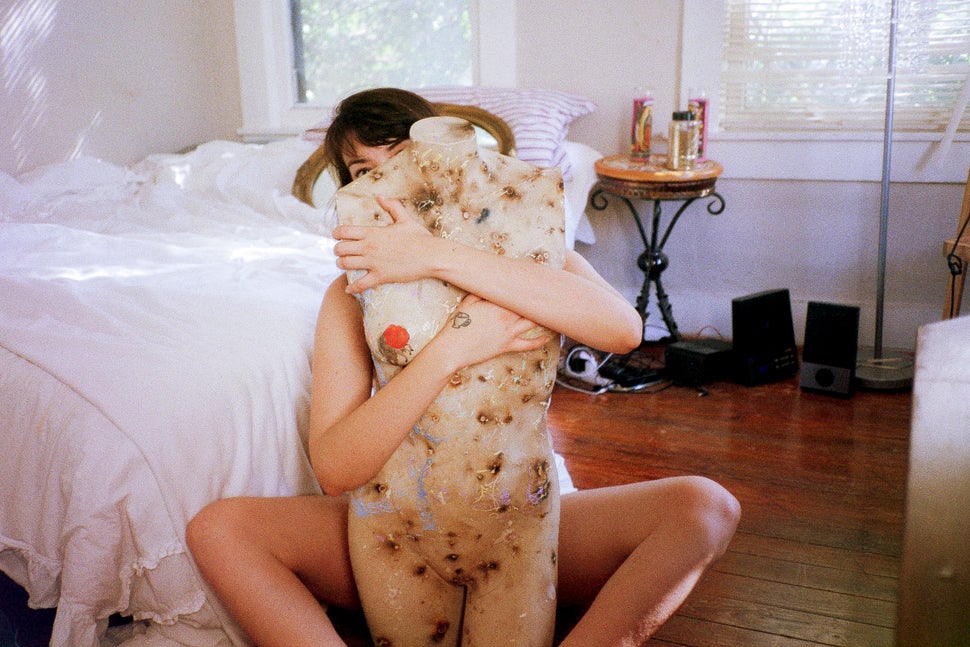 A young girl lazes on her back, her Botticelli-like hair falling in waves. It's a beautiful image, complete with hazy, diffused light falling evenly upon its subject, in the style that's been popularized on Tumblr and in catalogs that use beauty as a sales tool.
It's timeless and ethereal; the girl, whose looks align with today's impossible standards, is waif-thin and without makeup. But, unlike so many representations of women shot in this vein, it has a single distinguishing attribute, so understated you might miss it: the model, conventional in every other way, rocks a tuft of fuzzy armpit hair.
"My photographs are deliberately not aesthetically pleasing," photographer Cary Fagan explained in an email interview with The Huffington Post. "In various shoots, some of my subjects are contorted in unnatural positions."
In one such picture, two girls sit huddled together on a chair, as though for warmth. Behind them, a messy bookcase is cluttered with drinking glasses and junk. It's a lovely, offhand shot, and it's a far subtler way of depicting women than we're used to seeing. What does it mean, then, that the photographer behind it is not a woman expressing her identity, but a man hoping to produce honest art?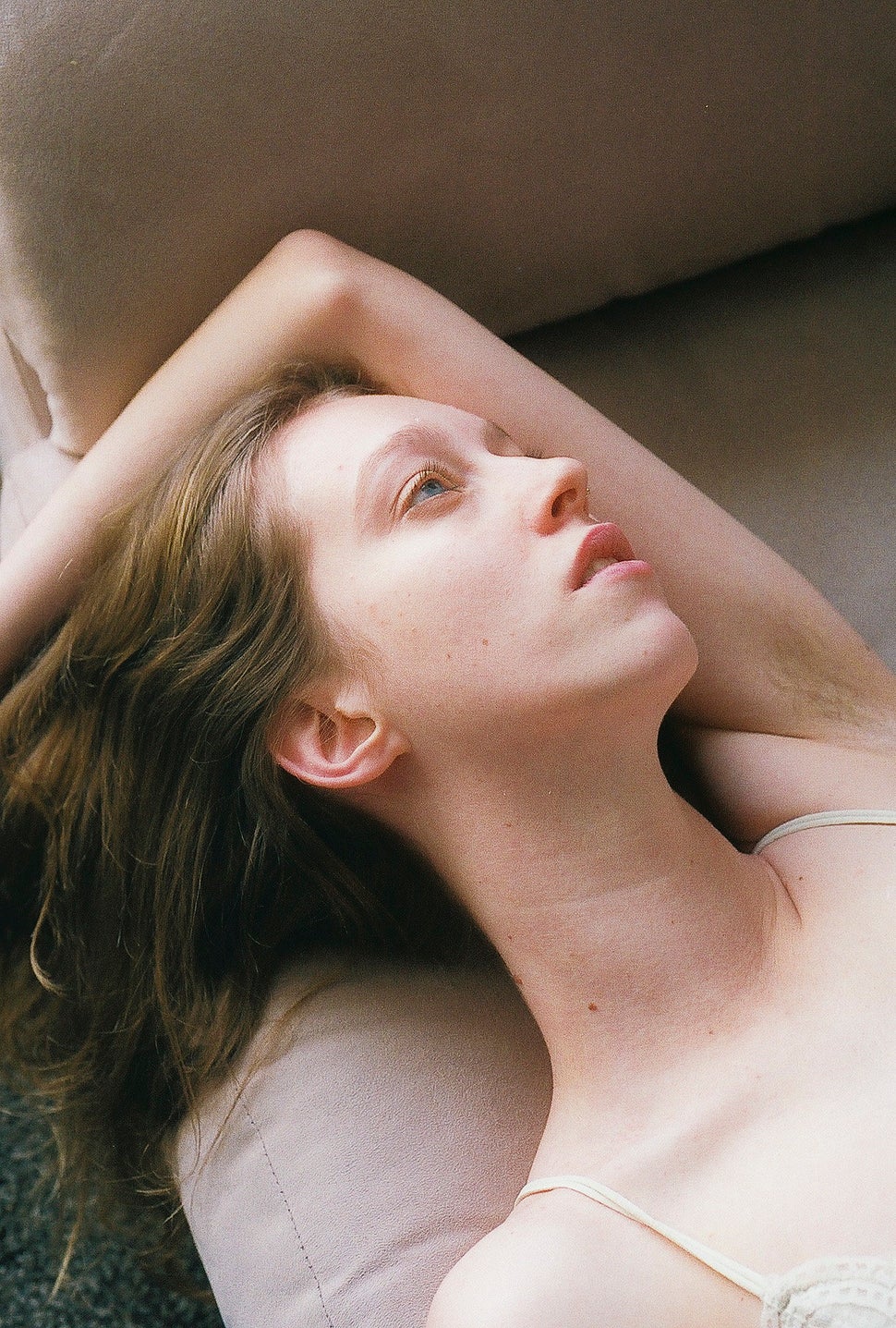 "All I see nowadays in the media is an abundance of focus on with the way women look," Fagan said. "We have set a socially accepted idea of beauty and we rate every woman, despite her individual beauty, by this idea." Conversely, of his work, he says, "I try to allow the viewer to experience the unconventional sexuality."
It's an alluring message -- one that photographers of both genders would do well to embrace. The problem, however, is when we only recognize the men who are doing so, paying less mind to the women who've been making waves in this arena for years.
A recent profile on Fagan ran in Dazed with the headline, "Reclaiming the female form through photography." The piece kicks off with a shot of a slender, full-lipped woman, looking confident in a brightly colored bra. Although there's no retouching at play, her cleavage is emphasized as the image's focal point. The distance between this and Fagan's self-proclaimed message -- "I want to help women reclaim their bodies as their own rather than a product of the media and those around them" -- understandably riled commenters.
"It's counterproductive to the theme of female empowerment," one commenter noted. "It's very disrespectful," wrote another. "Why not promote the work of a female photographer?"
Fagan is aware that his work and the way he describes it is inflammatory. "The truth is as a male photographer of women ... it's almost impossible to avoid negative criticism," he says, adding that he sees his work as important regardless of his own gender. 
"I'm not looking at it like its my job to do this, but a product of my artistic experience," he said. "Through working with certain models, and working with peers, I found the realization that with my success I have the power to change how people see the female form."
Indeed he might -- but he's not alone. The aesthetic of his work is not unlike the often dirty, grainy, offhand-looking shots snapped by photographer and girl collective founder Petra Collins, who released an anthology celebrating likeminded artists earlier this year. Some of her pictures depict girls taking selfies, juxtaposing the polished images they post on social media with their cluttered bathroom shelves and realistically messy lives.
In contrast, some of Fagan's models look dazed and inhuman. But, his more successful shots are a worthy addition to the movement. One image, from his series "Date Night With a Real Boy," shows model Jacqueline Salinas toting a mannequin by her side, a nod to objectification. Another, from his series "Goldie," depicts a woman whose attire blends in with her surroundings, an abstract comment on the union between her mood and her constructed appearance.
"My aim," Fagan says, "is to have my audience appreciate the beauty in a clothed or naked form without objectifying them."
And in some cases, he succeeds.
See more of Fagan's work:
PHOTO GALLERY
World Photography Awards
Calling all HuffPost superfans!
Sign up for membership to become a founding member and help shape HuffPost's next chapter