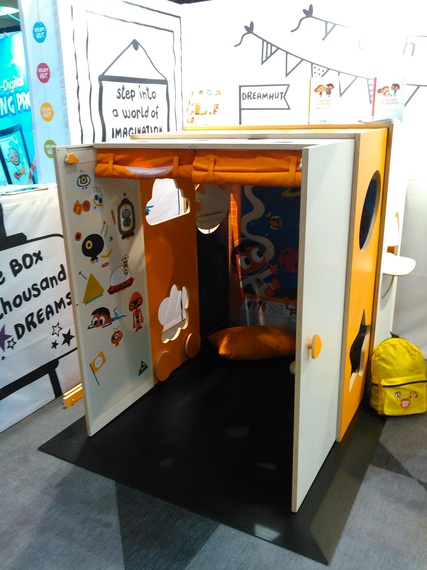 YuhuHugs' Dreamhut on display at the 2015 North American International Toy Fair. Photo by Chris Barnes
Kids toys traditionally are designed with play in mind -- not style. Especially when it comes to bigger items, like playhouses. But Children's furniture manufacturer YuhuHugs, is aiming to solve that problem with the Dreamhut, which was on display at the Toy Industry Association, Inc.'s Toy Fair 2015.
Take, for instance, the "Dreamhut" armoire. It may look like a stylish storage piece, but open the doors and you'll find a child-friendly playhouse that can fit up to five children. Features include windows, a chalk board and a fold-out table. When playtime is over, the Dreamhut folds back into the armoire or can be reconfigured to create a child-sized desk.
Dreamhut was designed by Mercedes Martinez, Vicente Ferrero, Isidro Martinez and Juan Martinez at the Spanish architecture firm Q+C Arquitectura y Ciudad, partly at the insistence of their children.
"The children told their parents, 'You always make these beautiful houses for everyone, so why won't you do it for us,'" said company spokesperson Maria Amparo Yuste.
But what separates the Dreamhut from similar playhouses is that children's furniture maker YuhuHugs has created content to go along with it, ranging from apps for the iPad to customizable magnetic backgrounds. They feature the child characters Yuhu and Hugs through a series of educational activities and exercises called "dreams."
Additional "dreams" and digital content, along with activity books, can be purchased to further customize the child's experience.