In the wake of the devastation of Hurricane Harvey, USA Today released a report expressing the needs of the city. In this report, Tyler Moyer of the Red Cross identified a very specific need: plus-sized clothing.
"We just heard that there is great need for extra-large clothing, as well as shoes socks and other plus-size clothing items," Moyer told USA Today in the days immediately following the hurricane.
"We want to ensure that women and men of all sizes have access to clothing during this devastating event," said Cinny Murray, president of FULLBEAUTY Brands, of the brand's decision to support the cause.
As it turns out, this was not FULLBEAUTY Brands' first foray into this philanthropic space.
"After partnering on a smaller scale at Housing Work's Fashion for Action charity event last fall, it was clear that plus-size clothing options were still limited for many. As the only plus-size retailer at Fashion for Action, the response was positive and overwhelming to keep including options for plus-size clothing at fashion-related events. As a result, Housing Works and FULLBEAUTY Brands joined forces to launch the 'Love Your Body' event, where every size, age, color, gender, and ethnicity is welcome," says Cinny.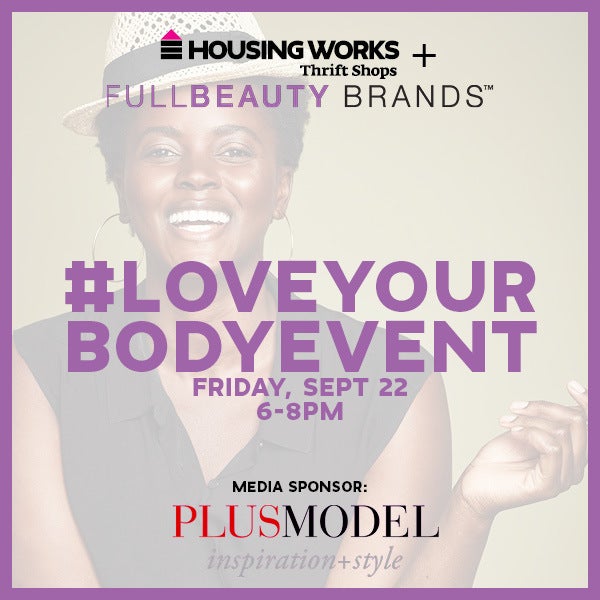 Today in New York City, FullBeauty is continuing to support plus size women in need of clothing across the country. In partnership with Plus Model Magazine (PMM), they are throwing an event to benefit Housing Works. Housing Works is a New York City based non-profit fighting the twin crises of HIV/AIDS and homelessness.
"We met with the Housing Works team to better understand the needs of their customers and their thrift shops. Many people come in to their stores to shop sizes 14-20, yet the options are few. By donating over 1,200 items from across our portfolio of brands, we are tangibly filling that gap with $25,000 worth of product. At similar charity events, a portion of the proceeds are donated; we went a step further with 100% of sales going directly to Housing Works and their mission to end the twin crises of HIV/AIDS and homelessness in NYC," says Ruth Bibby, Public Relations Manager of FULLBEAUTY Brands.
"Our 12 Thrift Shops located throughout the New York City area each play a vital role in the community by providing customers with a unique and affordable shopping experience that in turn helps sustain our lifesaving healthcare, housing and advocacy efforts," says Cheryl Grimm, Vice President of Thrift Retail at Housing Works.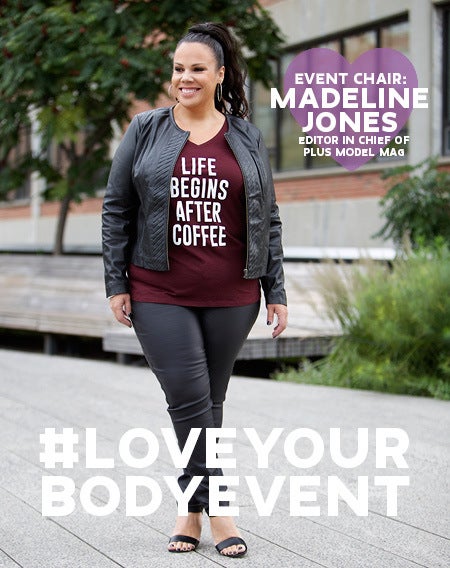 "This is the first time [Housing Works] have ever put on a plus size only event. If you visit consignment and thrift shops you know the plus sized options are always very limited. We are bringing clothing and money to women who need it," says editor-in-chief Madeline Jones, of why she and the PMM team wanted to support Housing Works.
Madeline is also the event chair for the #loveyourbodyevent, and is very personally invested in the cause of bringing more fashion options to women of all sizes.
"We want to raise money for Housing Works. We also want to bring awareness because I think most people are not aware of how much plus sized clothing is needed for women who are facing financial constraints," says Madeline.
"The teams from Plus Model Magazine, Housing Works and FULLBEAUTY Brands are already excited about the future before this year's event has even happened. We know this event is something positive and different. Plus-size fashion is here to stay and we want to make it accessible for all," says Cinny.