Danika Brysha is a curve model with IMG models, food and wellness personality, and the founder and CEO of Model Meals, a healthy meal delivery company. Over the past four years, she's undergone an incredible personal transformation that has also become the core of her business.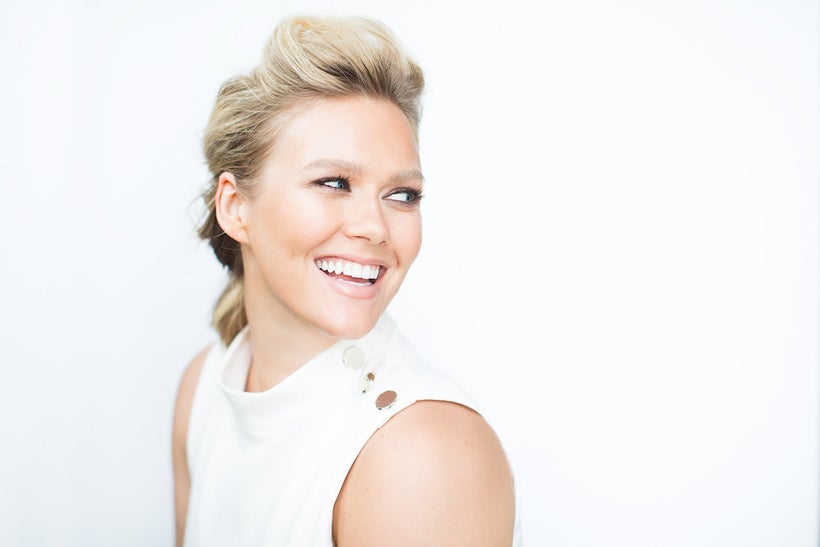 "I did a clean eating challenge called 'Whole30' in January 2014, and I realized how powerful food could be," says Danika.
"From a young age, food became my way of dealing with things I didn't want to feel," says Danika.
"I always thought the issue was the food, but then I realized that the band-aid was the food. The issue was what was causing me to reach for food. Then I had to look at those deeper layers of my struggle with food, and ended up in overeaters anonymous," Danika says.
Danika's first foray into the Whole30 program started this process of self-discovery for her. As a plus size model, Danika's physical transformation also meant a drastic change in her career.
"I ended up losing about 35 pounds, and losing all my modeling jobs. But I wanted to share the lifestyle I'd found with people, and that started with food. So I started cooking for people, and started delivering these meals around New York," Danika says.
To get her feet back on the ground after the bottom fell out on modeling, Danika moved home to California and lived in her parent's garage. It was during this phase that Danika formally relaunched her meal delivery business, teaming up with friend Camille May to launch "Model Meals" on the West Coast.
Models Meals has taken off, and what started as one woman in her parent's garage is now a growing food delivery empire that serves two of California's most populated regions, Southern California and the San Francisco Bay Area.
"We have about 30 employees, and it's grown substantially over the past couple years," Danika says.
Danika has been able to remove the blocks that keep most people from implementing a lifestyle change, in terms of meal planning, prep, and adherence to a Whole30 / paleo regimen.
"We love knowledge. We will sit and read books, and learn, and do all that stuff. But a lot of times, there's this big brick wall between knowledge and action," says Danika. "That's what Model Meals was about."
Ultimately, Danika believes that removing this block and providing her customers with perfectly balanced, well-prepared food frees her customers up to focus on and do other things with their time, energy, and resources.
"I used to spend all day, every day thinking about food, prepping food--I was obsessed with it. I found that having prepared meals in my fridge that were healthy, and felt good to me, and tasted good completely eliminated that huge pod of energy that I was using to think about food every day. It gave me a lot of freedom," says Danika.
Not only has Danika's journey resulted in great business success, but she's healthier than ever. Although she's regained most of that 35 pounds she initially lost, she's found balance and peace when it comes to her body and food. And she's able to model again, in addition to growing Model Meals.
"I've been able to settle at my natural size, which is a 12/14, and build this passion project of mine while rebuilding my modeling career in a way that supports my healthiest version of myself," says Danika.
Looking into the future, Danika is working on a book that will translate her journey into a repeatable process to help others achieve success in business, health, and life.
"I've done a lot of what I wanted to do in terms of taking action on my goals, and creating the life of my dreams, and I want to share that with other people," Danika says.
Calling all HuffPost superfans!
Sign up for membership to become a founding member and help shape HuffPost's next chapter
This post was published on the now-closed HuffPost Contributor platform. Contributors control their own work and posted freely to our site. If you need to flag this entry as abusive,
send us an email
.