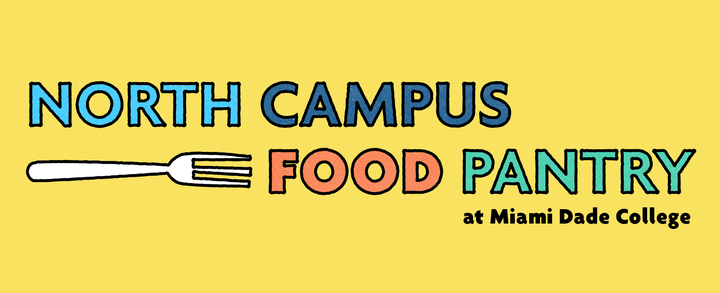 Each Tuesday afternoon, a group of students line up outside of room 3115 on Miami Dade College's North Campus. They aren't there for class. Instead, they are waiting to access the stocked shelves of the North Campus Food Pantry, which are lined with items such as tuna, soup, and baby food. It might be just pantry items, but for these students, it will help them stay focused on their academic studies instead of worrying about where their next meal will come from. Many will be back to repeat the process when it opens again on Friday.
For the past five years, the North Campus Food Pantry has been providing a pivotal service to thousands of students. Overseeing the whole operation is Sarah Garman, a decorated humanities professor and the head of the food pantry committee. On behalf of her work with the North Campus Food Pantry, Garman is one of the 100 people being honored as part of the TIAA Difference Maker 100 program. We have partnered with TIAA to share her inspiring story.

Long before Garman began teaching at Miami Dade College North Campus, she considered it her second home. She grew up on the campus, hanging out while her mother and stepfather taught classes. Eventually she followed in their footsteps, becoming a professor and teaching humanities and developmental education at the same school. But even though she had a lifelong connection with the college, it wasn't until she got in front of the classroom that she noticed all the challenges her students were facing.
"Our students struggle, and this isn't just [on] my campus." Garman explained, adding that poverty is an issue at Miami Dade College's other campuses, as well. "But our campus is probably the one that has the students who struggle the most. A lot of us have known for a while that we have homeless students, students who can't buy their books, and if they do buy their books, that might mean that they're not eating that week."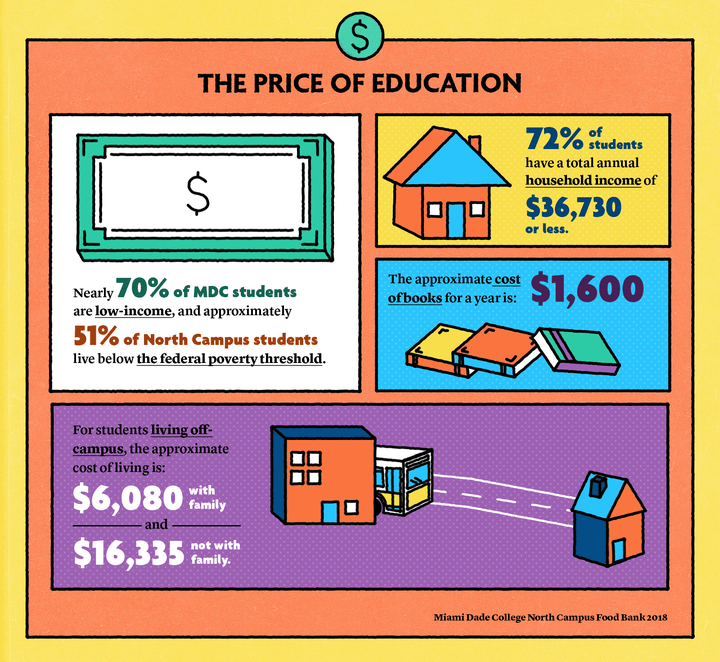 Nearly 70 percent of MDC students are low income, and 51 percent of the 41,000 students at the North Campus location are below the federal poverty threshold. For these students, insufficient resources often result in food insecurity, or the lack of reliable access to a sufficient amount of affordable and nutritious food, which can negatively affect their ability to learn.
The pantry gives them access to nonperishable foods, like macaroni and tuna, to microwavable meals, baby food, diapers and toiletries, like soap and toothbrushes. The pantry is open two times a week and students can take home 10 items per visit. The North Campus location, which services only one of Miami Dade College's nine campuses across Southeast Florida, sees around 240 students per month.
In the early days, the pantry was just a small table that was located in a breezeway in between buildings and run by the Student Life Department. In 2013, Garman became the head of the food pantry committee, a group made up of faculty, staff and administrators at the college who help run the pantry. She helped lead the charge to open a permanent pantry that would offer the donations to those who need it most.
"The response was amazing. We got over 5,000 cans donated, and we were quite excited," Garman said. "At first, we saw maybe 20 students on a Tuesday or a Thursday. The word really hadn't spread. So that was the next mission, to get the word out. And also to raise money."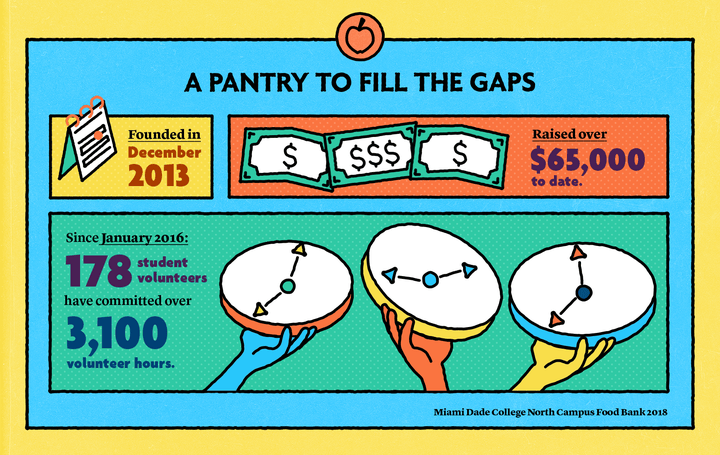 Initially, the pantry was designed as a resource for students who had food emergencies, but Garman quickly noticed that many were depending on its offerings. One of those students was Mario Mulero, a freshman studying engineering, who found out about the new pantry through an email announcing its grand opening.
"I am a first-generation student, so I was very limited in the amount of information that I had [about campus resources] when I came into the university setting," Mulero said. "Once I found out about the food pantry, it helped me out tremendously because I could focus less on buying food and actually allocate my resources and time into my studying. Instead of spending money on food, I could pay for my supplies and my books." Even though the selection was fairly limited, it was enough to help Mulero get to graduation in 2016.
Information about the food pantry was slow to spread, but today it serves more students than ever, and has moved to a larger location. Since January 2018, over 23,600 food and hygiene products have been donated and distributed. The success of the North Campus Food Pantry has even inspired other Miami Dade College campuses to start food pantries of their own. So far, seven additional campuses are offering this service, although they all are independently run.
At the North Campus location, a team of student volunteers stock the shelves and manage the day-to-day activities, while Garman often works behind-the-scenes. Sohnin Robinson, a Miami Dade student, currently oversees the pantry's staff. Before taking this role, Robinson learned the importance of the food pantry firsthand.
"I wasn't working, and I didn't really have money so I couldn't go to the cafeteria to get food," Robinson shared. "When I was introduced to the food pantry, I was able to get things that I could just put in the microwave. I was able to study a lot more, I was able to focus a lot more. I was able to be confident in my schoolwork. It impacted me on a very positive level. I see the same with a lot of the students here."
Robinson volunteers through a national service program called AmeriCorps Vista. This program works with Single Stop, a national anti-poverty organization that connects students at the college to the resources they need to access higher education and jobs, and achieve financial self-sufficiency. When a student visits the food pantry, they are required to fill out an intake form through Single Stop that will determine if they qualify for additional benefits beyond the pantry, whether it's food stamps or health insurance. According to Robinson, many students don't qualify for food stamps, which is why the food pantry is so critical.
"People are struggling. They really don't know the resources that are available, so we want to make sure the students here are taking full advantage of having these resources here because they are completely free," Robinson said. "We want to keep them in school. We don't want to see them get so stressed out that they decide they aren't coming back because of something that happened in their personal life."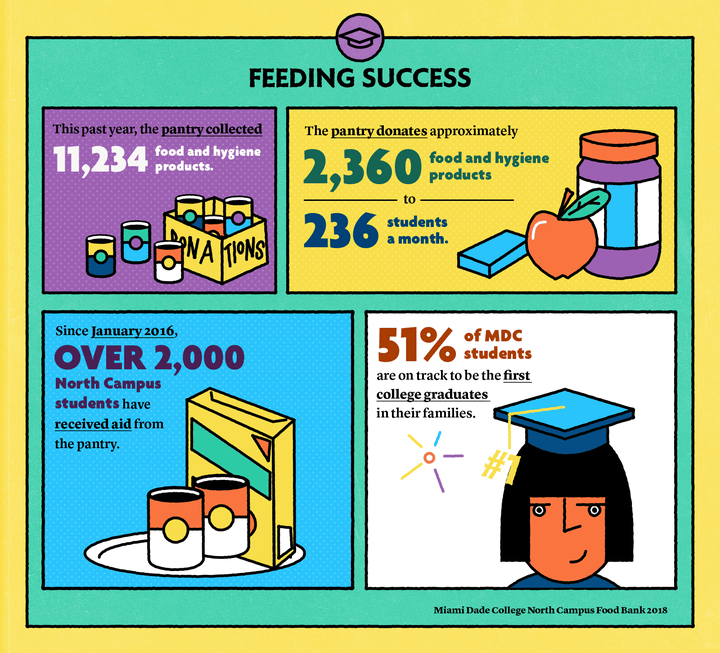 Garman and her team have been able to provide an amazing service to Miami Dade students, but the process hasn't always been easy. As more students started visiting the pantry, it quickly outgrew the donations it was receiving. To keep the shelves lined, Garman put together campus-wide fundraisers, one of the most notable being the High Tea Party. Through this fundraiser, faculty get to dress up in extravagant costumes and purchase tables at the event for $100 that they cover in over-the-top decor. Each department competes to take home awards for categories like "Most Beautifully Decorated Table" and "Most Creative Hat."
"It was such a good event because it really sort of brought the campus together around this idea of the food pantry, that this was here to stay and that we were going to have to do more than just donate some cans every once in a while," said Garman.
Even with the fundraisers, Garman has struggled to keep the pantry shelves lined. When inventory is low, she pays for items for the pantry out of her own pocket so that students can continue to get the essentials they need. While local sponsors and grants help out from time to time, Garman is looking for long-term solutions that will keep the pantry stocked as it expands.
"The food pantry is very important to her," said Robinson of Garman. "I think she is awesome. I love her work ethic, and I love what she is trying to do."
Robinson also shared that Garman is always thinking of ways to improve the food pantry and reach more students. Currently, she is planning to add a refrigerator to the space so that they can stock more fresh options, like fruit and vegetables that will be grown in a garden on campus. The pantry has also recently partnered with the Student Government Association, which will provide student volunteers to tend to 30 new raised beds. As far as other improvements, Garman is determined to listen to the needs of the students and work toward ways to meet them.
"I think that one of the most incredible things [about the food pantry] is that [with it, students] are able to continue and even stay dedicated to their schoolwork despite all the things that they have going on," said Garman. "I wish more people were working toward making it so that everyone had the opportunity to have their best shot. I just want to do the best for our students."
To celebrate its centennial, TIAA is honoring 100 people working to make positive and lasting change in the lives of others with awards of $10,000 toward their nonprofit organizations. Sarah Garman is one of those being honored. The money being awarded to Garman and the North Campus Food Pantry will fund the expansion of the food pantry's offerings. We have partnered with TIAA to put the spotlight on Garman's story, and on other stories like hers. To learn more about the program, and the amazing work the rest of the honorees are doing, visit: www.TIAAdifferencemaker100.org.
Words by Erica Euse; Illustrations by Carolyn Figel
Calling all HuffPost superfans!
Sign up for membership to become a founding member and help shape HuffPost's next chapter