For new parents, everyday life involves some serious multitasking.
Mom and radiation therapist Melissa Bressler knows this all too well. The popular nursing support page, Breastfeeding Mama Talk, shared a photo of Bressler juggling motherhood and work in an epic way.
The photo shows Bressler pumping with a hands-free pumping bra while eating lunch and working on her computer.
"I work at a radiation oncology center that is open in the afternoon to treat patients," the mom told The Huffington Post, adding, "Some mornings I get to work early so that I can be better prepared for the day ... My coworker walked up on this scene and was so thrilled she requested to take a picture to send to her sister because they are both so pro-breastfeeding and pumping."
When she saw the photo, Bressler -- whose daughter recently turned 1 -- decided to send it to Breastfeeding Mama Talk because the Facebook community has inspired her so much over the past year, she said.
When the photo was shared on the Facebook page, the post received over 11,000 likes and hundreds of supportive comments from fellow parents. "The love my photo received is overwhelming," Bressler said. "I hope women are inspired by it and know they can continue their full time mommy-job while they're continuing their career or education."
The mom's breastfeeding journey was not easy, as she initially dealt with latching issues and had to meet with a lactation consultant to make it work. Bressler was also still in school and only took two weeks off when she gave birth, so she dove into pumping relatively early. She hopes her success can motivate other new moms struggling to meet their breastfeeding goals.
"I hope other women are inspired that they too can still provide breast milk for their baby even if they are a student or working mother. It is important for women to know there are resources available."
Before You Go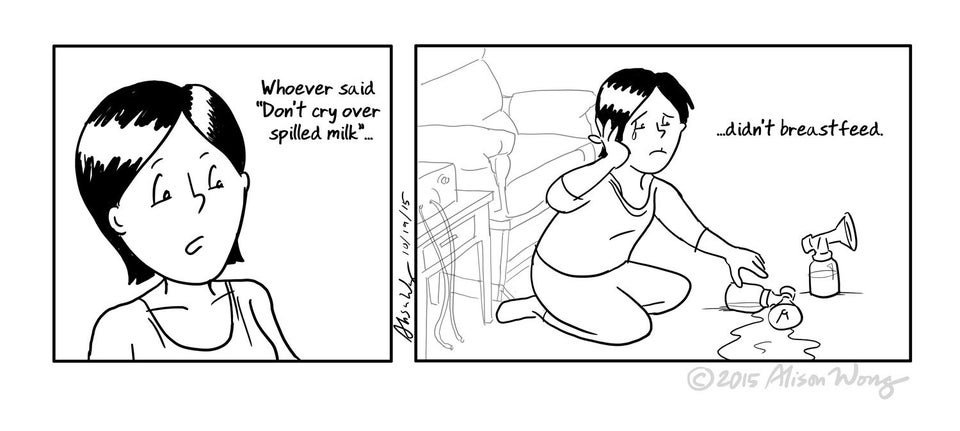 Comics That Sum Up Pumping
Popular in the Community