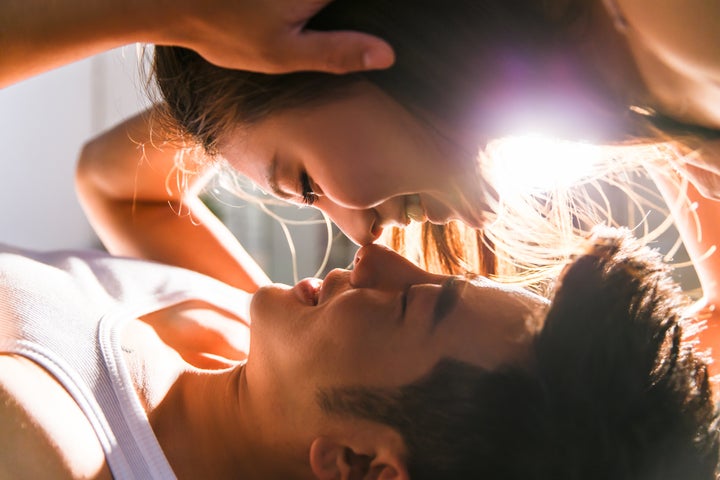 We're going to take a wild guess and assume that "hot sex" and "scheduling" aren't two things that are linked in your mind.
But a new study suggests that a little planning and conscientiousness might be the key to a thriving sex life.
In the study, published last month in the Journal of Sex Research, German researchers suggest that the same people who are quick to send out Google calendar invites and are always on time might have better sex lives, too.
Yep, as unsexy as it sounds, conscientiousness is great for sex.
The researchers surveyed just under 1,000 couples (the majority were in heterosexual relationships, two percent were gay) about their sex lives, asking each partner to rate things like how easily they got aroused, how inhibited they were about sex and if they'd ever had problems with sexual dysfunction.
The participants were also asked to describe both their own and their partner's levels of what's known by psychologists as "the big five" personality traits: extraversion (how social and outgoing a person is), openness to experience (how intellectually curious or adventurous someone might be), conscientiousness (how dependable and plan-oriented a person might be), agreeableness (how cooperative or compassionate a person is) and neuroticism (how anxious, depressed or angry a person is).
Though the correlation was small, conscientious people of both sexes reported fewer problems with their sex lives ― an "unexpected finding," according to the researchers.
The study also found that women who had partners with higher scores on conscientiousness experienced higher sexual function.
"Men who are thorough and dutiful may feel the need to satisfy their partner sexually, which may in turn lead to better sexual function of their partners," the researchers posited.
In general, "high conscientiousness can be beneficial when it comes to putting effort into a satisfying sexual life or to postpone one's own needs and interests to focus on resolving a sexual problem within the context of committed, long-term relationships."
""It might be important to make sex a priority and not something that might happen only if both are in the mood for it."
In an interview with HuffPost, Julia Velten, a postdoctoral fellow at Ruhr-University Bochum and one of the study's authors, said that seeing sex as a responsibility (albeit a really, really enjoyable one) likely makes people more inclined to carve out time for it. Age may have been a factor, too.
"Most of our participants were somewhat middle-aged and in long-term relationships," she said. "For these couples, it might be important to make sex a priority and not something that might happen only if both are in the mood for it."
So does this mean you have to start scheduling sex as if it were a teeth cleaning? Kind of, said Vanessa Marin, a sex therapist unaffiliated with the study.
If that sounds like mood killer, trick your mind into thinking scheduling is sexy by referring to it as "planning to have sex," Marin told HuffPost.
"People tend to freak out when you use the word 'schedule,'" she said. "The word 'plan' still implies effort and thoughtfulness, but without the cold, clinical feeling that scheduling can evoke."
Embrace the sex schedule. Planned (i.e. non-spotanenous) sex doesn't necessarily have to be the death knell for a marriage, she added.
"I remind my clients that when something is meaningful to us, we make the effort to plan for it," she said. "We don't just leave it to chance and hope that everything will line up perfectly."
In other words, the planners of the world have the right idea: Sometimes, you have to hustle and plan to make a good thing materialize.
"Saying that sex should be spontaneous is a really way to separate ourselves from our sexuality," Marin said. "The reality is sex is something that we have to take ownership of and put effort into."
A little effort goes a long way, lover.