With one young character and his beloved doll, the Oprah Winfrey Network's "Queen Sugar" is exploring ideas around masculinity, specifically in the black community.
In season two's second episode, which aired on Wednesday, one of the main characters, Ralph Angel, is at a restaurant with his son, Blue, and Blue's mother, Darla. During the episode, titled "To Usward," there's a moment in which Blue shows his doll named Kenya to the waiter, who encourages the boy to get a Transformer. This doesn't sit well with Ralph, who defends his son's choice to play with dolls.
"We're going to get two ice cream sundaes, all the toppings y'all got ― one for my son and one for his doll. You got me?" Ralph Angel tells the waiter.
"Queen Sugar" creator Ava DuVernay spoke about her decision to have Blue play with a doll in an interview with the Los Angeles Times from September. DuVernay, the first woman of color to direct a $100 million film, explained that her goal of the OWN show is to reflect "all parts of our identity as black people." She added she also wanted to challenge certain ideas of masculinity.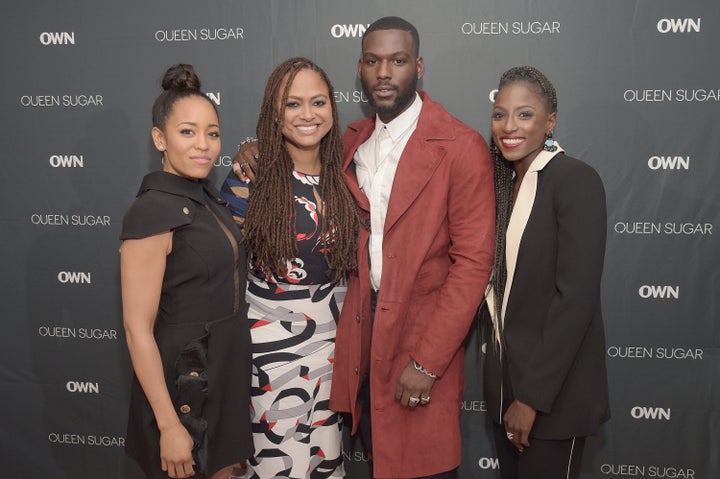 "I want to start to interrogate the ways in which we embrace our identity, and that's happening with all the characters. Everyone is upside down with who they are and what it means to be someone else," she told the Los Angeles Times. "It felt like there was a good opportunity with Blue to do the same, particularly around issues of identity as it relates to the ways in which we conform to certain notions of masculinity in the black community."
In the interview, DuVernay mentioned she didn't want Blue and his doll to be a "flag-waving" part of the first season, but she and the rest of her writers are ready to explore the topic more as Blue gets older and as more people start to notice his devotion to his toy.
"This is a commitment from me and the writers to really explore this storyline in a long-term way," she said.
Related