"It all started because I wanted a silicone 'pack and play,'" said Chelsea Downs, co-founder of the New York Toy Collective, a group that hand-makes affordable silicone dildos in Brooklyn. We were speaking over the phone about the Collective's line of "adult" toys, which are gaining widespread praise for being the most realistic on the market -- the enigmatic "pack and play" particularly.
A "pack and play" is how Downs describes the Collective's dildos that can be "packed" or worn discretely inside clothing, then erect during sex. It's basically a "ready-to-wear" version of a sex toy. All this is made possible by a "bendable core" inside the dildo that is designed especially for packing, or wearing in a harness, underneath clothing, so when the mood is right, the wearer is good to go -- erotic expedience.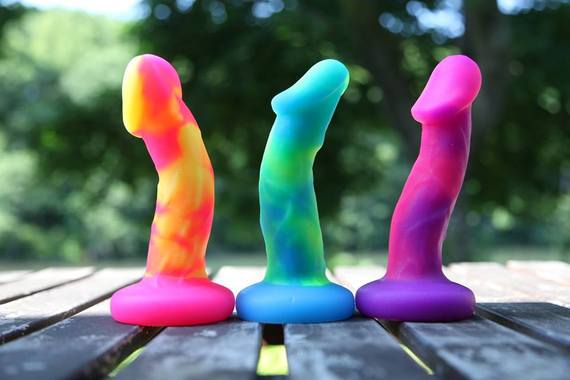 "Before we started the company, I'd complain all the time, 'You are telling me that we can put someone on the Moon, but I can't have a dildo that I can wear inside my pants on the way to a date, one that's sterilizeable, affordable, and reflects the color of my skin?" said Downs.
Downs explained that her sense of entrepreneurial ambition came from frustrations with the white straightness of the marketplace in general.
"See, I grew up biracial in a mostly white neighborhood in Manhattan," Downs said. "When my mom would take me to buy shampoo, the black hair products were always in a small or nonexistent section of the store. The products for me weren't around any of the other products labeled 'normal.' I wasn't normal, and I didn't belong. When it came to sex toys, I was tired of not seeing myself reflected in the world."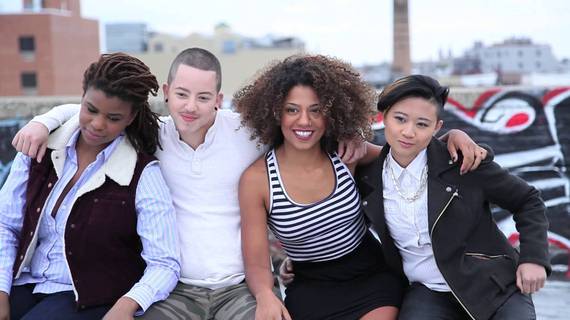 I nod on the other end of the receiver. I'm inspired by Downs and her conviction. As a queer, transgender person, I've used these toys for the majority of my life. But I never thought it would be possible to improve on the uncomfortable aspects of affordable, accessible dildos. I just assumed there was nothing I could do. Queer sex and sex toys are still veiled in so much shame and secrecy that the majority of us -- particularly those without access to a major metropolitan area -- have no idea what we are purchasing, how it functions, and if we have the option to shop around.
Recently my partner and I stumbled on "Shilo" from the Collective at Good Vibes in San Francisco. The toy's aesthetic drew us immediately -- it comes in "chocolate, hazelnut, and cashew" but also more vibrant, less realistic colors like "fierce pink." And the feel. Let's talk about the feel. For real. This dildo feels like skin. No joke. Not jelly-like or squishy like so many of the products touting a "softer feel." This one is tough in its softness. My partner investigated the toy and nodded, "This one is a game changer."
"Because the core inside is bendable, different people can use it for different reasons," said Downs. "If they want to wear it and be ready to go, they can use the dildo without having to break the mood to put it on. It is also designed to move with the wearer and their partner; it's more forgiving and less intimidating. People really seem to like that."
Not only that, but each dildo is actually made by hand, starting from the first mould made from clay, then 3D scanned.
"The inception wasn't much more complicated than that," Downs said. "We just imagined something with a prominent head, a bit stilyzied, and a bit of realism in the veins, something that would pack well with flexibility."
The process goes like this: Downs mixes the platinum-based silicone (which is manufactured in the U.S.), pours the silicone into the moulds, takes them out, packages them, puts them in a box, and sends them to customers.
"It's like the way you'd make a cupcake," she said, laughing. "But I'm making it sound easy. Selling that first toy was the biggest hurdle. I remember that first sale very vividly. I was so excited. I offered to make it to the customer's exact skin tone. They gave us a check, and I gave it to them in a brown paper bag."
Check out the Collective's "pack and play" demonstration video below:
Since that first sale, the Collective has worked numerous trade shows across the U.S. and is now marketed in sex stores across the U.S., including Good Vibes in San Francisco, Babeland in New York, and recently Pleasure Chest in Los Angeles. (To see complete list, click here.) They were also the subject of international attention when they began offering to 3D scan a person's own anatomy then turn it into a sex toy. But the group hasn't achieved all this without difficulty; they were targeted this spring as part of the Chase Bank shutdown of businesses working in the adult industry.
"I'm sure Amazon has sold more dildos all month than I have this year," said Downs. "[Chase Bank's decision was] so arbitrary and policing. If I was selling shoes, if I was selling sunglasses, this wouldn't have happened. These toys are legal to sell; they are made in a legal way. They just wanted to make it harder for us to run our businesses. I'm not interested in fighting them. I just want to keep making innovative toys. If they don't want my business, I'll keep moving."
And the Collective is currently moving at a clip. They're selling now two different sizes of "pack and play": the "Shilo," which is 6 inches in length, and the "Mason," which is 7.5 inches in length, great for mobility and versatility. The Collective also sells two different "packers" and are the only company currently manufacturing an uncircumcised version, as well as a variety of vibration accessories, all available for purchase online.
"We made the decision at the beginning that as long as we keep making innovative, affordable sex toys, even if we break even, it will be a success," said Downs. "It was totally worth the risk. Making these products has opened up my life. I'm freer, happier. As people, as queer people, bringing a product to market, executing it is so valuable. I would want to encourage anyone who has an idea to actually give themselves a shot and execute it. Just because it doesn't exist doesn't mean it's impossible. Give yourself a chance to make or create whatever you want."
Popular in the Community