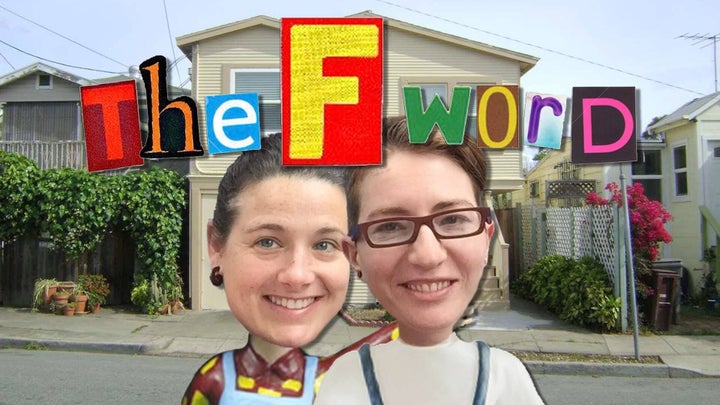 Emmy-nominated documentary filmmaker Nicole Opper, 36, is skilled at capturing people's stories on camera alongside her wife, Kristan Cassady, 39. Over the last two years, however, this Oakland, CA couple turned the tables by documenting their own personal journey toward creating a family through foster-adoption. The result? A delightful and thought-provoking web-based docu-series called "The F Word."
In this special RaiseAChild "Let Love Define Family®" series installment for HuffPost Queer Voices, contributing writer Danielle Lescure visited with the San Francisco bay area filmmakers to understand their initial vision, challenges, and personal motivations.
Premiering September 14th and streaming for free on Indie Lens Storycast new YouTube channel, "The F Word" transports viewers directly into Nicole and Kristan's living room to witness the tender and trying times behind becoming the parents they long to be. Over the course of six short episodes, the show offers an often humorous and sometimes heartbreaking look at navigating the unpredictable waters of parenthood through the foster care system.
Together since 2011 and married in 2013, the couple knew they wanted children and had discussed pursuing adoption from the early days of their relationship. But the more deeply they delved into training and educating themselves, the more they felt there were pieces of the puzzle missing in preparing prospective parents.
"We were both really drawn to the idea of fostering to adopt from the beginning and knew it was the path we were most likely gonna take to create a family," said Kristan. "We started and completed our required training class for people who want to become foster parents, in April of 2015. By the time it was over we honestly didn't feel any more prepared. We really wanted more authentic conversation about what it means to be in the system whether you're a child, a birth parent hoping to reunify, or a foster and potentially adoptive parent. So that was when we decided to take it upon ourselves to find those voices in our community and talk directly to them. This is what you'll see in Season Two of "The F Word," while the first season is really about our own journey to parenthood."
"We were so hungry for information and community around this and understanding what it looked like and what some of the challenges would be," said Nicole. "I just so desperately wanted to see that story and figured that since I'm a filmmaker, we should just turn the camera on ourselves and tell it."
Their social worker was supportive of recording their progress through the process and, naturally, plays a pivotal role in their real-life experience throughout the series.
"We took our sweet time filling out all of the paperwork, the fingerprinting, the physicals, and everything that's required to become a foster parent. I actually think our social worker had given up on us completely," laughed Kristan. "And when we finally showed up in her office to hand everything in, she cornered us and was like, 'Okay, we're doing the home study next week!'"
And thus began the rollercoaster ride that would lead to their eventually fostering a child. Though each of the six episodes is only 8 to 12 minutes long, their story actually takes place over a period of almost a year and a half. Possible placements change on a dime; hopes are raised and dashed.
"For me, one thing that surprised me was how quickly you can fall in love with a child," Kristan confessed. "That caught me off guard, even though it probably shouldn't have."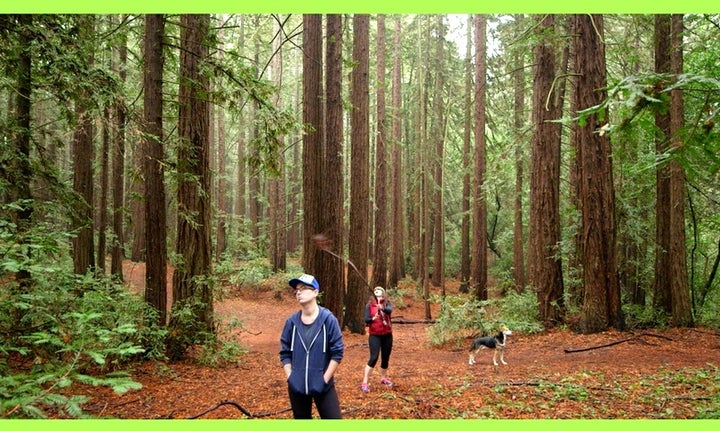 With many of these raw emotional moments caught on camera, the couple leaned heavily on one another and their dedicated crew for support in creating a safe space during those intimate conversations.
"At the beginning, one morning our apartment was really messy and that was when Nicole went through with the camera and filmed it all and I got really upset. 'Just give me 10 minutes to clean the apartment,'" said Kristan. "We had a conversation about how we were gonna put a lot of messy things on camera and were we really ready for that? I think once we had that conversation, it just made everything else more comfortable, because ultimately there's no one else that I'd want to go through this experience with."
"We owe a lot to our amazing crew," she continued. "They're all local Bay Area documentary filmmakers, but they're also part of the community of people that we would turn to. They made it really easy to be comfortable on camera and to share those vulnerable moments."
"As the director I knew that I could take that hat off completely and lose myself in the moment because I could trust that I had the best people for the job in the room," added Nicole. "This has been a hard learning process for me, learning how to let go and be vulnerable."
Beyond their own personal narrative, the pair recognizes a chance to present an honest look at the foster care system and the ways in which the LGBTQ community can be encouraged to strengthen and improve an imperfect institution.
The F Word episode 1 partners with RaiseAChild. To access resources and guidance on how you can adopt from foster care, visit RaiseAChild.org.
"As a documentary filmmaker, I feel ethically bound to try to truth tell. It's my profession," Nicole stated. "More often than not, fost-adoption is rooted in trauma. It's also profoundly beautiful and meaningful and transformative. We're totally in this honeymoon phase with this baby right now, but we also have an eye towards the future."
"One thing that's on my mind is that queer people interested in adoption, have an opportunity," she continued. "On the one hand it's an opportunity to have the life-changing experience of becoming a parent, but on the other it's an opportunity to help reform a broken system and not just walk away once we have our own individual placement. I think that's our collective responsibility, to be a part of that change. What are the ways we can contribute to making sure that there are fewer foster kids experiencing a total hell while going through life in the system. So much of what they experience is just completely devastating, and that's an injustice. Especially for the queer community, my hope is that we can continue to build our families while also thinking critically about the ways we can improve this system together as a community. And sometimes that means helping a child reunify with their biological family. Adoption isn't the answer for every child."
Though the subject matter seems heavy, it is deftly handled with a light-hearted touch and there is plenty of joy and laughter. Additionally, the women felt an episodic series made all the information easier to digest.
"I think, honestly, the biggest reason we made a short-form series instead of a feature documentary was we thought we'd capture a totally different kind of audience if these pieces were short, accessible, and free on a channel that everybody had access to," Nicole said. "We might be able to bring in some viewers that have never thought about these issues before or thought about them but didn't necessarily want to dedicate 90 minutes of their time to a story about them. You can watch these 10 minute pieces on your coffee break. I find myself watching short content more than I find myself sitting down to watch features. Anybody can take off five, ten minutes when they need a little breather and want something new."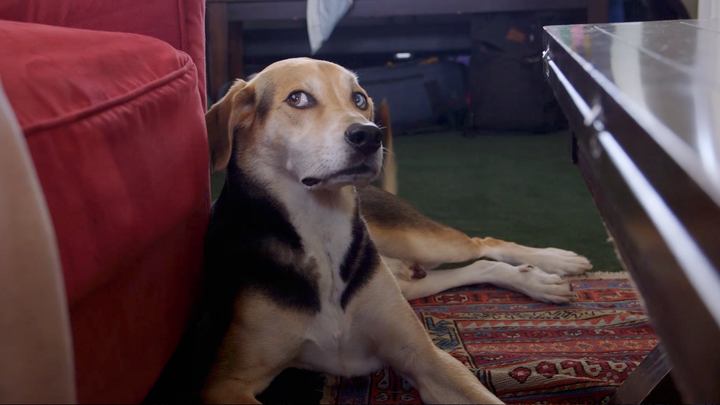 Funding for the series was made possible through ITVS, the Independent Television Service, which funds and airs documentaries on public television. "The F Word" will be one of the first shows helping ITVS launch its brand new Indie Lens Storycast channel on YouTube.
Filming is already underway for a second season and a Kickstarter campaign will go live after the first season's finale in October. In the meantime, Nicole and Kristan are happily focused on fostering their long-awaited baby boy. Reflecting back on the road they've traveled, they marvel at how many more layers of love they've uncovered within themselves, with one another, and as a family.
"You have that incredible experience of falling in love all over again with your partner and discovering everything you're capable of together and that's so affirming and incredible," shared Nicole. "And fostering has really forced us to live in the present because we don't know how much time we'll have with this beautiful child. We just know that we're grateful for every moment we do have with him. We've learned that there are really two ways to look at this. One is to focus on the hand-wringing experience of not knowing what the future holds and feeling constantly anxious and fearful of what's not in your control. But the other perspective is to live in the present and feel that gratitude for every day you're lucky enough to be caring for him. We've learned to ground ourselves in that way of thinking."
But the couple also sees sharing their journey as part of a bigger picture of hope, support, and encouragement for other prospective foster and adoptive parents.
"In the beginning we started this because we were finding a lack of transparency in the system and we just wanted to hear more authentic stories. And we knew they existed and that was when we started going in search of them ourselves, as we began to share our own story," said Kristan.
"We want to do this right and that means looking at the uncomfortable truths and having an open and honest and ongoing conversation about how we can reform the system, and how we can all become just a little bit better educated walking into this experience," said Nicole.
"And it's exciting for us to be growing that support system and becoming part of a community comprised of other foster families. It's growing and expanding every day. We're so lucky to be able to do that."
RaiseAChild is proud and thankful that Kristan and Nicole chose our organization as the exclusive partner of the premier episode of "The F Word." RaiseAChild is a national 501 (c) 3 nonprofit dedicated to building loving families for foster children™. RaiseAChild has engaged more than 3,200 prospective foster and adoptive parents as the nationwide leader in the recruitment and support of LGBT and all prospective parents interested in building families through fostering and adoption. We are ready to help you build the family of your dreams. Go to RaiseAChild.org or call (323) 417-1440 now!
REAL LIFE. REAL NEWS. REAL VOICES.
Help us tell more of the stories that matter from voices that too often remain unheard.