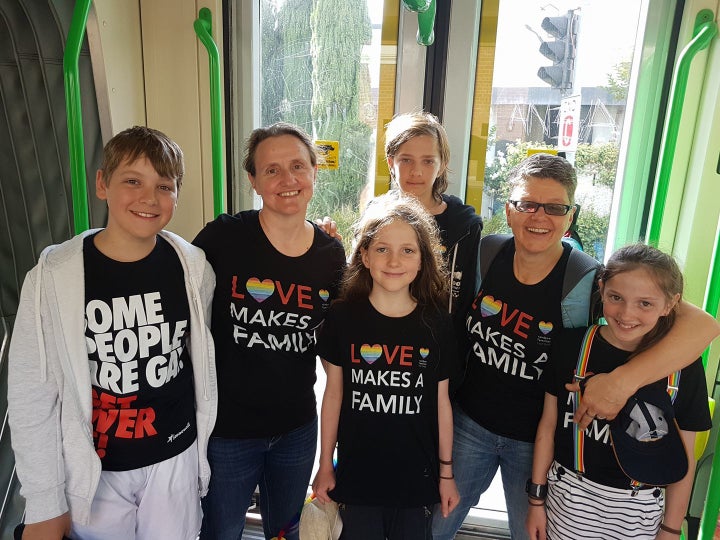 When 15-year-old Corin Nichols-Tomlins travels to Canberra this week with his two mums, there's one member of parliament MP he's particularly keen to see again: Tim Wilson.
Wilson made headlines this week when he proposed to his boyfriend in a tearful scene as Australia's lower house prepares to enact marriage equality. He's the first MP to ever propose in the chamber.
But the tears just outside Wilson's office a year ago weren't from his eyes. They were from the rainbow families, who'd traveled there to stop the plebiscite: a non-binding and highly divisive poll on marriage equality that, they warned, would harm families like theirs across Australia.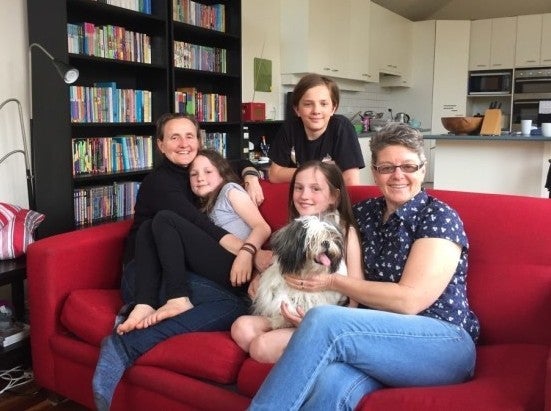 "Tim Wilson's reaction was the worst," Corin tells INTO. "He said he'd still go ahead with the plebiscite even though it goes against what he should believe in. I was pretty outraged. He just said what his party was saying, but I wanted to shout, 'You're gay! With a partner of eight years! The plebiscite will hurt so many young people!' I'm looking forward to talking to him about how, even though the plebiscite went ahead, we still won."
One of Corin's two mums, Jac Tomlins, was there a year ago along with 48 others—22 same-sex parents and 27 kids aged between eight and 16.
"One girl, Mietta, 16, really took on Tim Wilson," Tomlins says. "They couldn't understand, because he's gay, why he wasn't on our side. He responded that being part of a team means even if you don't agree, you support them. Mietta said, 'I've got younger siblings, I'm really worried people at school will say nasty things about their family, please help me protect them.' Afterwards, we all burst into tears."
It was part of an emotional day in Canberra.
"I got teary all the time," Tomlins says. "Sometimes you get trolls saying they're just kids, you can force them to say anything. But this is genuine. It comes from their soul."
This week's trip to the nation's capital will be extra special for the Nichols-Tomlins family. They're all going this time: Tomlins, her partner Sarah and their three children: Corin, 15; Scout, 12; and Cully, 10—will join other rainbow families ina victory lap as history is made, and closure after a 14-year campaigning journey for this family.
Tomlins and Nichols-Tomlins married in Canada in 2003. Returning home, they took on a court case with Melbourne University Law School to clarify the status of their marriage in Australia but a week before its hearing in 2004, then Prime Minister John Howard passed the Marriage Amendment Act, defining it as a union between a man and woman, nullifying their case. They've campaigned for equality ever since.
"Corin was nine months old when we walked down the aisle," Tomlins says. "Going to Canberra to see the law passed is important because this has been their fight too. They've contributed in their own right. I feel we've done a good job with our kids to create a sense of worth and value of their families."
"This has been my entire life," Nicols adds. "It's part of my day to day life as much as eating and sleeping. It's been stressful at times—like when they first announced there'd be a plebiscite. But the high point was the 'yes' result—a very exciting day."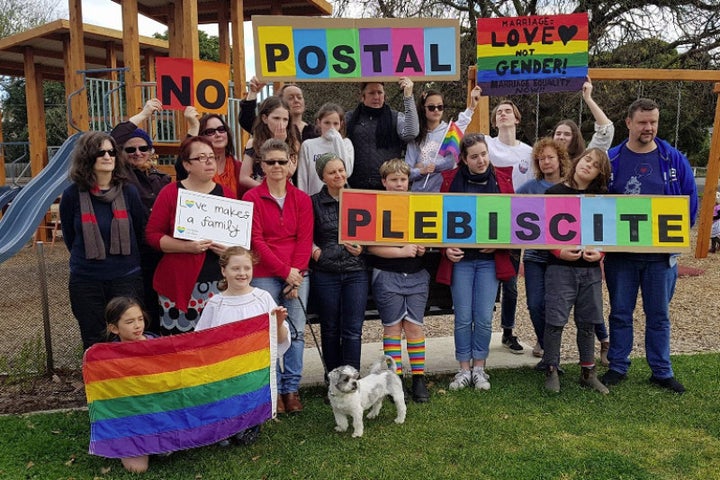 As they gear up for their family trip to watch legislative history, Tomlin and Nicols reflect on their first trip to Canberra. It was certainly eventful. At one point, they stood and walked out of parliament in protest.
"Prime Minister Turnbull's claim that Australia would have a respectful debate was dismissive of a question posed by our friend's son, Eddie, 11, who asked why everyone should have a say on his family," Tomlins says. "We knew our families would be a focus of the plebiscite. The Right had said so. So Fliss, head of Rainbow Families Victoria, stood up and walked out and we all followed."
But the trip had a huge impact on Opposition Labor Leader Bill Shorten, who reversed his initial support for the plebiscite after hearing stories from these rainbow families.
"These extraordinarily smart, resilient, articulate young people—our kids—were able to go down there and have this influence. That's huge," Tomlins says. Some of their lines cut through in the news, including Nichols-Tomlins'': "The plebiscite is like funding people to insult us."
But it wasn't enough. When the government defiantly pushed through a postal survey, Jac and other mums from the Rainbow Families Network challenged it in the High Court, but their bid failed.
"That was hard and horrible. I had a personal meltdown, as did every resilient advocate I know at some point," Tomlins says. "I lost the plot, it just all came out. We never thought we'd have to face it. The campaign kicked off so quickly. I thought, I cannot walk down that high street where I've lived for 15 years, asking traders like Jim where I get my glasses or my local coffee shop to put 'Vote yes' posters up, and have them say no."
A friend—a straight ally—stepped in to hand out the local posters for Tomlins. But she returned with a warning: "She said, there's no way you can hand these out, because of the hostility. Someone even threw the posters across the room."
The campaign was tough. One younger child asked if it was a "no" result, if she'd be removed from her family or if her mums would go to prison. But humor kept this family resilient. Teenager Corin came in on Halloween saying he needed a bible and a badge because he was going trick-or-treating as Lyle Shelton, aleading "no"o campaigner).
Results day was nail-biting; Tomlins "tried to text but my hand was shaking so I couldn't." She burst into tears at the 62% "yes" result: "Not tears of joy, tears of release," she says. "Someone handed me a glass of champagne. I'd had no breakfast. I was pissed as a fart and danced for an hour."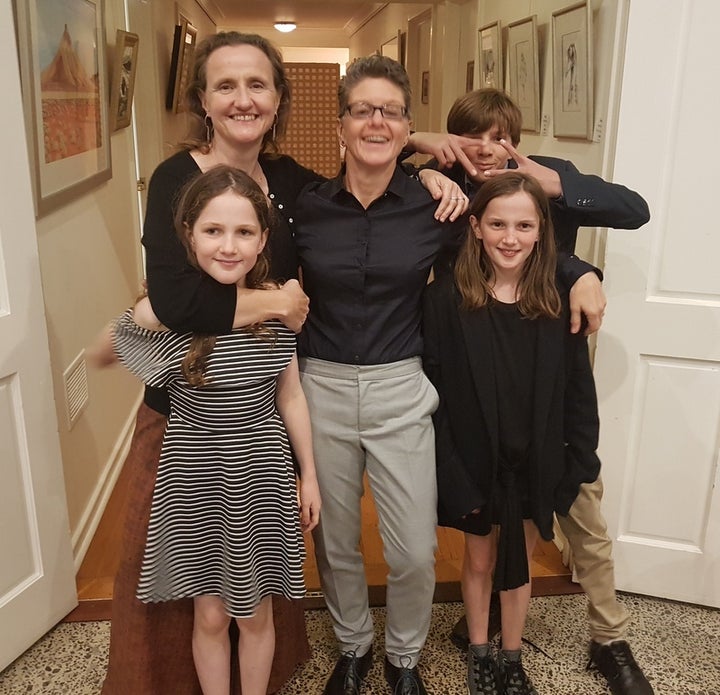 Corin said it was a "stressful" build up: "I was extremely worried." At first, he felt "numbness" at the result, but then ecstasy. "Suddenly everyone was hugging, lots of tears, tissues being handed around, confetti everywhere, people dancing—especially Sarah!"
To sit in parliament as same-sex marriage becomes law will be a "remarkable moment but also closure" for Tomlins. "The 'equality' has always been the most important part of marriage equality. The getting married part is secondary to the profound message it sends to young people in our community."
For Corin, there'll be "many tears of joy after so many years of campaigning. It'll be finally over!"
If he had one message for Tony Abbott or Malcolm Turnbull, it'd be simple: "I'd have to refrain from swearing," he said. " But it'd be what we've said all along: children of same-sex families are just the same as any other child raised in heterosexual families."
"Also, this: you cannot stop love."
Images courtesy the Tomlins-Nichols Family
Calling all HuffPost superfans!
Sign up for membership to become a founding member and help shape HuffPost's next chapter