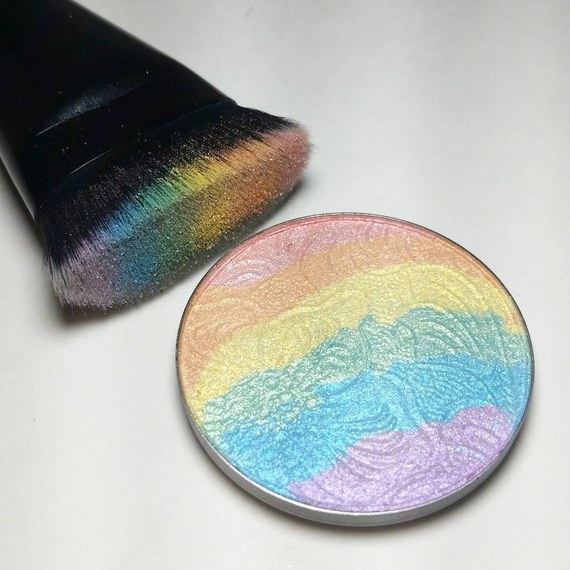 Photo: Courtesy of @bitter.lace.beauty via Instagram
It's changing the strobe game.
Finding the perfect way to highlight your face has become an absolute makeup obsession. Techniques such as strobing have helped us get our glow on, but the next struggle is finding the perfect illuminating shade for our faces. The internet lost it this week when one Redditor saw a rainbow highlighter on a meme and wanted help finding the real thing.
The magical shade was found on an Etsy shop named Bitter Lace Beauty, an Indie line of handmade makeup palettes made by the shop owner, Jenna. The palette named "Prism" sold out in a matter of days, but Jenna announced on the Etsy shop's page that it should be back soon. "Prism our rainbow highlighter is currently out of stock but will be making a comeback soon make sure you are following us on social media for updates," she wrote.
The reason people love Prism so much seems to be because it can be swiped on as a literal rainbow or blended to form a single silver shade.
Prism also works on all skin tones, which can't be said about all highlighters out there.
Stay updated on Prism's restock by following Bitter Lace Beauty on Instagram. The palette will retail for $22 on Etsy.