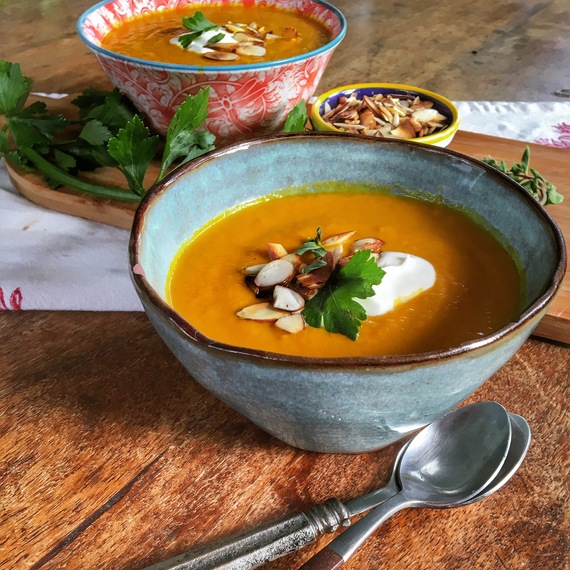 Impressionist painter Claude Monet's cook, Marguerite, used carrots grown in the Monet home garden within many of the dishes served at the artist's dining table. Since discovering the cookbook Monet's Palate, I made a recent jaunt to my local farmers' market, gathering handfuls of carrots to make this soup.
I imagined how this soup would be prepared from Monet's kitchen garden at his home in Giverny, as the weight of many bunches of carrots selected and placed into my canvas bag pulled upon my shoulder. The bag grew heavier after some fragrant spring leeks were added, a large bunch of celery still covered in mud, and other items I couldn't resist buying. I went home, washed off the soil from the carrots and prepared them for roasting. Soon the sweet earthy aroma of roasted vegetables filled my kitchen.
In the cookbook, details of Monet's kitchen garden are explained; which vegetables he preferred (zucchini squash -- or courgette -- and celery, to name a few favorites) and how he enjoyed his salad greens ("Merveille de Quatre Saisons" head lettuce with red-tinted leaves and a buttery heart, and "Paresseux de Castillon" spinach) heavily seasoned with black pepper. Monet's kitchen garden was a sprawling 2 1/2 acres. Among the variety of vegetables planted, there were fruit trees, lettuces, herbs, melons, onions, leeks, beans, artichoke, rhubarb and vegetables with unusual colors "to satisfy his colorist's eye." Carrots in Monet's garden were the deep orange "Scarlet Nantes" variety that dates back to the 1850s and the spike-shaped "St. Valery" which dates back to 1885.
This carrot soup comes alive with ginger, cumin, and coriander, however, the toasted almonds add another dimension to its flavor. When making this soup, adjust the ginger and cumin to your liking, and for my own version at home, I used a sweet potato in place of the suggested baking potato, omitting the honey, adding a dollop of crème fraîche to garnish. If presenting this soup as an entirely vegan recipe, a cashew-based crème fraîche would work quite nicely.
Monet's Palate Cookbook is full of inspiring and lively French recipes, many of which are vegetarian, or can be adapted as vegan and vegetarian, as the current culinary trends are parallel to Monet's farm-to-table rustic home cooking described within his family's cooking journals. From the cookbook: "This soup, while still easy to make, is a bit more exotic in taste than a traditional French recipe. Roasting the carrots brings out their inherent sweetness; the addition of garlic, ginger and cumin adds an earthy depth of flavor; and fresh-from-the-garden coriander, also known as cilantro, adds brightness."
Serve this as a vegan lunch or a warm, nourishing bowl before your main course for dinner.
Roasted Carrot Soup with Ginger, Cumin, Coriander and Toasted Almonds
2 pounds (900 g) carrots, peeled and cut into 1/2 inch pieces
1 celery stalk, diced
1 onion, diced
1 large baking potato, peeled and diced (cook's note: I used 1 sweet potato)
5 whole garlic cloves, peeled
1 tablespoon peeled and chopped fresh ginger
1 teaspoon ground cumin
2 tablespoons (30 ml) extra virgin olive oil
3 cups (720 ml) low-sodium vegetable broth or stock
1 cup (240 ml) water
2 tablespoons chopped fresh coriander (or cilantro), divided
1 tablespoon (20 g) honey (optional)
1 teaspoon sea salt
1/2 teaspoon freshly ground pepper
1/2 cup shredded peeled carrots
1/4 cup (30 g) toasted slivered almonds
Place carrots, celery, onion, potato, garlic, ginger and cumin in a roasting pan or on a large rimmed baking sheet. Add olive oil and toss well. Roast until vegetables are tender and lightly caramelized, 35 to 45 minutes.
Transfer vegetables to a large pot. Stir in broth, water, 1 tablespoon coriander, honey, sea salt and pepper and bring to boil. Remove from heat and cool slightly.
Using an immersion blender (or a high speed blender), puree soup until smooth. Adjust seasoning with additional sea salt and pepper.
Return soup to heat. Add shredded carrots and stir thoroughly.
Ladle soup into bowls. Garnish each bowl with a bit of remaining coriander and toasted almonds. Serve immediately.