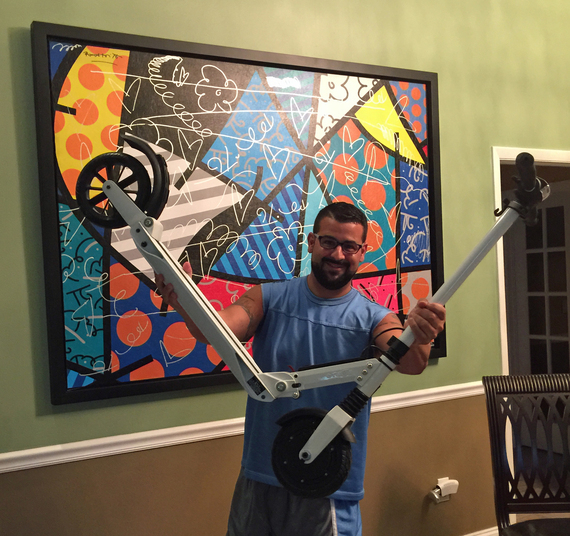 I recently wrote a blog entry about hover boards and discussed how futuristic the new self balancing scooters are. Writing that article really got me thinking; not about the future but about the past.
I remembered having kick scooters as a kid and I don't mean the razor one with the little wheels either, I had a Mongoose with big beefy tires and a nice wide platform that was comfy to stand on and do trick. I would use it to ride up to La Cuisine deli on Waverly Avenue with Glenn and Mike; I'd bunny hop the curb, put down the kickstand and run inside; scooters had kickstands back in the day! First I would grab a cold grape soda, order a roast beef sandwich on white bread with mayo and then eat a Charleston Chew from the freezer while we waited for them to make it. I was always amazed how damn hard it was to bite the Charleston Chew. Mike loved a good bagel dog and sugar water in the little plastic jug or maybe it was me who loved the bagel dogs but anyway, the lady Louise always took good care of the kids from the neighborhood. Glenn was a sucker for Big League Chew, he loved that stuff. I really miss New York Deli's. They tore down that one and built a 7 Eleven. What a shame.
Ok, back to talking about scooters now...
Fast forward twenty something years and I decided to do what any grown man would do as I reminisced about being a kid in New York. I poured a big glass of Dr. Brown's Cream Soda (diet of course) and googled kick scooter, quickly realizing that the scooters of my childhood were now "vintage collectables" and all replaced by tiny compact scooters with wheels that look like they belonged on roller blades or even on a suitcase, but not a scooter! Then it appeared...from out of the blue, and I knew that I had to have it right away. A scooter called ETWOW Booster and wow baby did I need this puppy! I rationalized about the $1,000 price tag, I mean, this was something "I needed" for trips in my Jayco Melbourne RV which doesn't even work at the moment because North Trail can't seem to fix it; even more reason to need a scooter. What if I had an emergency and had to get somewhere without gas?! Ok, but I have a job so I can buy whatever I want. Right babe? It seemed to be big enough for a chubby old hip hop guy like me and sturdy enough for the huge Wrestlers at my shows to take it for a spin. I swear, I am going to get Goldberg on this thing when he's in Miami for our Legends of Wrestling show at the Miccosukee Resort and there will be video! Coolest thing though was that it could be used as a kick scooter (for those with range anxiety like me) or...wait for it: it's electric (boogie woogie woogie). This baby hits 18MPH so I can use it in the hot Miami heat with minimal shvitzing (that's sweating by the way).
So ummm, yeah, I got one (duh) and charged it right up; took less than two hours. I unfolded it, hopped on and rode it 2 miles; unfortunately not to a NY Deli but I'm old now, so I got a skinny vanilla latte and then rode it home where I plugged it back in before my afternoon nap. Next step, I'm gonna do a bunny hop!!!!
Popular in the Community