In the delivery game, you could call this the other Big Brown.
Shitexpress will deliver a steamy pile of horse crap with a personalized message to your enemies -- or twisted friends.

The Hong Kong-based service launched in November 2014 as a marketing experiment and has stuck around like dog doo on a sneaker tread.
"Yes, it's legit," CEO Peter (no last name) told The Huffington Post.
Peter says his firm earned $10,000 in its first month and has made more than 2,500 shipments. Take note, scatological Santas: Orders cost $16.95 for shipping to many places around the world, and can be done anonymously.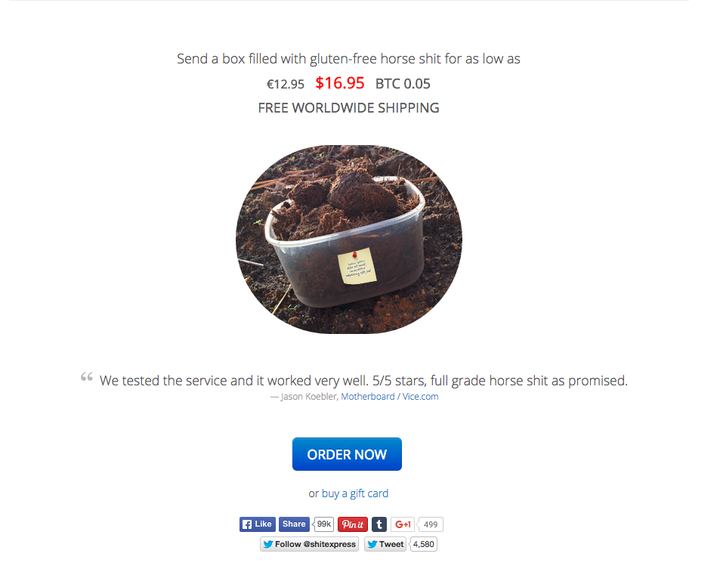 However, Peter notes, Australia is an excrement exception. "Australia doesn't allow feces delivered from outside of the country, so we have partners who ship it locally for us."
The
company's website
suggests sending the poo to "An annoying colleague. A teacher. The ex-girlfriend.The tyrannical boss. The jealous neighbor. Or former classmate." But its extensive disclaimer warns that it is a gag and should not be used to harass, intimidate or violate a restraining order.
The most unusual package so far was someone who included a wedding ring with the poop, Peter told HuffPost.
We'll guess that the marriage is over.
Here's a journalist opening a Shitexpress package last year:
Related
Popular in the Community