These actions are critical, but Sikh activist and religion professor Dr. Simran Jeet Singh is proposing another key way for allies to stand with their Muslim neighbors.
Singh drafted a template letter of support to Muslim neighbors, and he's encouraging allies around the country to share it with Muslims in their community.
"My Sikh faith teaches me to always stand with those who are oppressed and marginalized, especially in the most difficult of times," Singh told The Huffington Post.
True solidarity can only exist when we see attacks on other communities as attacks on us all."
The idea came to Singh in the wake of an executive order President Donald Trump signed on Friday and which he claimed would keep "radical Islamic terrorists" out of the country. An earlier leaked draft suggested the order would block refugees from the war-torn Syria and refuse visas to individuals from seven Muslim-majority countries. 
"My initial impulse was to resist in whatever way I could, but then I saw a friend's tweet about the importance of reaching out to those in our communities who feel targeted," Singh said.
He decided to change his tactic from speaking out in general, to reaching out to Muslim neighbors in particular. "I began reaching out to my friends in the local Muslim community, and as I did so, I realized how much my small gesture meant to them," he said.
The initiative comes at a time when many Muslim Americans are feeling more vulnerable than ever. Over the past year and a half Trump has helped foment increasing hostility toward Muslims in the United States and abroad. Hate crimes against Muslims reached almost record highs in recent months, and The Huffington Post recorded nearly 400 incidents of Muslims in America being attacked, threatened, scapegoated, and profiled in 2016.
Trump denied that his executive order constituted the "Muslim ban" he once promised, but religious liberty activists noted that the move could enforce a "de facto" ban on Muslims entering the country and further marginalize Muslims communities in the U.S.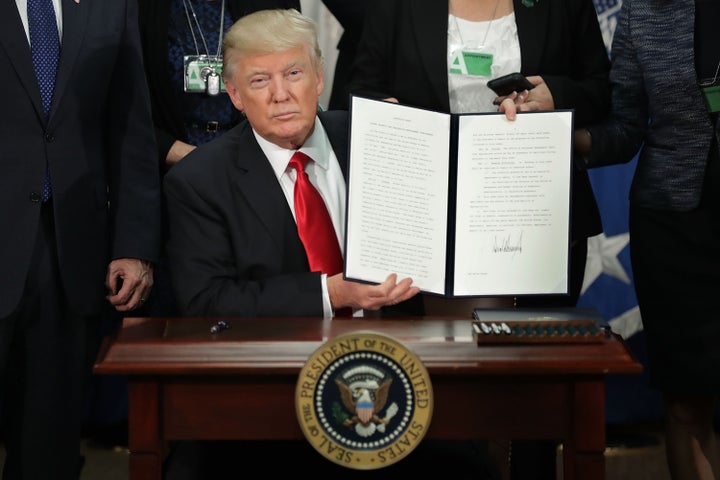 Sikhs and other religious minorities in the U.S. have also suffered from anti-immigrant bias and often fall victim to Islamophobia, even though they aren't Muslim. 
"We have already seen a sharp spike in hate incidents, and I have personally experienced more bigotry and racism over the past week as well," Singh said.
Rather than fall prey to fear, though, Singh urges people of all faiths and backgrounds to recognize that "true solidarity can only exist when we see attacks on other communities as attacks on us all."
Singh said he hopes the letter he drafted will go far and wide and remind Muslims that their neighbors and friends stand with them, no matter what the current administration might try to do.
"Having a critical mass of people participating in this effort would be a powerful way of showing Muslims that they are not in this alone – and, rather, that we are all in this together," Singh said.
Read, copy and share Singh's template letter below:
Dear Muslim Sisters and Brothers,

We realize that this is a very difficult time for you and your community. We recognize that there are people in this country who have negative feelings about Muslims and about Islam. We also see how these negative feelings are being used to justify the mistreatment of Muslims.

We want you to know that we do not agree with those who mistreat you. We want you to know that we are with you. We want you to know that you are loved and that you are cherished and that you are valued members of this community.

Please remember that you have allies here – people who truly and sincerely care about your well-being. We ask you to please stay strong in these challenging times and to please take care of yourselves and your loved ones. As your allies, we promise to do everything that we can to stand up for your rights and to ensure that you are treated with the dignity and respect that you deserve.

Thank you for being such an important part of our community, and thank you for your enduring willingness to help work for the freedoms that make our country great.

With Sincerity,
Your Neighbors
REAL LIFE. REAL NEWS. REAL VOICES.
Help us tell more of the stories that matter from voices that too often remain unheard.
BEFORE YOU GO
PHOTO GALLERY
Interfaith Allies Surround Praying Muslims With Circle Of Protection