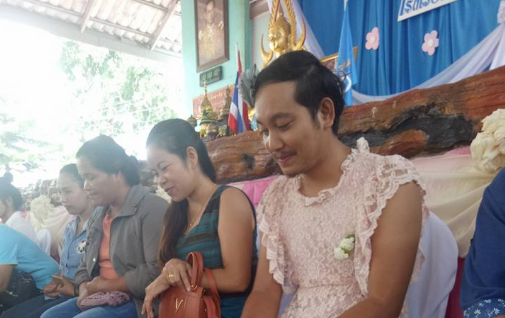 A single father in Kanchanaburi, Thailand, just did something really thoughtful for his two sons.
Chatchai "Sam" Panuthai wore a pink lace dress to greet his two sons, Imsome, 3, and Ozone, 5, at a school event ahead of Mother's Day, which is celebrated on Aug. 12 in Thailand. Kornpat Ae Sukhom, a close friend of Panuthai, caught the entire incident on camera and posted it to Facebook on Aug. 9.
The video shows Panuthai and Ozone at the school's Mother's Day ceremony. During these ceremonies, children usually kneel at their mom's feet as a sign of gratitude for all she has done, BuzzFeed News reported. Sukhom's video quickly went viral and received over 6,000,000 views as of Monday morning.
Sukhom told BuzzFeed that Panuthai and his wife are divorced and she now lives in Europe. She added that Panuthai decided to wear a dress because he didn't want his sons to feel left out because their mother couldn't be there during the ceremony.
"Everyone enjoyed it and all laughed and took photos with him," she said. "His two sons weren't quite sure what was going on and why Dad was wearing a dress."
Sukhom also posted photos from the Mother's Day event, with the caption: "Best mom of 2018." Scroll below to see more photos from the adorable moment.