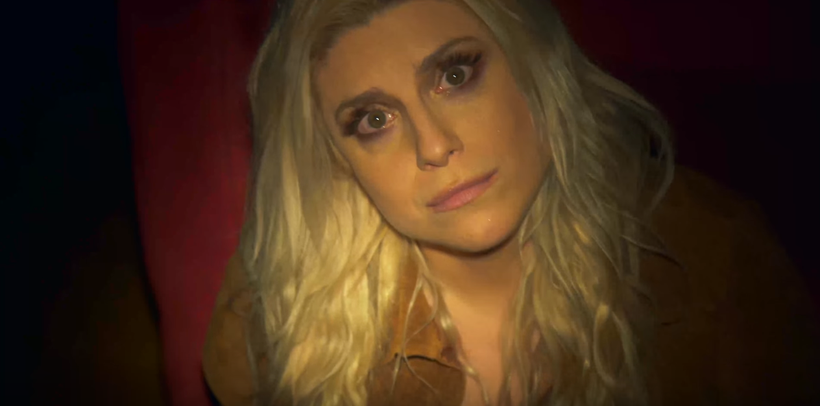 When she walks into the cramped, candlelit bar, my stomach flips. I sit up straighter, pretend I don't see her at first. I've packed a toothbrush and a change of clothes in my bag out of wishful thinking. Hoping she'll take me back tonight. Regina and I have only been seeing each other a few weeks, we're not "dating," she's not my "girlfriend," we're somewhere in the murky middle, existing in the awkward space where we wait a minimum of twenty minutes before returning each other's text messages. Our ending was as quick and passionate as our beginning. What started with a heated makeout session on the subway ended with her, in this crowded dive bar, handing me a black Urban Outfitters bag with a sad, barely used strap-on sitting limp and lifeless at the bottom. I never understood what we were, but tonight it feels good to at least get closure, even if it means going home alone.
The memory of this night, these feelings, rushed back to me as I listened to "Hooking Up With Girls," It Was Romance's new song about a woman dating another woman and "wishing one of them would say, 'Look, here's what we are," front-woman Lane Moore explained to me, "so at least they could go from there, but no one's doing that and she hates it."
When watching Fiona Apple's 1996 music video for "Criminal," Moore thought it was "a perfect match for 'Hooking Up With Girls.'" That's when she decided to remake the video shot-for-shot. In order to pull it off, she watched the video too many times to count. "Even as we were shooting I was watching it on my phone," she said. "Since I was directing it while being in every shot, I really had to make sure I had a good feel for how she moved and what the shots were like so I could work with the directory of photography as best I could and make our jobs a lot easier in the editing room."
Moore wrote "Hooking Up With Girls" about a woman she was in a relationship with. "I could never get a read on [her]," she said. "What she wanted from me seemed to change constantly and it was brutal." While "Criminal" and "Hooking Up With Girls" are both different in terms of storyline―the latter being about a woman who cheated on her boyfriend as a way of self-sabotage and is seeking forgiveness—"They're both about communication in difficult situations," Moore said.
From concept to post-production, the video took a little over a year to make. Moore used her friend's house for the shoot, which just so happened to be the perfect "Criminial"-esque setting, and scoured the internet for the perfect 70s-colored, shimmery costumes. Moore told Out Magazine she wanted to feature butch women in the video because, "they're so, so beautiful and they need to get more attention."
In addition to Fiona Apple, Moore's inspired by Stevie Nicks, Ann and Nancy Wilson from Heart, Nina Simone, Selena, Diana Ross, and The Cranberries, among many others. "Patsy Cline, Dolly Parton, Kitty Wells, and the women of '90s country were huge for me," she said. "I watched CMT round the clock and went to country music festivals as often as possible."
When it comes to the struggles of "hookup culture," queer and straight people are dealing with a lot of the same issues. "People in my generation are dealing with trying to seem "chill" in relationships and it's not cool to have feelings or want intimacy or certainty," Moore said, "but so many of us want it. I see that just as much in the queer community as I do in straight dating. It's hard for everyone and that's what the song is about."
Moore also feels that the way sexuality is dealt with in music is different now than it was in the 90s. "In the '90s it just seemed like musicians, particularly women, could focus on their sexuality, or not focus on it, and it was up to them and no one really cared," she said. "I'd love to see an explosion of women in rock, or of women in country, like we did in the '90s. Partly so I could be a part of it, but I want to see it happen either way."
Writing songs is a way that Moore makes sense of her relationships, and helps others make sense of theirs. "It's just easier to explore it that way," she said, "and also hopefully helps other people who listen to that song figure out their own relationships or things they're dealing with."
Check out the music video below (sober and without your phone) and be prepared to think about that girl you know you definitely shouldn't text right now.
This post was published on the now-closed HuffPost Contributor platform. Contributors control their own work and posted freely to our site. If you need to flag this entry as abusive,
send us an email
.