When Jonathan Moxey's infant son was diagnosed with a skull condition and needed to wear a helmet ever day for a year, the dad devised a creative way to make the experience fun and special.
Just two months after he was born, baby Jack Moxey was diagnosed with craniosynostosis, a premature fusing of the plates in his head. "Basically, as he was growing his head was only expanding front to back, rather than all around,"Jonathan told The Huffington Post.
After undergoing a surgical procedure which would allow his head to grow normally, Jack needed to wear a helmet to protect his head as it healed from the operation and to guide its growth until he turned one. To make the nine-month period more upbeat for the family, Jonathan decorated Jack's four helmets with exciting Star Wars designs.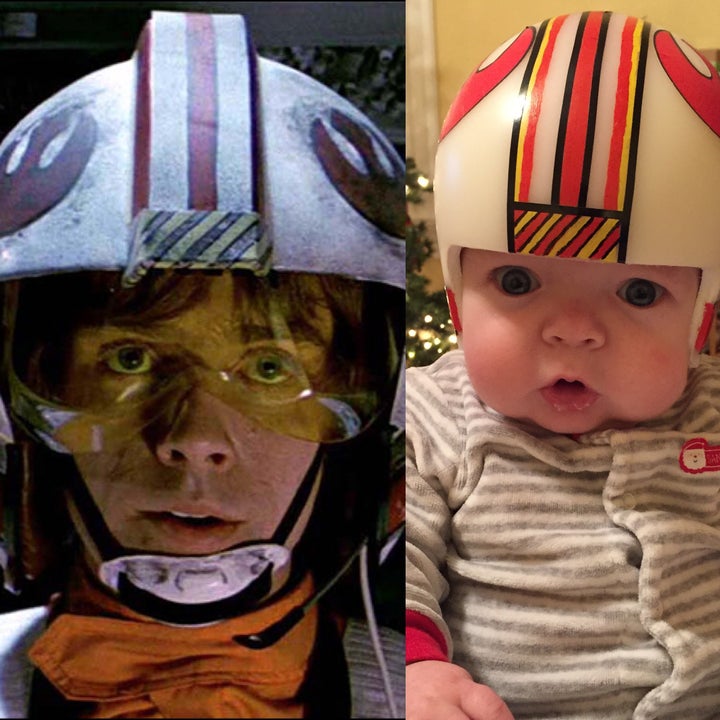 "As my wife and I were talking before the surgery, we decided that if we had to do this, we might as well have some fun with it," the Missouri dad told HuffPost. "It changes the narrative from 'Oh, what happened to your kid?' to 'That's an awesome helmet!' Jack was too little to really understand what was going on, but he definitely didn't need anyone feeling sorry for him."
As a Star Wars fan, Jonathan decided to draw design inspiration from the franchise, so the four helmets were nods to R2-D2, Luke Skywalker, Biggs Darklighter and Jek Porkins.
The Moxeys shared photos of Jack's cool helmets on Instagram, where they attracted a lot of positive attention.
"I had one guy reach out to me on Instagram and ask how he could make one for his son, who was in a similar situation," Jonathan said. "Helping someone else make the best out of a tough situation was the coolest thing. Our attitude toward the situation really made a difference, and I'd love to pass along that positive outlook."
Today, Jack is 16-months-old, helmet-free and totally thriving. "He's walking around and getting into anything he can," the dad said. "His words are coming along, and he's a pure joy."
May the force be with this little one!