"I think the LGBT community building their families through foster care and adoption is a beautiful, elegant and a quite logical solution to both problems of adults who want to be parents and children who want to belong to a family."
In this special RaiseAChild.US Huffington Post Queer Voices "Let Love Define Family®" series installment, contributing writer Beth Hallstrom tells the story of John Minck, a man who was moved by the story we told and in support of the work we're doing in the LGBT community, surprised us with a letter and a donation. 
While The Let Love Define Family Series® is a staple in The Huffington Post's Queer Voices section every Friday, it's obvious those outside of the LGBT community are hearing the message and adding their support to the fight for recognition and equality.
Among those supporters is retired engineer John Minck of Palo Alto, California, a lifelong liberal thinker who uses the power of the pen to decry unfair treatment and hypocrisy wherever he finds it.
"I'm certainly not your typical rabble rouser, that's for sure. I served in the military and worked in the corporate world for many years. I am 100 percent heterosexual, have been married to the same woman for 60 years, but I am also deeply passionate about speaking against any sort of discrimination," Minck said.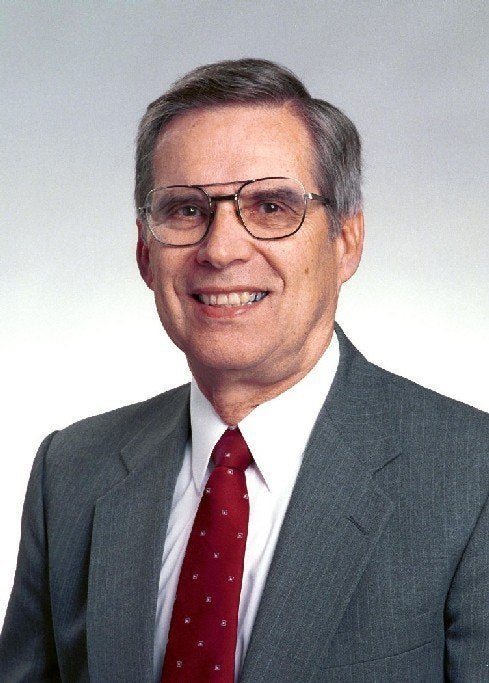 The current causes closest to John's heart include support for same-sex marriage, rallying against the bullying of young queer people and promoting awareness of child sex abuse within the Roman Catholic Church. He is also disgusted, he said, by the hypocrisy of religious schools that fire teachers for having children out of wedlock or marrying same-sex partners.
"It's the injustice that I can't abide -- the idea that some are treated differently for reasons out of their control. Clearly gay people are created by God. It is not a choice," the 85-year old said. 
Born in the Midwest, John was educated at Notre Dame and Stanford, served a USAF tour in the Korean Conflict, tested atom bombs and then spent 38 years as a high tech engineer in marketing communications with Hewlett Packard.
Affable, knowledgeable and quite self-effacing, John is the kind of man one would enjoy discussing or debating any topic with. Call them conversations, verbal sparring matches or simply the exchanges of ideas, it's easy to imagine his "adversaries" would wish the sessions could go on forever. 
"Yes, I am passionate about my causes," he said. "The gay community issues came about from the unfairness of it all. Living in this part of California offered a front row seat to the bravery of those early activists. We were at Ground Zero for the AIDS crisis and I watched the San Francisco gay scene develop from pure vicious bigotry to a real movement for equality," he said.
A voracious reader, John daily peruses many publications and websites, including The Huffington Post. He always reads the Queer Voices section and is a fan of the Let Love Define Family Series®, which is produced by RaiseAChild.US and appears every Friday.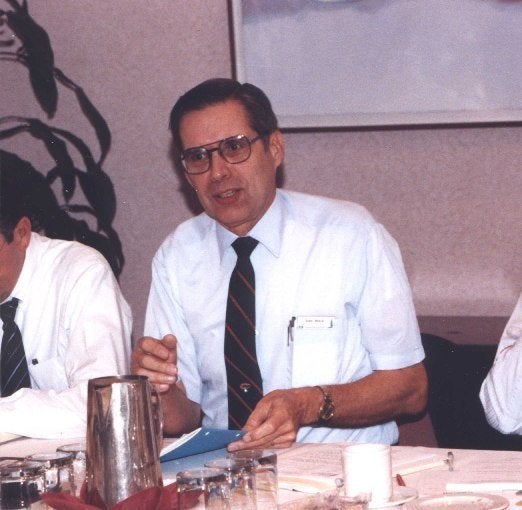 John frequently writes letters commenting on what he reads, most often to the subjects of the articles that particularly move him. John refers to these missives as his "10 attaboys" letters.
Describing himself as part cheerleader, part watchdog and part whistle blower, John said recognizing those who work and sacrifice to make others' lives better, especially children, is important. 
"I think the LGBT community building their families through foster care and adoption is a beautiful, elegant and a quite logical solution to both problems of adults who want to be parents and children who want to belong to a family. I heartily commend all these agencies that are trying to bring these two groups together," he said.
As that chapter in their story ended, Steve and Hector were eagerly waiting their final foster parent certification from Five Acres, the adoption agency they chose to work with. 
"Our certification came the day the story ran, which was a big thrill for us," Steve said. Sometime after, they welcomed a newborn boy and, recently, an 18-month old big brother arrived. Both are currently in foster care with Steve and Hector, who hope to adopt the boys.
Steve and Hector's words from the interview with RaiseAChild.US last summer are happily prophetic: when asked to describe their ideal family, they said, "Now, we're set on a boy, hoping for an infant to a five-year old and we will welcome a baby with an older brother."
Steve and Hector's story prompted John to reach out to Marianne Guilfoyle, division director of permanency programs at Five Acres, and even included a donation to further Five Acres' mission of promoting the safety, wellbeing and permanency of children in foster care.
"I was impressed by their (Steve and Hector's) commitment to one another and their desire to not only create a family, but give a better life to a child in foster care. I believe their right to be parents is equal to anyone else," John said.
John's letter elicited a similar reaction from RaiseAChild.US founder and chief executive officer Rich Valenza.
"It is difficult for me to explain how moved I was to read John's letter. Over the years, we've received a lot of comments to our Huffington Post Queer Voices series stories, our outreach campaigns and social media posts. The majority of these comments are supportive, but we've also seen our share of stinging comments. 
But, we've never received such a thoughtful letter from such a surprising source. Just a few lines and John expressed his support of the good work of our agency partner, Five Acres, his encouragement for Steve and Hector and his very strong belief in LGBT rights. John gets what RaiseAChild.US is all about," Rich said.
John said he is hopeful for a future of in which all the communities -- LGBT, straight, religious, ethnic -- become one community and based on what he's witnessed over the past 60 or so years, he said he is encouraged.
"I've seen the move toward equal treatment. Our society isn't there yet, but I believe that when the older generation dies off, the younger generation will continue to change things for the better. I know it won't be in my lifetime, but it will be," he said. 
Rich added, "It always feels good to be recognized. John is not only supportive of our work to help children in foster care, but he is hoping that our LGBT community will go further will bring a bigger change to the nation and the world. How can that not inspire you?" 
Have you ever thought of building a family through fostering, adopting, or weekend hosting? RaiseAChild.US is the nationwide leader in the recruitment and support of LGBT and all prospective parents interested in building families through fostering and adoption to meet the needs of the 415,000 children in the foster care system of the United States. RaiseAChild.US recruits, educates and nurtures supportive relationships equally with all prospective foster and adoptive parents while partnering with agencies to improve the process of advancing foster children to safe, loving and permanent homes. Take the next step to parenthood at www.RaiseAChild.US or call us at (323) 417-1440.
Calling all HuffPost superfans!
Sign up for membership to become a founding member and help shape HuffPost's next chapter