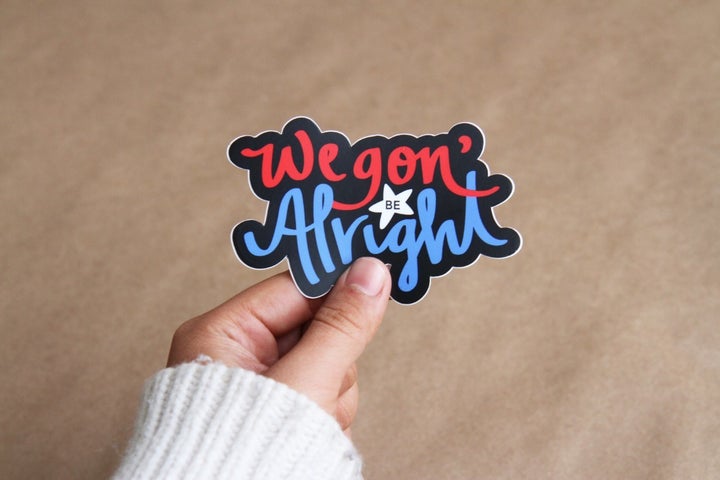 During a time of political turmoil and fear by many for a new presidential administration, Jane Li is determined to promote positive thinking while also raising money and awareness for an important cause. Jane is a student at the University of Southern California's Iovine and Young Academy, a program designed to cultivate future innovators, creators, and change makers.
As a response to the turbulence of 2016 and in hope of a more positive 2017, she was encouraged by a friend to design a sticker with the words "We Gon' Be Alright", leading her to turn her artistic design into a full-blown campaign. She writes:
"[S]ince the project is about spreading positivity and having a sense of community, I wanted the proceeds to go back to a non-profit that could help even more people. Last semester, I took the Intro to Psychology course here at USC, where I learned a lot about psychological disorders and mental health, so when I was researching which non-profit to donate to, I decided on the Anxiety and Depression Association of America."
The ADAA promotes awareness of, provides resources for, and educates about various mental disorders such as Generalized Anxiety Disorder (GAD), Post-Traumatic Stress Disorder (PTSD), Depression, and Bipolar Disorder, to name a few. The month of January can often be a difficult one for those who suffer from mental health disorders, so Jane thought that this trend along with the recent inauguration provided an appropriate time to address these issues. According to the ADAA, Major Depressive Disorder (MDD) is "the leading cause of disability in the U.S. for ages 15 to 44.3", and anxiety disorders affect "40 million adults in the United States age 18 or older, or 18% of the population" ("Facts and Statistics", 2016).
As a mental health activist on my university's campus, it is always encouraging to see other students such as Jane take action and stand up for something that affects so many people, but can be stigmatized. While her goal is to encourage positive thinking through her campaign, she is not trying to pretend that difficult times don't exist or diminish the efforts of those who are struggling and fighting for their own health, rights, and safety. Instead, she hopes that she can inspire other activists to stand up for mental health promotion.
So far, Jane has raised almost $500 from sticker sales and hopes to continue raising money for the ADAA. If you would be interested in purchasing one or more of her stickers to support this great cause, please click here. Her campaign is set to end soon so make sure to purchase a sticker when you can!