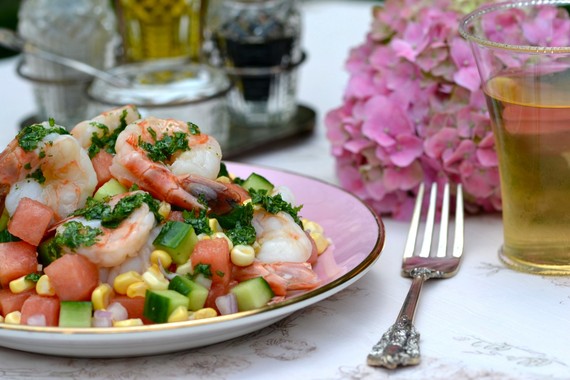 You know the saying, "The way to a man's heart is through his stomach." Of course that goes for women as well. One of the most intimate things that we can do is prepare a meal with love. Couples that try new things enjoy a deeper connection, so making something together in the kitchen may help you feel more connected in your relationship. If you want to try something new that's fun to do with your sweetie, why not cook for each other?
Cooking has always inspired my desire. Making something delicious for your amour is a good recipe for a better love life. You can learn a lot about each other by cooking. For instance, a man that takes his time, using his senses to select fresh ingredients, delicately tasting to know its flavor--- he may be a great lover as he pays close attention to his darling's responses with epicurean skill. My theory? As in the kitchen, so in the bedroom. But you don't need to be an expert chef to arouse your beloved. With just a few essential ingredients you can make ordinary grub into glorious gourmet.
Let's start with a simple summer recipe. This particular dish was made by a lover and it won my heart. In the moment of watching him clean and cook shrimp I already knew that he was attentive. The care he put into whisking the dressing and chopping up herbs until fine made my body simmer. By the time I took one bite my eyes rolled back in orgasmic delight. When cooking for each other, keep in mind it can be absolute foreplay.
Needless to say, cooking for each other is a preamble to lovemaking. I'm not just suggesting you two have a quickie on the countertop after fixing a sandwich. Have but a taste of your sugar after you've (ahem) laid your ingredients out à la mise en place. Just don't knock over the mise all over le place while you're going for more and more amour.
SUMMER SHRIMP IN MOJITO DRESSING
with Watermelon, Corn and Cucumber Salsa

Your sensual summer rendezvous will be oh-oh-oh-lala once you've tasted this delicious recipe, Summer Shrimp in Mojito Dressing. If you love succulent shrimp, juicy watermelon, crunchy cucumber and mint with cilantro, then this is the perfect dish for your romantic afternoon à deux.

For this recipe you will need:

1 pound colossal shrimp, peeled and deveined
1 hothouse cucumber, diced
2 cups seedless watermelon, diced
1 ear corn, husk and silk removed, kernels cut off
¼ cup fresh cilantro leaves, lightly packed
¼ cup fresh mint leaves, lightly packed
2 tablespoons olive oil
1 teaspoon honey
2 tablespoons shallot, minced
1 clove garlic, minced
dash sea salt and black pepper
Juice squeezed from 1 lime
The kitchen is the new bedroom, so wear nothing but an apron like it's lingerie (or a loincloth) and begin the seduction. Take your darling by the hand and lure them into the kitchen so they can watch you cook. Pour your loving voyeur a glass of rosé or bubbly. You want to get them in the mood for good food and arouse their senses. Offer a nibble of Kalamata olives or grapes while they wait. It worked for Roman orgies, didn't it? Food foreplay for your god or goddess is tantamount to tickling their tongue with a kiss.
Now first, devein the shrimp. Hold your paring knife firmly and carefully cut along the vein of the shrimp. Repeat for all the shrimp until complete. If you aren't sure how to devein shrimp without making a mess of them, purchase deveined shrimp from your local seafood market. This isn't the time to feel anything less than confident while you make such a romantic gesture.
Next, prepare your prawns for quivering pink plumpness in hot water. You'll have a medium pot of salted water simmering for these little beauties. Add the shrimp and cook until flesh is pink and opaque, about 2 minutes. Remove from heat (with a mesh sieve if you have it) and rinse under cool water until shrimp are room temperature. Set the cooked shrimp aside as you prepare the salsa and dressing.
Strap your apron around your waist and flirt while you chop up fresh bunches of mint and cilantro. Do not be shy when it comes to making dressing from scratch. Of course, undressing each other slowly is exciting, but homemade dressing for this recipe makes it zing. Chop the herbs with a seductive glance here and there, but don't take your focus off your knife skills or you'll be headed to the ER instead of the boudoir.
Once you've chopped up your green herbs, scoop them into a bowl with the cup of your hand. If your sweetie likes how fragrant your hands smell after doing this, caress your lover's face and give them a slow kiss. The scent of a chef at work is an aphrodisiac. Then put the cilantro, mint, olive oil, garlic, shallot, sea salt, pepper, honey and lime juice in the work bowl of a food processor or blender. Blend until herbs are finely chopped. This is your Mojito dressing.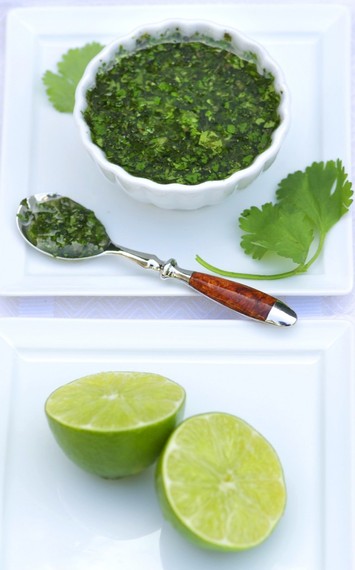 Now for the watermelon, cucumber and corn salsa.
Kiss your sweetheart again and reach for your cucumber with one hand. Cube the cucumber and place it in a bowl. Then hold the watermelon and slice it open. Cut the watermelon into bite-sized cubes. You'll need two cups of watermelon and one hothouse cucumber all cubed in a bowl. Slice the kernels off one ear of corn. Raw is sexier, so just husk the silk off and slice the corn into the bowl of watermelon and cucumber. This makes the salsa.
Toss the watermelon salsa with the Mojito dressing and add a squeeze more of lime if you'd like. Add the shrimp and mingle all of the ingredients together in an orgy of colorful flavors.
Lovingly arrange the shrimp dish upon two plates and sit closely together. Enjoy with absolute abandon. Add a pinch of sea salt and pepper however it pleases. Take your time and savor each bite.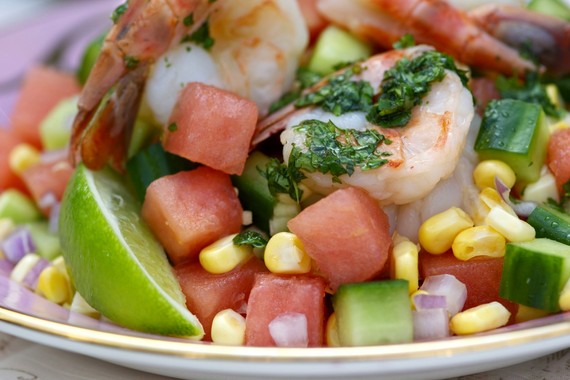 If you like this recipe, please visit The Sensual Foodie for more pleasure and foodgasm-inducing inspiration.