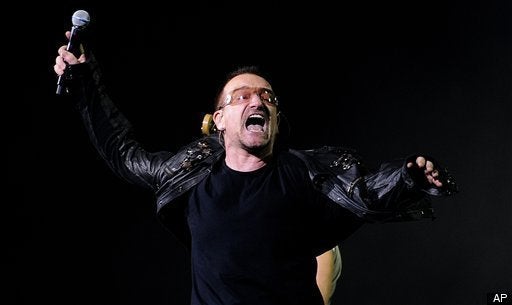 Usually New York City is the kind of place where Saturday night is the night to paint the town (RED) but this week, Sunday night is the night, and Carnegie Hall is the place.
Because this Sunday, Gavin Friday, all-around Irish music star, is doing an incredibly special show a few days before his 50th birthday. In Gavin's words, what he usually does, or likes to do on the birthday is relatively quiet: "Preferably I'd hide ... but usually I am very happy to have a quiet bite to eat with a few close friends."
Let's just say this year is going to be a little different -- here's what is happening.
Not only is Gavin performing at Carnegie Hall on Sunday night, but he's bringing a few friends.
Like Bono. The Edge. Larry Mullen, Jr. And Adam Clayton. Together, they form this small quartet called U2, but this Sunday, they are showing up as individual friends of Gavin's and who knows what they are going to do? But anyone who has seen them as U2 can only hope that Larry brings his bongo drums that he runs around with during "I might go crazy if I don't go crazy tonight."
Not only are these four guys coming but there are also more special guests like Laurie Anderson, Andrea Corr, Courtney Love, Lydia Lunch, Maria McKee, Shane MacGowan and Rufus Wainwright.
Oh, and Joel Grey will be there too.
So even if that was the end of the story, it would be well worth clicking here and getting some tickets. But that's not the end of the story, and it's not why I am writing this post.
(RED)Nights concerts have been happening all around the country with top artists like Katy Perry, Fall Out Boy and Santagold. (RED)Nights concerts not only create awareness of what (RED) is all about but also give you chance to hear great music and save lives.
Let's talk about that a minute.
Do you know that just two pills a day, costing 40 cents, can keep someone with AIDS alive and healthy? 40 cents, that's it.
Now, there aren't many tickets available but there are some, and every empty seat means less money raised. And when forty cents makes the difference in someone's lives, well, let's all head to Carnegie Hall on Sunday night together.
It's a great cause, a great event and a chance to paint the town (RED) -- on a Sunday night no less.
Related
Popular in the Community