Brought to you by Pioneer Works, the 2nd Annual Red Hook Regatta is a 3D-printed boat race at Valentino Pier. It is also the brain-child of famed artist, and founder of Pioneer Works, Dustin Yellin, and David Sheinkopf, Pioneer's Co-Director of Education & Tech Integrator. The idea originated from a combined fascination of Red Hook's industrial shipping past, and a current desire to get local youth interested in engineering. Most of the participants--although anyone is welcome to enter--are between the ages 18 and 24 and are year-long students of The Digital Stewards.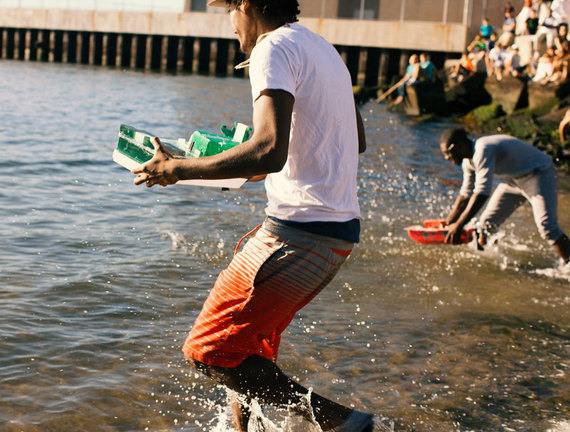 Picture is courtesy of Pioneer Works
The Digital Stewards is a program in partnership with the non-profit Red Hook Initiative that aims to better the community by educating potential engineers, and creating tech-based solutions to neighborhood concerns like wifi accessibility. It's during their lessons that the students become skilled on the ins-and-outs of 3D printers, and the 3D software used to create the designs.
The Regatta will put these skills--and bouyancy--to the test during the race this Sunday. The only rule for boat submissions is that they fit inside a 2ft. x 2ft. x 2ft. box, so prepare for some wacky creations. One may draw comparisons with Red Bull Flugtag and Baltimore Kinetic Sculpture Race.
When asked if he and Dustin were joining the competition, David responded, "That would be a conflict of interest. We are making a boat, but can't tell you much more... Let's just say that the 'Half-Time Spectacular' will be spectacular!"
The Red Hook Regatta is Sunday September, 25 from 1-5pm at Valentino Pier.
Go here for more details.
Calling all HuffPost superfans!
Sign up for membership to become a founding member and help shape HuffPost's next chapter