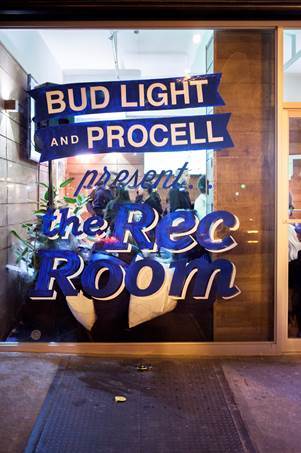 I had the pleasure of spending my Super Bowl Sunday at the super cute digs of Bud Light X Procell Present: The Rec Room. And although I was mainly there for the Bud and Gaga's halftime show [typical girl] I have to say I actually had a blast at the viewing party.
Between the delicious Taiwanese-Chinese food supplied by BAOHAUS and the appearance of the cute and very vintage '80s Spuds Mackenzie, it was a super cute night.
It was all in celebration of Bud Light bringing back Spuds Mackenzie in the new Super Bowl ad spot. The dog was a favorite in the '80s, popping open a Bud Light at the best parties. He's back to remind us the reason we share Bud Lights with our buds - to celebrate friendship.
We also of course share buds to celebrate Gaga who absolutely killed her halftime show. She kicked off the Pepsi Zero Sugar Super Bowl Halftime Show with the first-ever drone light show integration during a televised event and a Super Bowl. Created by Pepsi and Intel, the light show was the perfect accessory to her gigantic jump off of the dome roof. After somersaulting through the air, Gaga thrilled the crowd at NRG Stadium in Houston, Texas with some of her top hits including 'Bad Romance,' 'Poker Face,' 'Born This Way' and new hit 'Million Reasons,' delivering a memorable performance to millions watching around the world.
Check me out here with the lady at a previous Bud Light event where she literally took over NYC's Bleecker Street.
You can still stop by the store located in LES at 5 Delancey Street. It's stock full of vintage Bud Light gear, and other merchandise available to purchase from sneakers and T-shirts to posters and some funky hats.
Related
Popular in the Community