A cartoonist has stolen the internet's heart with a sweet comic strip about how fast kids grow up.
Dan Dougherty is the artist behind "Beardo," a comic series he started in 2006 with a main character that represents him and others who symbolize his family. Dougherty decided his latest Beardo comic strip would be his last for the character, and it sums up the beauty and the pain of watching your kids grow up.
In the final strip, Beardo takes his toddler daughter on a walk, later watches her graduate, walks her down the aisle at her wedding and is then surprised with the news that she's pregnant. It turns out Beardo is imagining what will happen in the future. When the strip flashes back to him carrying his toddler on a walk, his wife asks whether he wants to put her in the stroller. Beardo chooses to hold her a little longer because "it'll be over before we know it."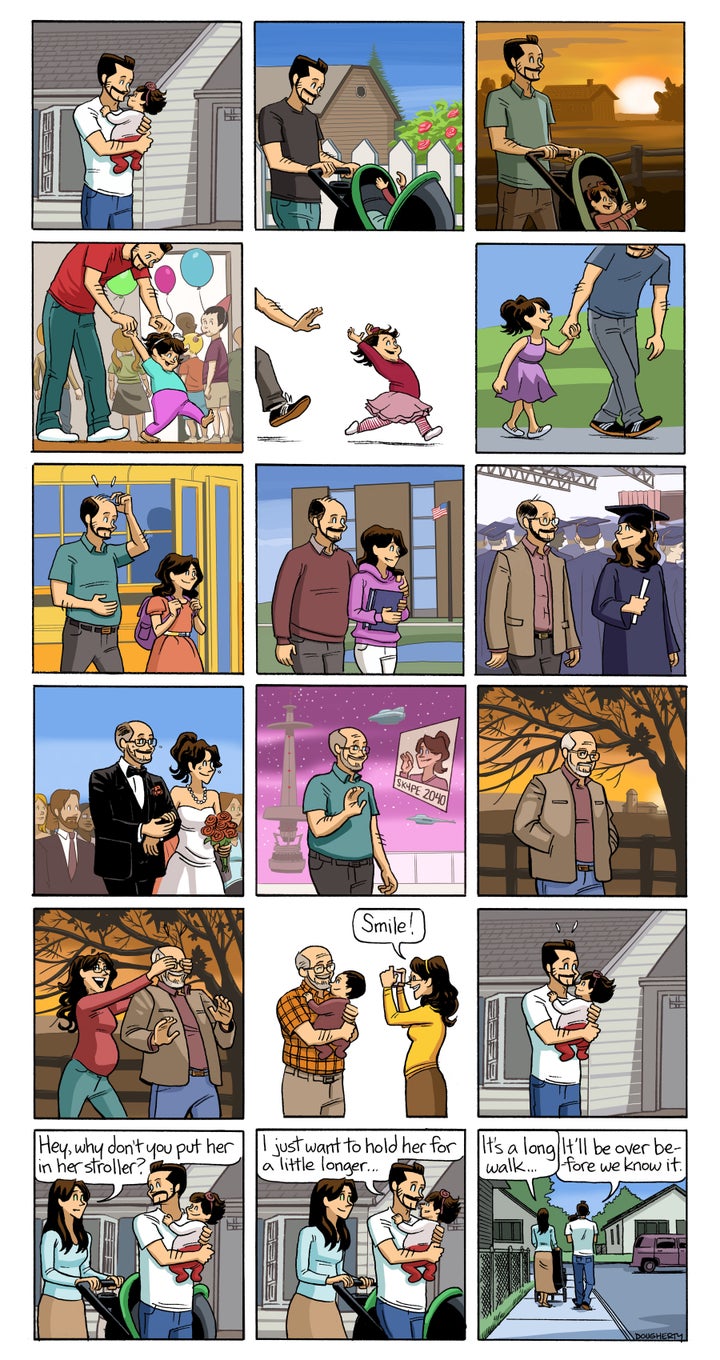 Dougherty, who teaches at Chicago's International School of Comics, told HuffPost that Beardo has always been "part comedy, part therapy." As he was creating this final strip, he felt that time was moving too fast with his 2-year-old daughter, Audrey.
"I won't lie, I got a little teary-eyed, and my wife treats it like the solar eclipse: she thinks it's beautiful but it's best not to look directly at it or the waterworks come out," he said.
He didn't intend this strip to be the last for Beardo until he saw the final results.
"Once I saw it, I knew it was my mic-drop moment for the book and the series," he said.
The cartoonist, who also has another baby on the way with his wife, Meg, said his daughter has influenced his work as an artist.
"She's not old enough yet to really understand what I'm doing, but she's fascinated by it and that is enough to keep me inspired enough to continue making comics for years," he said.
When asked what he's most looking forward to sharing with Audrey in the future, he couldn't pick just one thing.
"I have little ridiculous ideas about going to Comic Cons cosplaying as [comic book characters] Old Man Logan and X-23 or teaching her what skills I have," he said. "Mostly I just want to be around for as much as possible, and to still be considered 'cool' even as I become more and more irrelevant!"
Beardo's full-circle moment with his daughter has served as a sort of therapy for many others online. Dougherty told HuffPost he figured he'd get a "nice modest goodbye reaction" from his fans for Beardo, but never expected the final strip to go viral. The strip has been shared more than 24,000 times from the Beardo Facebook page alone.
What Dougherty has enjoyed the most is seeing people use the comic to interact with the people whom they care for the most.
"What's been nice about it is that it seems to not only be relatable to people, but also something they use to communicate to people they love," he said. "If my comic can do that, I did something right."
For more of Dougherty's work, head to his site.
Related