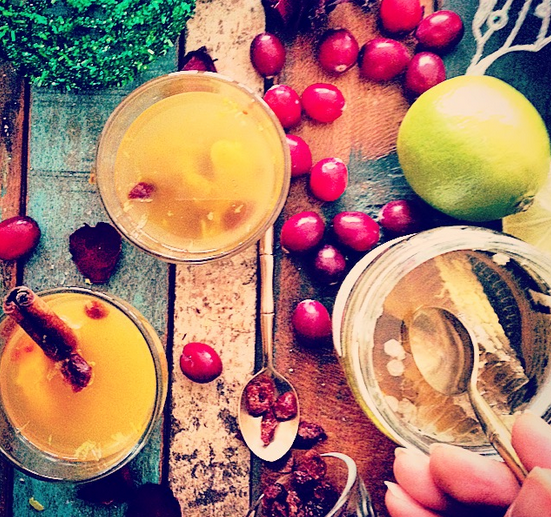 I recently met someone who doesn't like cinnamon. It's almost as alien as "I don't like coriander" (although I have a cousin who oddly doesn't like coriander). I would say who doesn't like coriander, but cinnamon tops it. The intoxicating aroma when biscuits or puddings with cinnamon are being baked, the lingering sweet spice smell that arouses the senses and stimulates the appetite, and that irresistible flavor, so comforting and so healing, whether it's added to a savory dish or to a cake. Cinnamon just makes everything taste so much better.
This recipe for the ultimate Christmas drink encompasses the warmth and decadence and everything that goes with this month of excitement -- and, of course, cinnamon. The sweetness of orange and honey, the entrancing woody aroma of cassia, the lavish lime followed by small pieces of pleasantly herbal lime zest, all brought to life by the fiery warmth of ginger alongside the remedial turmeric, and now and again a cinnamon cranberry or a small orange piece will claim attention, lending more depth and imagination to this cup of cozy Christmas.
This drink is so absolutely dependent on cinnamon and so filled with everything cinnamon that I would definitely caution any cinnamon-dislikers. But those of you who, like me, love all that is sweet, spicy and Christmas-y, this is the ultimate (non-alcoholic) drink for the season, with such an interesting array of textures and flavors you won't need to reach for that pudding - maybe just a few pieces of dark chocolate!
500ml water
1 tablespoon (20g) grated ginger
¼ teaspoon turmeric
¼ teaspoon cinnamon powder
2-3 cinnamon sticks, broken
juice of 1½ limes
2-3 tablespoons (50g) honey
1 teaspoon lime zest
handful dried cranberries
1-2 clementine oranges
Start by chopping the dried cranberries into smaller pieces and stir them in a pan on medium heat with half a teaspoon of cinnamon and possibly a teaspoon of agave syrup (to hold the cinnamon) for a few minutes. Now boil together all the ingredients for as long as possible. You can either add the chopped pieces of clementine oranges and the cranberries from the start or right at the end. If you prefer to strain the drink so that you aren't chewing on small bits of grated ginger, then add the cranberries and oranges after boiling and straining. However, I like to chew on the ginger, so I boil everything together, and this way, the cranberries and oranges are infused with the juices. Leave a pinch of the lime zest for garnishing.