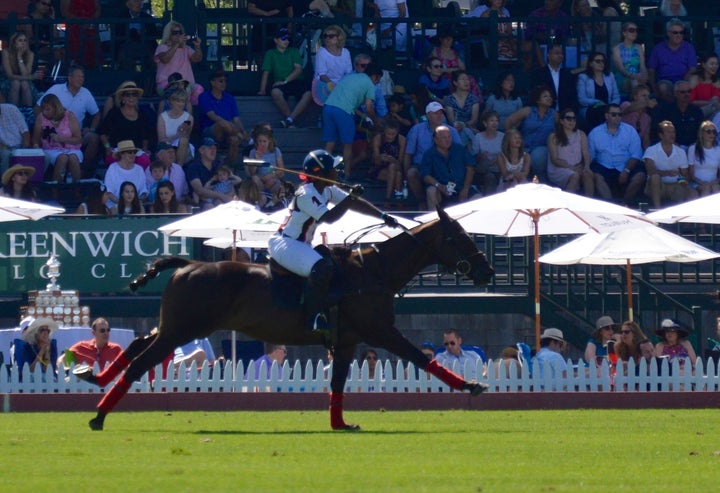 A 19-year-old is making history and disrupting the wealthy white male-dominated sport of polo at the same time.
On June 30, Shariah Harris of Philadelphia became the first black woman to play high-goal polo, the top tier of polo in the U.S. This summer, the Cornell University sophomore hit the field at the Tony Greenwich Polo Club in Connecticut to play for the Postage Stamp Farm team in the Silver Cup tournament.
Harris told HuffPost that she's excited about this barrier-breaking opportunity.
"It's great. Everything's going by really fast, actually so it's been great. This is something I've always wished I could do but never thought would happen. It's pretty amazing."
Harris became interested in the sport at age 8 or 9 after her mom took a wrong turn while driving. The wrong turn led them to grounds where other black children were riding horses. Harris and her mom were intrigued and found that the stables were run by a non-profit called Work to Ride. The program allows underprivileged inner-city kids to work in the stables and care for the horses. In return, the kids learn about horsemanship and equine sports.
"As a mother of three children on a single income, I saw it as an opportunity to make their lives better," her mom, Sharmell Harris, told the Hartford Courant. "Instead of a soccer mom, I became a barn mom."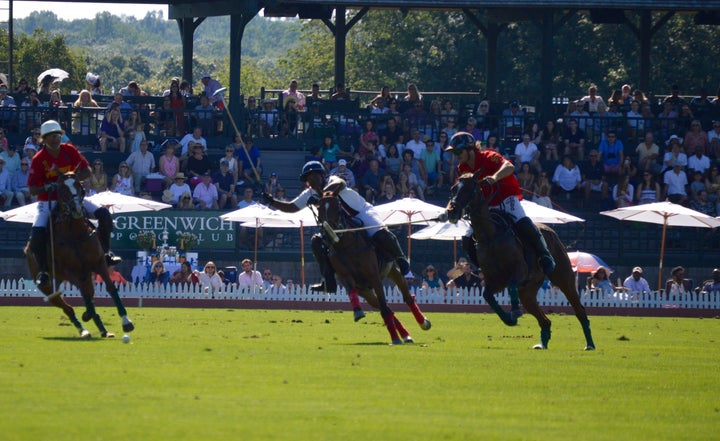 Harris would report to the stables early in the morning to feed the horses, clean the barns, do maintenance work and other tasks. Though she admits that she wasn't that good at riding in the beginning, she found a sense of comfort being on the horses.
At 12, she joined the organization's team and found a passion in polo. She would watch videos of the best players in the world and aspire to play at that level. So she incorporated some of their moves into her sport and challenged herself by playing with the boys of the program.
She carried her practice into college and became a force on Cornell's polo team. In 2016 Harris was named the Polo Training Foundation's 2016 national interscholastic player of the year. The animal science major helped lead Cornell's arena polo team into the finals this year. She credits much of her success to Work to Ride.
Through Work to Ride, Harris was able to travel to play in different cities in the country as well as Nigeria and Argentina. While in Argentina in December, the teen met the owner of the Postage Stamp Farm team, Annabelle Garrett.
Garrett, who also plays for the the team, broke her back before this year's tournament. Impressed by the caliber of students who've gone through the Work to Ride program, Garrett recruited Harris, not realizing at the time that the teen would be making history. Garrett told HuffPost that Harris is the perfect person to take on this groundbreaking position not only because of her skill, but because of her humble and hard-working character, too.
"What we're doing is taking someone who's played high school, middle school basketball and throwing them into the NBA, right? And I think she has surprised everyone," Garrett said. "I think everybody is so impressed with how she's handled it and how she's really kind of... asked us for coaching, asked us how she can get better, asked how she can, you know, really wanting to do well. Not just to prove to herself but for the team. And it's a huge learning curve... she's really taken on the challenge and excelled."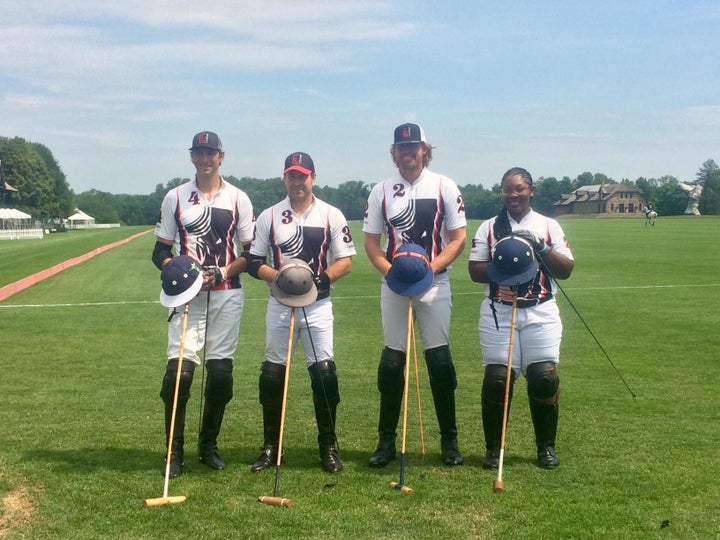 Mariano Aguerre, who was recently inducted into the Museum of Polo's Hall of Fame, also sent HuffPost a statement on Harris' talent and fortitude.
"I'm impressed by her guts and determination," Aguerre said. "She has the talent and the attitude to make it in any kind of polo, she got a great opportunity to jump on a top organization and she is grabbing this opportunity by the horns and guide it and enjoying it like not many players have done it before."
Harris said she's just happy to play and admits that she hasn't totally wrapped her head around the magnitude of her representation at such a high level.
"All this came popping up, like 'you're the first African American female to do this,' and I'm like, 'Oh. Well that's great, too, but I just wanted to go out there and play. It's kinda great that I'm making history as well."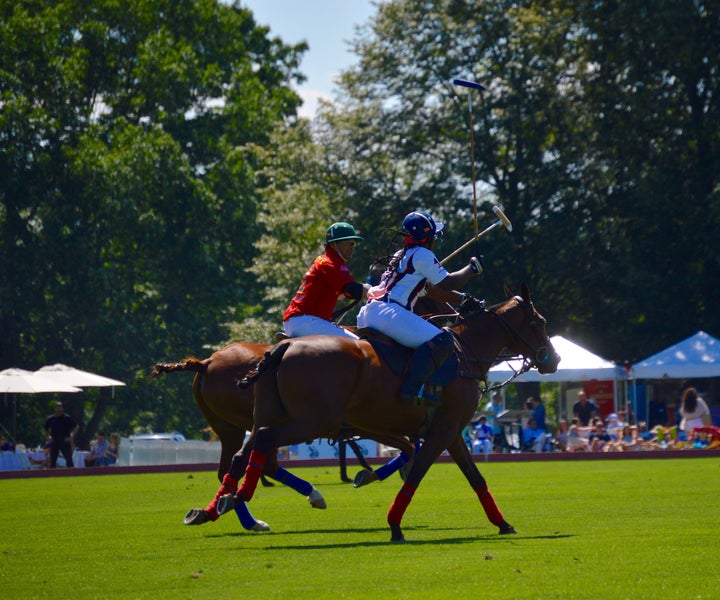 Harris' most recent game was on Sunday. Though her team lost, she said she received lots of love from kids who wanted to take photos with her after the game. Though initially surprised, she recalled not seeing any black women in polo when she was younger and understood the attention.
"In my head, I'm like, 'I'm not one of the pros. Why would they want a picture with me,'" she said. "But it's what I represent for them"
Postage Stamp Farm's next game in the tournament is on Friday. The young athlete hopes to continue to improve her game as she finishes this tournament and goes into her junior year season in October. Though Harris isn't totally sure what her career holds, she's hopeful that polo will be a part of her future.
Before You Go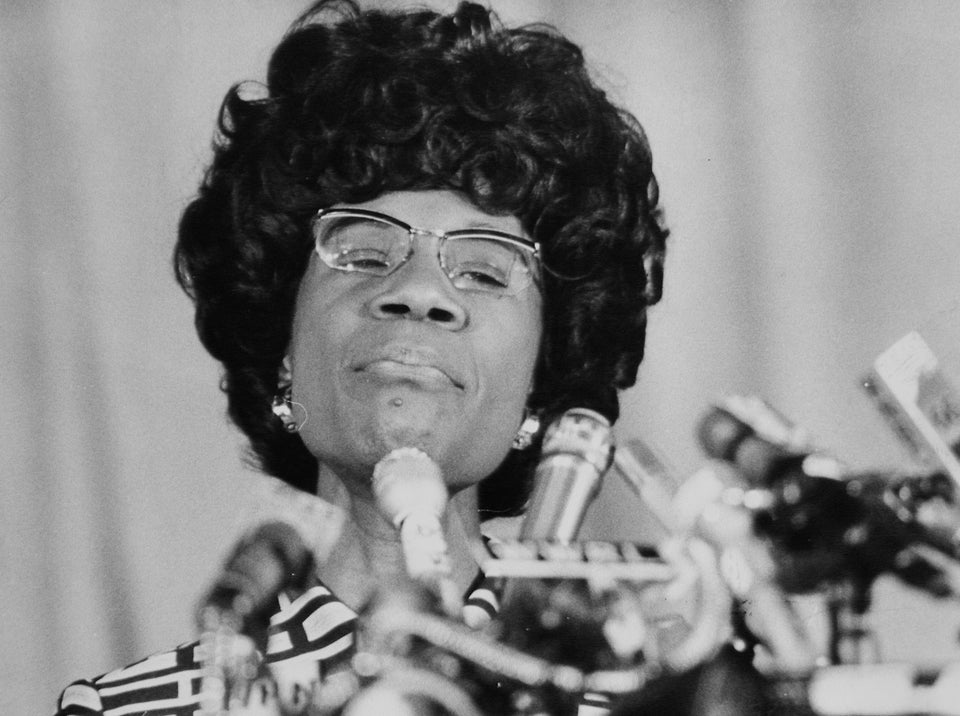 35 Queens Of Black History Who Deserve Much More Glory
Popular in the Community