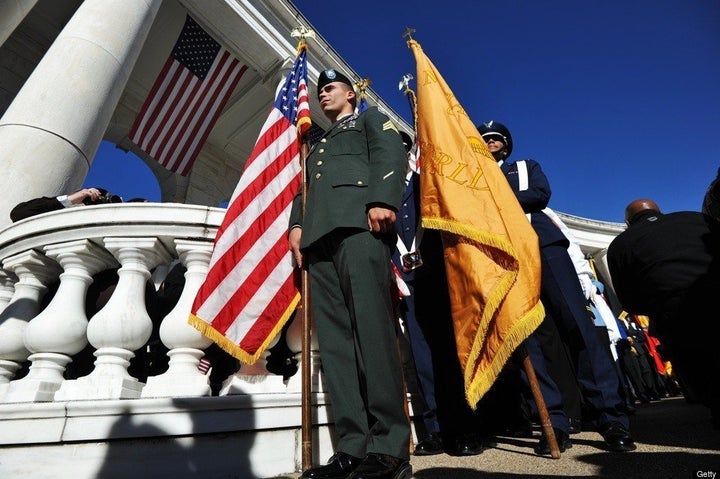 When you reach for that second helping of turkey or stuffing today, war probably won't be the topic of conversation at your Thanksgiving dinner table. That is, unless you have a loved one in Iraq, Afghanistan or South Korea.
While Black Friday looms, the disconnect between our military and the American public is at its most palpable since I came home from Iraq in 2004. Back then, Janet Jackson's Super Bowl wardrobe malfunction was front-page news and dinnertime discussion. Today, it's Prince William's engagement, Eva Longoria's divorce and Skating with the Stars. Instead of preparing for the surge of new veterans arriving home, or following the developments on the Korean Peninsula where nearly 30,000 American troops are stationed, the country is hysterical over Oprah's new Favorite Things for the holidays. And something's gotta give.
As a country, we need a dose of reality this Thanksgiving – and I don't mean reality TV. One real-life hero who should be the topic of conversation at every dinner table across the country today is Staff Sergeant Salvatore Giunta.
Last week, Giunta became the first living recipient of the Medal of Honor since the Vietnam War. He was recognized for his actions rescuing his squad members during an October 2007 ambush in Afghanistan's deadly Korengal Valley. You might have seen him lately on 60 Minutes or The Colbert Report. And his is a story worth talking about.
Just a handful of years ago, Giunta was working as a "sandwich artist" at Subway. He joined the military out of a sense of duty to his country and is now the only living Iraq or Afghanistan veteran decorated with our nation's highest military honor. Giunta shies from this new hero status, but he is the embodiment of our country's Next Greatest Generation. Smart, strong and selfless. Without regard for his own life, he ran into enemy-fire to overtake Taliban soldiers dragging away his wounded friend, Sgt. Joshua Brennan. The powerful story of this real American hero should command everyone's attention:
On Monday, November 29th, instead of watching Skating with the Stars, tune in to watch Giunta in some authentic reality-TV with your family. National Geographic will premiere Restrepo, Sebastian Junger and Tim Hetherington's brave and brilliant war documentary chronicling Giunta and the men of B Company during their yearlong deployment in the Korengal Valley. If you were moved by Band of Brothers, Restrepo will take your concept of war to the next level. It's a stark reminder of what this newest generation of veterans has sacrificed on the front lines while the rest of the country has been engrossed in celebrity gossip. It's also a reminder that no one comes home from war unchanged. As one soldier says to Junger at the end of the film: "How [am I] going to go back to the civilian world? I have no idea."
But, like at dinner tables at less than one percent of homes across America, he and his family are figuring it out together. Along with SSG Giunta and the rest of B Company, nearly 2.2 million veterans of Iraq and Afghanistan will give thanks today for making it home to their families alive. We'll pause to remember the ultimate sacrifice of the 5,801 Americans like Sgt. Brennan who did not. And we'll rally around the 150,000 military families who must wait out this holiday separated from their fathers, sisters and sons serving in Iraq, Afghanistan, South Korea and across the globe. From Camp David to Des Moines, the entire country can show we've got their backs by paying attention and having an honest conversation about the wars and veterans coming home.
If you can do that, we will be very thankful.
Support HuffPost
The Stakes Have Never Been Higher
Popular in the Community