There is no doubt that video streaming platforms have considerably leveled the playing field with regard to episodic series. These interlopers (Netflix and Amazon most prominently, at least for now) have even garnered awards that were heretofore only in the realm of broadcast television. But as we gravitate more and more towards the screens on our smartphones and our tablets for entertainment, the market has grown up around us. I know many people who don't even own a television anymore and likely so do you. For the first time since TV was invented, one does not need to own one to watch great programming.
Netflix's first foray into this brave new world was Lilyhammer, a program that it exclusively acquired from Norwegian network NRK1 three years ago. Prior to that Netflix was a website that showed movies; with Lilyhammer they broke the mold and debuted the entire first season all on the same day - which changed the game forever and created binge-watching. The series, now in its third season, stars Steven Van Zandt as Frank "The Fixer" Tagliano. Season One started as Frank decamped from his native New York City to the fjords of Norway (a location he chose because he fondly remembered how pristinely beautiful it appeared on TV during the 1994 Olympics).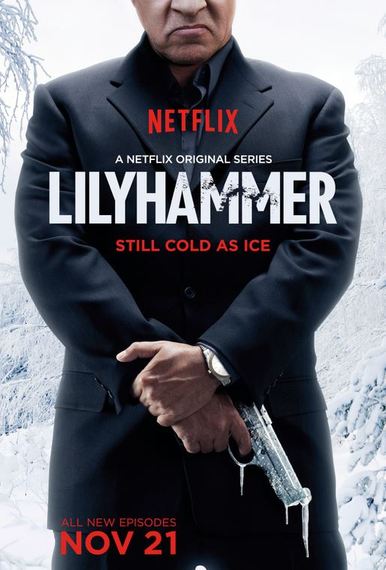 Van Zandt is a natural. He last wowed us as Silvio Dante on The Sopranos, where he was cast in a genius move by show creator David Chase (this in addition to his other multiple day jobs - record producer, coolest DJ in the world via his Underground Garage radio show and SiriusXM channel, and lead guitarist in arguably the best live band of all time, Bruce Springsteen's E Street Band). When Van Zandt is involved in something, he's all in. Lilyhammer is no exception; he not only stars in it, he is also co-writer and he supervises the music. He also directed the final, pivotal episode of Season Three. The show is all the better for his involvement. In fact, it's a stellar addition to the new world of non-broadcast series and deserves far more attention than it's been getting thus far.
The show is at once fiercely intelligent and uproariously funny. Tagliano, known in his transplanted environment as Giovanni Henriksen, wastes no time in establishing a crew and a community for himself. In Season One he becomes a Norwegian citizen, starts an affair with his language teacher Sigrid, and commences to run a popular nightclub called The Flamingo. Season Two begins with Frank getting used to life as the new father of twins with Sigrid and dealing with ghosts from his past life as a New York mobster. Season Three ups the ante even further with multiple locations and fascinating storylines, featuring Van Zandt's actress wife Maureen (The Sopranos), Tony Sirico (The Sopranos), and Bruce Springsteen in spectacular appearances relating to Frank's own past.
Season Three has many stellar moments and, like the previous two seasons, is engaging throughout; in fact it's the best season yet. As the new season opens, Frank gets into it with a family prostitution ring and ends up in the hospital with a serious gunshot wound. While he heals, he sets up an entire operation from his hospital room during his recovery. He also befriends a traumatized autistic child, Jerry, who is unresponsive to almost anything until Frank realizes he is muttering lines from Angels with Dirty Faces. Frank has his guys rig up a television set so Jerry can watch old gangster movies, and the scenes between the two of them ring exceedingly sweet and tender.
Great casting also enlivens this series. Trond Fausa Aurvåg as Frank's right hand man, Torgeir, is outstanding. Others worth noting are Steinar Sagen as Roar, Marian Saastad Ottesen as Sigrid, Fridjtov Såheim as Jan Johansen, Anne Krigsvoll as Laila, Henriette Steenstrup as Randi, Robert Skjærstad as Roy 'Fingern' Aass, and Silje Torp as Mette Hansen. It's hard actually not to mention the entire cast, but space restrictions prevent it - there is not one weak note in the bunch.
The final episode of Season Three brings the season's story arc to a brilliant conclusion and highlights Frank's American famiglia, his ex Angelina (played with superlative wryness by Van Zandt's wife Maureen), and his brothers Tony and Guiseppe (Tony Sirico and Bruce Springsteen, respectively). Sirico, to no one's surprise, is brilliant as a Catholic priest. After baptizing babies in his archdiocese he makes sure to tell the sparse congregation his handles on twitter and facebook. Springsteen, on the other hand, is less known as an actor, but his rockstar persona is not at all present here. Instead we see a very different side of him as the sinister Giuseppe the undertaker, a man that takes on the most distasteful and impossible jobs with exquisite finesse and spooky dark glasses.
Also it should be noted that the series' music is world-class. Van Zandt, as mentioned above, serves as music supervisor. The use of Procol Harum's A Salty Dog in the series finale ranks up there with my favorite uses of music, ever, in a scene. Van Zandt also wrote the theme, performs occasionally in the show, and has chosen great live bands to perform as well.
Plans for a fourth season have not yet been announced, but the show's popularity cannot be understated. The current season has an audience rank of 88% on Rotten Tomatoes. Part of the show's brilliance derives from Van Zandt's intention to make Norway a character in the show, as he told Rolling Stone in 2013. "It's one part Fargo, a dash of Sopranos, and a full serving of pure Scandinavian charm," according to Cultural Weekly last year.
The official trailer for Season Three can be viewed here. Skål!
Popular in the Community