I love dogs, so I was thrilled last month when my town's animal shelter hosted the Bow Wow Film Festival. My husband and I had a fun date that involved popcorn, beer and watching about two hours of short films celebrating dogs. The director of the La Plata County Humane Society introduced several cute adoptable dogs before the show, and there were free doggy treats to bring home to our pooch. We laughed and cheered and even cried along with the rest of the audience. It was an inspiring experience, and the cost of our tickets supported the shelter. Date night doesn't get much better in my book.
Many other dog lovers around the country are having similar experiences. The Bow Wow Film Festival is a new show touring America to raise money for local rescue organizations - it has already raised $25,000 for shelters in 14 cities since June. It's the brainchild of Susan Kelley, a Boulder, Colo. resident who realized while volunteering for the Longmont Humane Society that a film festival could help strapped animal shelters. She said many shelter fundraisers are galas or walk-a-thons that take hundreds of volunteer hours to pull off, and can be limited to a narrow demographic.
"It struck me that it would be really fun to have an event that was inclusive of anyone in the community - anyone who loves movies, anyone who loves dogs could come to this event," she told me. "Dogs cut through that demographic delineation that we have for so many things, so I thought it would be fun to have an event that different generations, different activity levels, different socioeconomic levels could all celebrate."
Kelley teamed up with WebEye Group Productions, which produces a fly fishing film festival, and put out a call for submissions. They ended up with high-caliber films - sometimes silly, sometimes moving - but always with positive messages. One short featured people acting like dogs at a dog park. Another profiled New Leash on Life USA, a prison dog-training program in which inmates train shelter dogs for adoption.
Another film featured an upbeat Labrador retriever training to be an avalanche dog with Telluride Ski Patrol, while others interviewed people about the joy of adopting senior dogs.
Next year's Bow Wow Film Festival will feature entirely different films so that shelters can build on the event each year, Kelley said. But the theme will remain the same.
"I've had people come up to me after the show and they're just crying because the movies are so well done and they really get to the heart of how much our dogs mean to us," she said. "It's been unbelievable."
She said the animal shelters have also been enthusiastic about the response. Kelley and her team are compensated by sponsors, so the nonprofits pay just $250 to the festival, which in return provides not only the movies but customized posters, social media promotion, ticketing and giveaways like t-shirts, hats and tennis balls. If a shelter has limited resources, the fee is reduced because Kelley wants as many shelters as possible to participate, and in whatever way works best for them.
For instance, Kelley said a recent show in Anchorage, Alaska took place on a Saturday morning, and the rescue organization only charged $5 per ticket, but brought a bunch of puppies that were all adopted. In contrast, an evening event in Telluride, Colo. had a much higher ticket price and included a silent auction with expensive items for purchase, with all proceeds benefiting the shelter.
"The films are universal, so you can tailor the whole event around what the rescue wants to do," she said. "Any town with a theater or a brewery or an arts center and a rescue can put this on."
Her goal is to make hosting the Bow Wow Film Festival as easy as possible for shelters so they can focus on saving animals.
"I can't tell you the number of times that I've had a conference call cancelled because somebody's had puppies dumped on their doorstep or some kind of crisis happened and they had to deal with it," Kelley said. "The easier we can make it for those folks to support their mission, the happier it makes everybody ... our love of dogs really is a very cool common bond."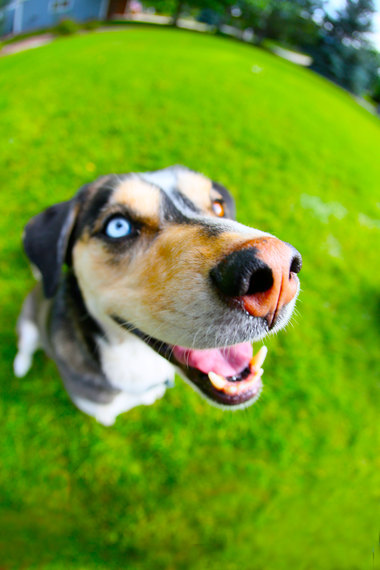 The Bow Wow Film Festival's poster dog Trixie was adopted into a happy forever home. Photo by Sue France.
Related
Popular in the Community