It's almost Valentine's Day, a day often filled with expectations and excitement. But young people need more than just flowers and candy -- they need the information and skills to make healthy decisions when it comes to relationships and their sexual health. They need comprehensive, age-appropriate sex education in every school, kindergarten through 12th grade.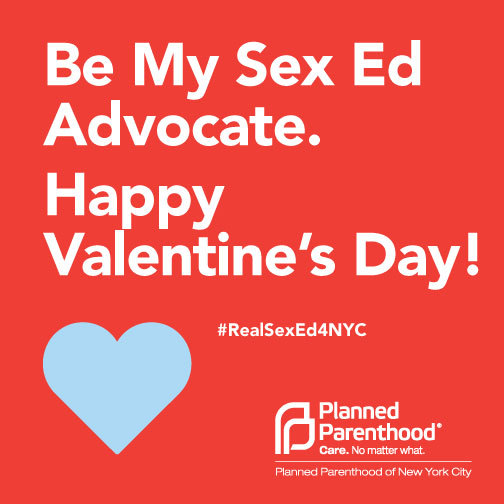 As a leading sexual health care provider in New York City, Planned Parenthood of New York City knows all too well that the gaps that remain in New York City's sexual health education have a significant impact on young people's wellbeing. And the young people who are most in need of affirming health education are often the least likely to receive it, compounding heath barriers they may already face.
Growing up without comprehensive sex ed can leave young people at higher risk of HIV, sexually transmitted infections, unintended pregnancies, intimate partner violence, and sexual assault on college campuses, among other consequences.
We need to start talking to young people early about healthy relationships, way before they even think about going to college. Every young person has a right to unbiased, age-appropriate, accurate information about sexuality and health before they become sexually active. The National Sexuality Education Standards call for the teaching of identity, healthy relationships, and personal safety in K-5 education, recognizing the most effective programs are those that teach young people how to communicate and make health-promoting decisions.
NYC only requires one semester of sex ed in middle school and one in high school, but many students still aren't receiving even that minimum. In a recent survey by the Connect to Protect (C2P) Bronx Coalition, less than two-thirds of Bronx high school students said they learned about healthy relationships, and just 37 percent learned communication skills when it comes to sex. This shows that we need stronger training for teachers and enforcement measures to make sure a student's sexual education doesn't depend on where they go to school.
Young people are constantly surrounded by messages about sex, sexuality, and body image. As more young people have access to information through the internet at continually earlier ages, comprehensive sex education is even more crucial to both correct misinformation and to provide resources for young people to critically and positively engage issues of sex and sexuality.
It's essential that sex education teach not just basic prevention, but also provide skills to build healthy relationships and caring communities. We must give young people the tools to understand what a healthy relationship looks like, how to navigate consent, and how to have respect for one's own body and the bodies of others.
We must prioritize providing every student in New York City with the information and tools they need to make healthy decisions for themselves when it comes to sexual health and relationships.
Calling all HuffPost superfans!
Sign up for membership to become a founding member and help shape HuffPost's next chapter