The 29-year-old California native is behind chicle-pop art piece Frida4587, a massive mosaic of the iconic Mexican artist created from tiny pieces of gum. Villa told HuffPost he used 4,587 Canels chiclets, a Mexican brand of gum, for the piece.
"My Frida piece is an expression of my personality, which in many ways feels like a contradiction," Villa said. "It's nostalgic. It's vibrant. It's catchy and kitchy at the same time. It's street art vs fine art. It's digital art vs art that takes up physical space. It's pop art with a Chicano twist. It's literally chicle-pop art! I would describe Frida4587 as an ode to Frida and how she has managed to stick in our subconscious for so many years."
Villa, who works full-time as a visual designer for Google Maps, says he was inspired by his day job when it came to the image he would used for Frida's mosaic.
"I feel like the piece manifested itself the way it did because of the work I do day to day at Google," he told HuffPost. "I stare at pixels. I move them around. I zoom in. I zoom out. The images get distorted. At some level they mean nothing and at another level they make complete sense."
In addition to his work with Google, the Chicano is the founder and CEO of Chicanx air freshener company, Fúchila Fresheners.
Frida4587 is just the first piece in Villa's art series. He said the iconic feminist artist was an ideal figure to start with because she is "a chingona in every sense of the word. She embodies chicle-pop." Villa says he's planning another chicle-pop piece in honor of La Virgen de Guadalupe.
Villa is hoping one of the two pieces will help him break a Guinness World Record, he's already in the process of submitting his Frida mosaic.
"If Frida4587 won't get me the Guinness World Record for largest chewing gum mosaic, then I am hoping a humble Chicano artist like myself can land a spot in [the] GWR Book with the Virgen9174?," he said.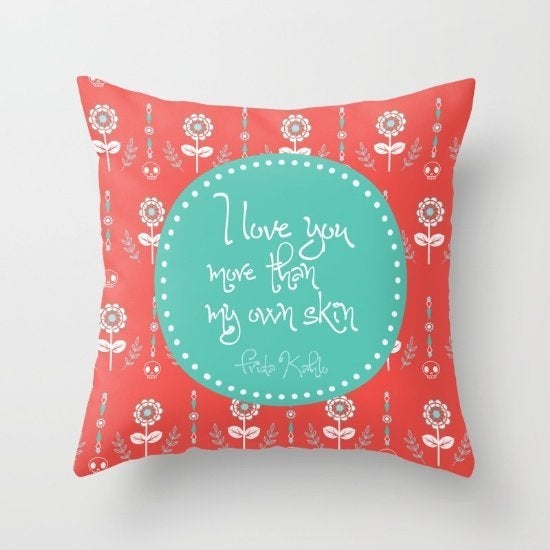 18 Fantastic Gifts For Frida Kahlo Fans
Popular in the Community