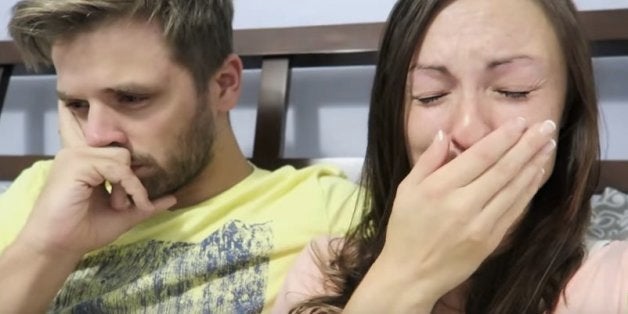 This week, the Internet celebrated along with Sam and Nia, as he peed on a stick by proxy and announced to his wife that she was pregnant. This is exactly the sort of feel good YouTube video that we love, and we collectively cuddled in the warm Internet fuzzies.
While we join them in mourning the loss of the child they'd only just started to celebrate, I think there are many things we can take away from their very public experience.
1. There's nothing wrong with early announcements.
There's a prevalent myth that a couple should wait until the second trimester to announce a pregnancy "in case anything happens." The idea behind this is wanting to avoid an announcement in case of miscarriage.
The logic behind this fails because it assumes that the couple wouldn't benefit immensely from the support in their community should a loss occur. Take one look at the comments that Sam and Nia are receiving from all around the world and you'll see that there's no lack of support for the loss of a pregnancy.
Some people may find it embarrassing to announce early and perhaps have to retract the news later. Maybe it's a feeling of failure. Maybe it's a feeling of over-sharing. Regardless, I think we can learn that there's nothing wrong with choosing to share your joy with the world when you learn of a new pregnancy.
2. Your story will help others.
"Maybe there's someone out there that's going through this with us," Nia cries. "... I am mourning with those of you who are feeling this."
One of the most powerful things we can do with our stories of loss is to share it with someone else. Many men and women suffering through a pregnancy loss do so in silence and isolation.
The impact of knowing that others are going through the same thing is enormous. While the pain of pregnancy loss can sometimes be unbearable, the burden can be lessened by sharing telling your story.
I can guarantee you there are others out there who will find comfort in Nia and Sam's story. There are other's who take solace in knowing that what they're feeling isn't strange or wrong. They mourn the loss of their baby along with Sam and Nia, and along with everyone else brave enough to share their story.
3. There is no shame in loss.
Sam and Nia proudly shared the news of their pregnancy with the world, and unabashedly shared the news of their loss in the same way. There was no hiding their loss, and they spared no time in letting the world know the journey of their baby had come to an end.
Many people feel guilty and ashamed when they lose a pregnancy, and choose not to share their experience with their friends and family. Pregnancy loss carries a deep stigma in our society, even in this age of sharing every day of our lives on social media.
It takes a strong and courageous couple to share such tragic news with perfect strangers, and we can all take a note from Sam and Nia.
4. We can try to find the good.
Pregnancy loss is a kick in the gut and a hole in the heart. It's often hard to find anything good in such a dark place, but Sam and Nia are trying.
"God's ready to use us in a huge way," says Sam.
I don't pretend to know exactly what he means, but I can guess because I agree with him. Whatever your faith or creed, I think his experience and recent viral fame will be one more step in the recent movement to take pregnancy loss out of the shadows.
When something like pregnancy loss loses its taboo, that means more people can grieve without the burden of silence. It means parents like Nia and Sam can freely tell the world that they've lost a member of their family, and share their tears without fear of scorn.
While stories like theirs carry the weight of lost hopes and dreams, the announcement sheds one more ray of light on a topic in dire need of attention.
To Sam and Nia, I send my heartfelt condolences. I thank you for sharing your journey with the world, for boldly sharing your excitement as openly as your tears, and for allowing the world to grieve with you.