A viral photo taken at a 4-year-old's soccer game has captured the internet's heart with its important message about co-parenting.
On Saturday, Emilee Player posted a photo on Facebook that shows her stepdaughter, 4-year-old Maelyn Player, at a soccer game in Columbus, Georgia, with four of her biggest supporters: her mom, her dad, her stepmom and her stepdad. The four fans wore blue shirts with words on the back that proudly showed who they were in respect to Maelyn.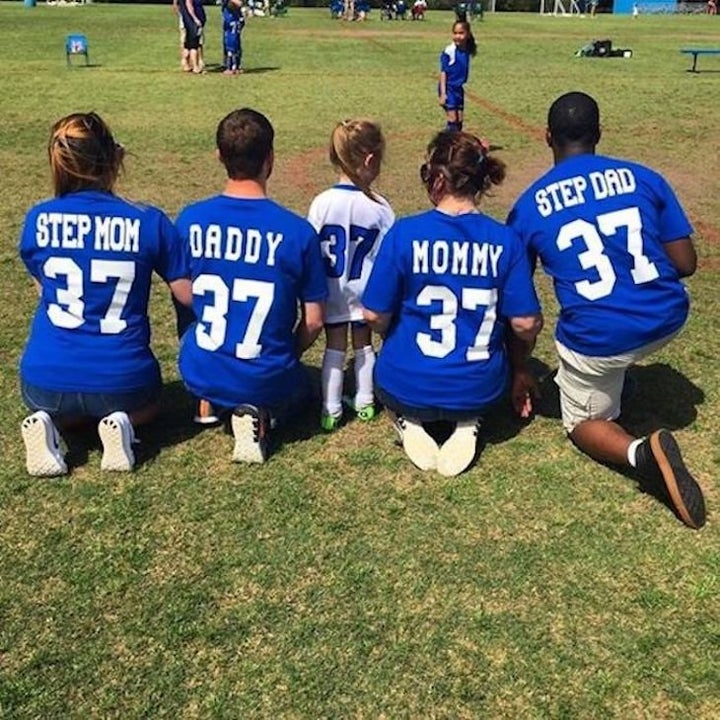 In less than a week, the photo has racked up more than 32,000 reactions and 82,000 shares. The internet clearly admires the sweet gesture from the four parents, something that Emilee says is "the norm" for the family.
Emilee (Maelyn's stepmother), Ricky Player (Maelyn's dad), Clara Cazeau (Maelyn's mom) and Alex Cazeau (Maelyn's stepdad) make an effort to attend all of her soccer games together.
"Alex, the stepdad, is in the Army and stationed in Fort Bragg, but every time he is home all four of us attend," Emilee told The Huffington Post. "On a regular day it is the three of us, and we make it a point to sit together and cheer her on as a family."
Clara had a friend make the personalized shirts after Maelyn's third game because she thought it would "be a fun way to support" her daughter.
The four parents' support of Maelyn -- and each other -- goes beyond the soccer field. Emilee and Ricky have another daughter, Everlee Player, and Emilee told HuffPost that Clara and Alex are just as much in her life as they are in Maelyn's. Clara was even there when Emilee went into labor with Everlee.
"She came in and checked on me and waited at the hospital until Everlee was born," Emilee said.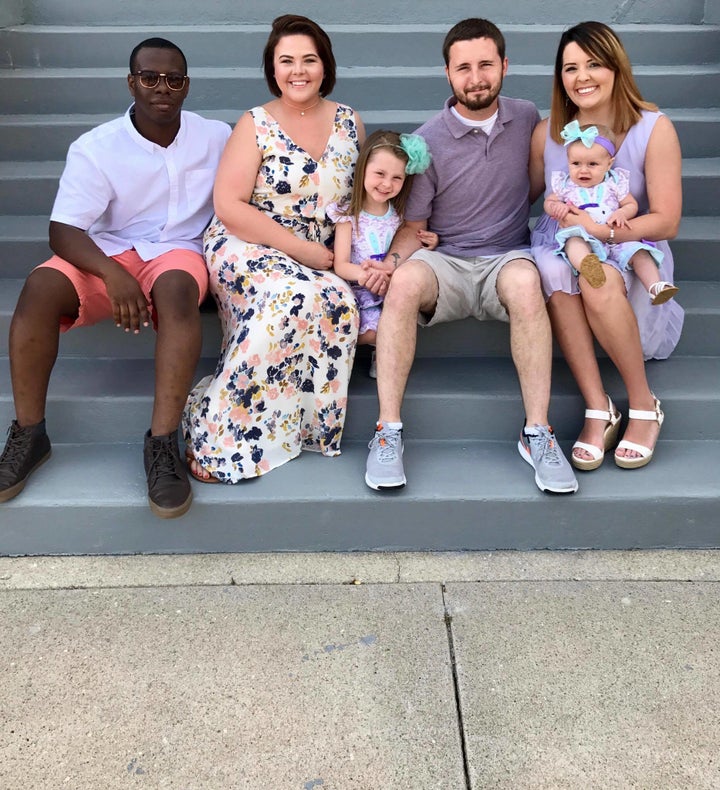 Clara echoed Emilee's thoughts about how far each parent goes to support their family.
"We do all birthdays together for Maelyn," she said. "We also go to each other's birthday dinners with their own families, we do holidays together, we go to one another's houses, we are literally always doing things together."
When asked whether they had advice for other co-parenting families, Clara told HuffPost that they should put their differences aside.
"Let go of any past feelings you may have and make it work for the sake of the child," she said. "Stay strong. It is work every single day to keep this going."
And for Emilee, one of the most important parts of co-parenting is setting the best example for the child.
"Always respect the people involved because how you treat the other parents is a reflection of who you are," she said.
Related