Children between 4 and 11 at Lafayette Elementary School in Washington DC are taught meditation and mindfulness every week to help academic performance and behavior.
The benefits of meditation in all areas of life are well documented and used by people from all walks of life. But did you know that children as young as four-years-old can be taught meditation and mindfulness too? What is mindfulness and what are some of it's benefits?
Washington DC's Lafayette Elementary School, the largest in the American capital city with more than 700 students, has pioneered a weekly "Peace Class" that is taught to all students, from Pre-K through to 5th grade. Started more than 10 years ago by a volunteer school mom, the class has blossomed into a full program with salaried teachers and spread throughout the school district, neighboring states, all while gaining national attention.

What is Peace Class exactly?

Designed to help children cope with their feelings and emotions and to perform better in and out of school, the program teaches children how to practice mindfulness, develop empathy, manage anger, accept differences and learn conflict resolution.
"At the core of Peace Class is the concept of mindfulness, which is becoming aware and noticing what is going on internally," according to Linda Ryden, the school's Peace Teacher, a full-time paid employee.
Children are taught to be mindful through weekly practices and rituals in Peace Class, some of which are reinforced daily by the student's regular classroom teachers. These practices include mindful breathing, mindful listening and mindful movements, such as balancing and stretching exercises.
"We start class by turning off the lights, taking deep breaths with our eyes closed, ringing a bell and taking some time to be totally silent. For the older kids, this can be 10 to 15 minutes of meditation. For the 4 and 5 year olds, we usually stay calm for about one minute," explains Ryden.
In addition, conflict resolution is taught through role playing and storytelling. Ryden teaches topics such as apologizing, complimenting and thinking before speaking. She also assigns a "peace pal" to each student, usually someone who is not a close friend. The kids report back at the next class on what kind things they did for their pal.
What are the benefits of Peace Class and mindfulness?
The reason mindfulness in the school setting has gained so much attention is the myriad of benefits it offers the students and the entire school community.
Children learn to slow down, calm down and pause before speaking, getting upset or doing something without thinking. Following the introduction of Peace Class at the school, the "playground refocus room" (code for the school's "detention hall" for misbehaved children) became obsolete. "The children have learned to apply mindfulness intuitively in their everyday lives, including recess time," explains Ryden.
Jared Catapano, a 4th grade teacher at the school, believes mindfulness and meditation are key for focus, participation in class, and ability to manage difficulties. He incorporates up to 15 minutes of meditation every morning with his 10-year-old students, reinforcing their Peace Class practice.
"Many students who have trouble focusing become more engaged after having time to meditate," he says. "I find my students are more manageable, able to deal with difficulties more easily, and participate more in class. These practices are invaluable to both the student and the teacher as it grows their relationship and the relationship to one another."
Ryden echoes the belief that mindfulness is key to reducing anxiety in children while helping them focus on their work. By learning mindfulness at a young age, she also believes children will be better equipped for middle school and high school where issues such as body image, depression, drugs and even suicide can often touch students' lives.
In a nearby Virginia high school where there have been multiple suicides over the last few years, the school administration has introduced mindfulness to help the students cope with adolescence in general.
Furthermore, for schools with low academic performance and a large number of troubled children, mindfulness can be key in helping them learn. "Some children are so traumatized that they cannot learn," explains Ryden. "Mindfulness can help change their brain in order to make it flexible and capable of learning better."
Paul MacGowan, the director of the upcoming documentary on meditation, "A Joyful Mind," visited Lafayette to film the children practicing meditation and mindfulness during Peace Class. "A Joyful Mind" will focus on educating audiences about what meditation is (and what it is not) plus the key benefits of regular practice.

And what does the future hold for Peace Class and mindfulness?
Ryden is busy promoting mindfulness and her curriculum to other schools in the district, as well as to educational conferences outside of DC. She hopes that one day the children leaving Lafayette Elementary to go into middle school and then high school will have the opportunity to continue mindfulness and meditation in their new schools. And ultimately, at Lafayette, she envisions a day when mindfulness is reinforced daily in every classroom at school.
"We can definitely tell the difference between children who practice mindfulness once a week in our Peace Class and those who practice every day with their teachers inside the classroom," she says.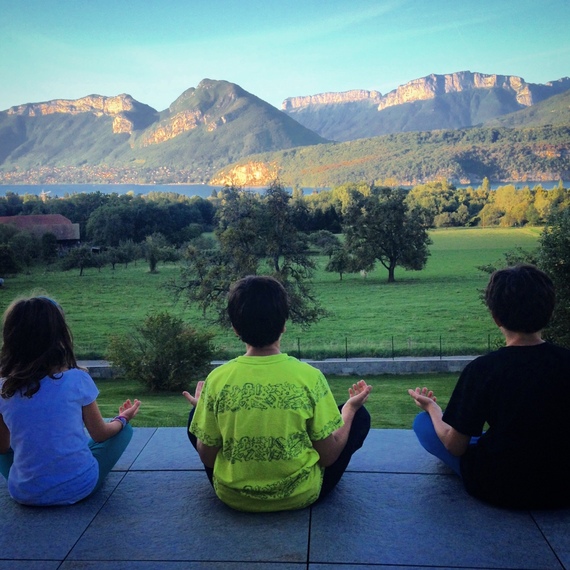 Calling all HuffPost superfans!
Sign up for membership to become a founding member and help shape HuffPost's next chapter