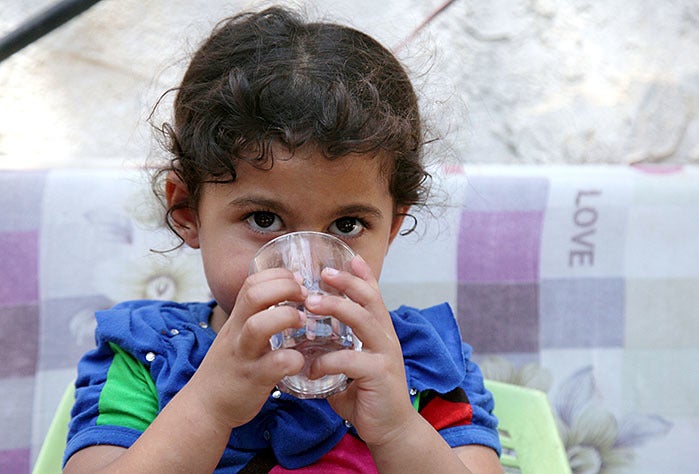 Ninety percent of all the water flowing through Gaza is unfit for human consumption. That's right — nine out of ten times a family turns on the tap (if they have one), the water will be hazardous. It might run cloudy and brown, or dribble out in drops, if at all.
The water supply in Gaza is contaminated by high levels of saline, chloride, and nitrates, which are triple the safe level that the World Health Organization recommends. The salinization and pollution are caused by continued over-tapping the Coastal Aquifer Basin – the only source of water for two million people.
This is one of the many reasons why the United Nations says that Gaza could be uninhabitable by 2020. And as water resources dry up and pollution degrades what little water they have, the population continues to grow. There are now over two million people living in space just slightly bigger than Washington, DC.
Dirty Sewage Water Runs Rampant
Without water and sanitation systems, families in poor villages dispose of wastewater in cesspits. When the cesspits are full,, they then have to pay to have the waste emptied into municipality tanks. But many people in Gaza live in dire poverty, and those who can't afford to pay end up dumping wastewater where they can. Now there are olive groves and city streets flooded with raw sewage.
It's no secret that a massive, full-scale overhaul of Gaza's water and sanitation system is needed. Little by little, we are working toward fixing this problem one household and village at a time.
ANERA recently installed seven Gaza sewage and water networks in Gaza City, Shejaiya, Al Moghraqam El Zawaida, Deir El Balah and Bani Suhaila. Now a father of three like Alaa, 35, can let his children play safely in the streets. They won't get sick from dirty water and won't have to pay for sewage collection. Most importantly, his family can live with dignity in their home.
"This was truly an end to the days of suffering," Alaa said.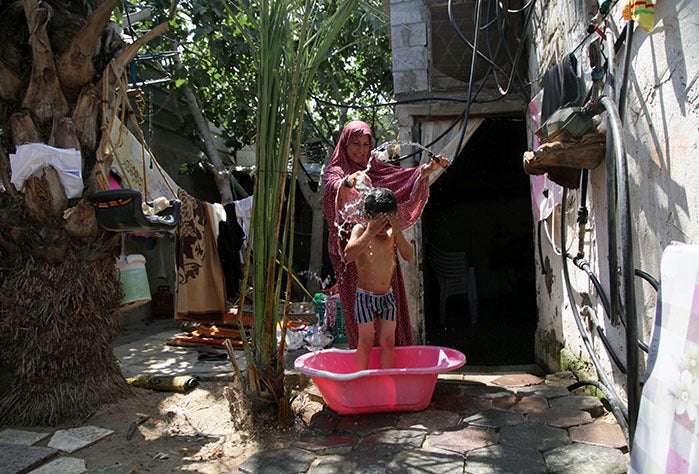 Taps Run Dry in Gaza City
Grandmother Najah in Gaza City had similar problems. In her neighborhood, the water network was old and deteriorated, so the pipes leaked water and contaminated what was left of the supply. Since she couldn't afford to buy tankered water all the time, she relied on the tap. "I kept the water tap turned on day and night looking for a few drops of water to fill my empty tanks."
Najah's life has changed thanks to a newly-installed water network in her neighborhood. Now that clean water flows out of her kitchen sink, she can spend more time cooking for her grandchildren like little Zayna, who loves to watch.
Cases from the homes of Alaa and Najah show how tackling one village or neighborhood at a time can reap major successes. However there is still much work to be done. Water resources continue to shrink as the population grows more and more within its narrow borders. We need to keep our eye on this basic necessity to make sure this sad story doesn't end in disaster.
REAL LIFE. REAL NEWS. REAL VOICES.
Help us tell more of the stories that matter from voices that too often remain unheard.
This post was published on the now-closed HuffPost Contributor platform. Contributors control their own work and posted freely to our site. If you need to flag this entry as abusive,
send us an email
.