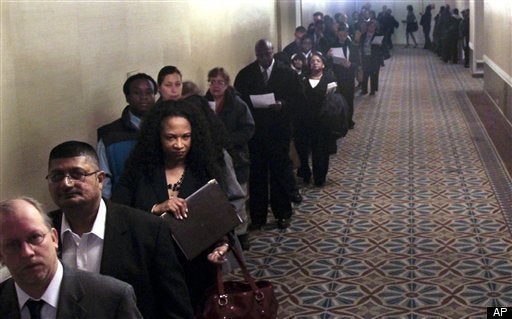 An office manager in Phoenix, Arizona, posted a Craigslist ad this week for a part-time cleaner to tidy up at night. The manager needs somebody who's older than 25, has a car, cell phone, no criminal background and is "currently employed."
That requirement may seem like a Catch-22 for the nation's nearly 15 million jobless, but it's a surprisingly common one. HuffPost has been chronicling this phenomenon by combing the web for job ads that use language such as "Must be currently employed" or "No unemployed applicants will be considered," and this week discovered several such job postings on craigslist and Monster.com.
A staffing agency representing a "world leader in the medical industry" is advertising for a San José-based product salesman on Monster.com, but the person "must be currently employed." This significantly narrows the pool of potential applicants, as California's unemployment rate, the nation's third-highest, hovered at 12.4 percent in September.
A "Big Box" retail giant in New York City posted a Craigslist ad for an overnight freight flow manager who "must be currently employed for consideration," a manufacturing company in Winston-Salem, North Carolina specified on Monster.com that it will not consider any unemployed applicants for a Senior Pricing Analyst position.
And a CPA firm in New Jersey said "DO NOT APPLY IF YOU ARE NOT CURRENTLY EMPLOYED IN PUBLIC ACCOUNTING" in its ad on craigslist.
It's not illegal, but a New Jersey assemblyman wants to make it that way. A bill proposed by Assemblyman Peter Barnes (D-Middlesex) earlier this month would impose fines of up to $10,000 for companies if they post job ads that say unemployed applicants shouldn't bother applying.
HuffPost reached out to all of the employers and staffing agencies who posted the above ads, but only one of them could be reached for comment. The Phoenix office manager explained his reluctance to hire unemployed people in an e-mail, saying it's in the best interest of both him and the jobless person to not try to work together.
"It is only a small part-time job," he wrote. "It will not do much to support someone who is unemployed, but it will detract from any benefits they may be getting. Additionally, I never want to put a person in a situation where they, being in survival mode many times, would be tempted to steal. An unemployed person needs a full-time job and more often than not, the part-time work will interfere with that job search."