Every day of the week, The Pollination Project provides $1000 in seed funding to an individual who is working to make the world -- or just their own community -- a better, more peaceful and more sustainable place. Here are the extraordinary people and ideas changing the world this week: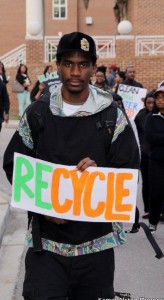 Darius Stanton and Miranda Garcia are Green for All college ambassadors and seniors at Claflin University in Orangeburg, South Carolina. Together, they have launched Project H.E.A.L.T.H.Y. (Health Education and Learning to Help/Heal Yourself) to combat high rates of heart disease, high blood pressure, obesity, hypertension and diabetes in their region. Project H.E.A.L.T.H.Y will soon begin workshops addressing health in low-income communities and communities of color, such as eating habits, practicing sustainable lifestyles, saving money while improving health and organic gardening.
Bonnie Shehan has been in the nursing field for 23 years and is now providing support and training for those caring for a family member after a tragic accident or a chronic illness. Beginning in Indianapolis, Indiana, her CCI Caregivers Support Center will help caregivers avoid the extreme, chronic levels stress and neglect of self-care that leads to an estimated 30 percent of caregivers dying before the loved one they are caring for.
Mark Strandquist is an artist, activist and educator. His Windows from Prison // Youth to Youth project pairs incarcerated and non-incarcerated teens for peer-to-peer support, workshops in creative writing and using photography for community engagement, a youth-written newspaper and critical dialogue on solutions to the societal issues that have led to mass incarceration.
Liz Vargas and Dan Beckmann cofounded Just DO Something... Anything! to use social media, newspapers, magazines and partner organizations to show that all social change action, no matter how insignificant it may seem, makes a difference. With Dan's background as a producer on the Today Show, and Liz's experience in services for women and children, these two passionate storytellers will inspire a growing movement of activism.
Terra Rose Ganem is seeding organic living laboratories in elementary schools all over the U.S. Beginning in Arizona, her Grow Organic Kids team is creating an experiential education curriculum to augment lesson plans and is easy and fun for children to get seeding and sowing.
Kathryn Tucker and Sophie Morse work in a part of Uganda with unusually high incidence of sexual violence and gender-based abuse. Kathryn and Sophie are partnering with community members to lead workshops on gender inequality and gender-based violence, which is a root cause of other issues such as the spread of HIV/AIDS. Their Uganda Community Gender Empowerment Project will foster improved status and equality of women in Ugandan society, and improved health outcomes such as sexual and reproductive health education, malaria and life skills.
Congratulations to our grantees this week for their outstanding work.
These are just a few examples of what a little seed money can do when put in the hands of someone with a vision and a plan to change the world.
If you were given $1000, how would YOU seed the change the world?
The Pollination Project makes $1000 grants every day, 365 days a year to individual changemakers. Please go to our website for funding guidelines and application.
REAL LIFE. REAL NEWS. REAL VOICES.
Help us tell more of the stories that matter from voices that too often remain unheard.