Every day of the week, The Pollination Project (www.thepollinationproject.org) provides $1000 in seed funding to an individual who is working to make the world - or just their own community - a better, more peaceful and more sustainable place. Here are the extraordinary people and ideas changing the world this week:
Dr. Josie Lehrer is a researcher, educator, community mobilizer and filmmaker whose documentary The Men's Story Project: Out Loud! explores ideas of masculinity and gender through the eyes of a group of Chilean men. Through prose, comedy, dance, photography, and video, the film tells stories of self-acceptance, community, and love while also exploring health and justice issues within Chile, including domestic violence, LGBTQ rights, poverty, classism, and living with HIV/AIDS.
Erica Johnson, a clinical researcher for decades, has seen firsthand the negative impact of disease and the effects of years of poor diet choices. The American Diabetes Association says 14 percent of San Antonio's population is diabetic, double the national average of 7 percent. Erica's project, Right Choice San Antonio, will help low-income families and seniors understand and access healthy vegetarian/vegan foods on a budget through coupons and discounts from participating stores, recipes, how-to videos, and more.
Carla M. Pérez is a political organizer and mother who dreamed of creating a safe and healing place for oppressed women and female-identified people living in the Bay Area. The Women's Healing Clinic 2013 (WHC) is a two-day free traditional clinic providing non-western and non-pharmaceutical treatment for the mind, body, and spirit. Carla hopes that women who have been incarcerated, are in recovery, or who live with unresolved trauma such as from sexual assault or domestic abuse will finally have access to care that takes the entirety of their health and well-being into account. Eventually she plans to add a Men's Healing Clinic and Healing Clinic for Youth.
JoAnn Chase and the Sunshine Group of Erie, Pennsylvania provide 10,000 gift boxes annually to needy people in their community including nursing homes, veterans, and the homeless. More than 70 local agencies have requested boxes this year, and JoAnn says no one has ever been turned down. The boxes include brand-new, handmade items, like hats, gloves, and slippers, that tell the recipients they are loved and cared for, to bring a little sunshine into someone's life.
Annie Elble and a team of volunteers at Give Hope, Fight Poverty are working in rural Malindza, Swaziland to build a primary school for 250 children. Swaziland has the highest HIV prevalence in the world (http://swaziland.usembassy.gov/hiv-in-swaziland.html), and the pandemic has created 120,000 orphans in a country with a population of only one million. For the children Annie has met, many of whom live with only their siblings and no adults, their only desire in the world, even though they lack many basic needs, was to receive an education.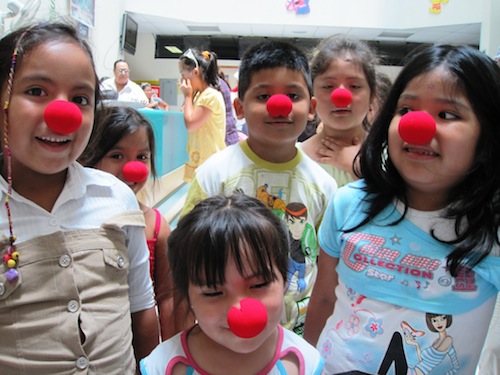 Finally, there's Julie Witczak, who trains ordinary people to become clowns for Caring Clowns International. Caring Clowns are deployed around the world to children's hospitals, VA hospitals, shelters for abused women and children, homes for the disabled, and anywhere else healing laughter is welcome. Caring Clowns International has brought joy to hundreds of thousands of children and adults in more than a dozen countries. In what is likely a foundation first, Pollination Project funds will be used to buy clown noses and other supplies for Julie's classes in hospital-based clowning.
Congratulations to our grantees this week for their outstanding work.
These are just a few examples of what a little seed money can do when put in the hands of someone with a vision and a plan to change the world.
If you were given $1000, how would YOU seed the change?
Popular in the Community