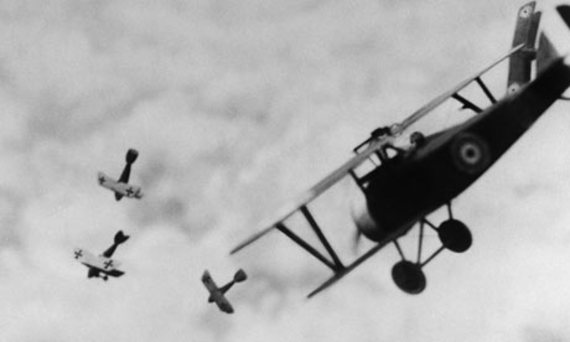 British Bi-Planes: The Beginning of Air Combat in World War I
Those Daring Young Men and Their Flying Machines
As the importance of air warfare grew, so too did the fame surrounding the men who flew the machines. Ace fighter pilots came to be regarded as folk heroes. Publicized in the popular press, they soon became larger than life characters. Their planes were no less famous. Most of the classic aircraft of World War I were fighters. One of the most famous was Anthony Fokker's E1 "Eindecker." Throughout 1915 and into early 1916, the highly successful Eindeckers were the scourge of the Western Front, wreaking havoc amongst the under-armed Allied pilots. Built in four models, the Eindeckers had progressively more powerful engines and were all fitted with LMG 08 Spandau machine guns. These fired through the propeller arc.
The term "ace" was first applied by French newspapers to describe the exploits of Adolphe Célestin Pégoud. He was the first pilot to shoot down five enemy aircraft. Pégoud was also the first pilot to jump successfully from an airplane using a parachute. He was also the first pilot to complete a loop, the first case of flying while inverted. It's not clear why the term "Ace" came to be used other than for the fact that in popular culture the "ace" in a deck of cards was considered the highest ranking card and the term had come to be used as an expression of excellence especially when applied to sports. Nor is it clear why five victories came to be the prerequisite for achieving "ace" status.
Initially, the term "ace" was only used by the French air force. The British Royal Flying Corps used the term "star-turns", a show business term for a successful performer in London's West End theater district. The German's used the expression "Uberkanonen" to designate their top pilots. The term translates roughly into "top gun". Prerequisites for achieving "ace" status also varied. In some instances it required "confirmed kills" committed solo, in other instances shared kills were counted. Initially, simply forcing an enemy aircraft to land was counted in achieving 'ace" status but eventually this was changed to "confirmed kills". In total, over 1,800 pilots achieved "ace" status during World War I.
The Eindecker produced one of the early aces of the German Army Air Service, or Luftstreitkrafte, Lieutenant Max Immelmann. He developed the "Immelmann Turn" in 1915. The maneuver allowed him to use the speed of a diving attack to loop and half-roll to regain height and engage again. The "Immelmann Turn" is still a classic maneuver in air combat. Immelmann, with a score of 17 "kills" to his credit was shot down and killed in June 1916.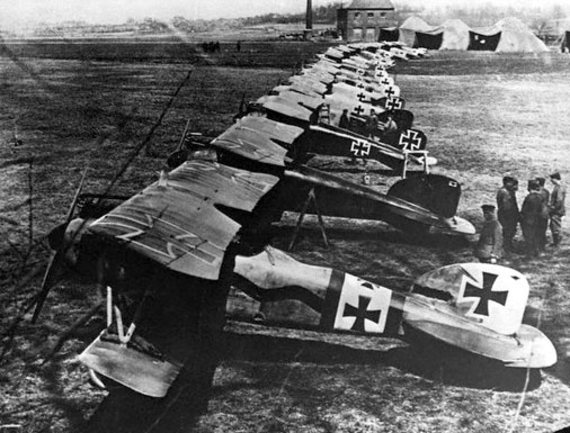 Albatross Bi-planes
One of the most famous of all of the World War I aces, was Manfred Freiherr von Richthofen: the "Red Baron." Originally a cavalryman, von Richthofen went on to command Jagdstaffein 11. The jagdstaffeln (often abbreviated to jastas) were specialized fighter squadrons in the Luftstreitkräfte during World War I. By the spring of 1917 Jasta 11 was operating red painted Albatross bi-planes and Fokker Dr.1 tri-planes. Richthofen led his unit to unparalleled success. He peaked during the month of Bloody April in 1917. In that month alone he downed 22 British aircraft, including four in a single day; raising his tally to 52.
In June 1917, von Richthofen assumed command of the larger unit Jagdgeschwader controlling Jastas 4, 6, 10 and 11. These were highly mobile tactical units that could be sent on short notice to different parts of the front. For this reason they became known as the "Flying Circus," its name coming both from the unit's mobility and from their use of tents, trains and trailers. On April 21, 1918, with 80 victories to his credit, von Richthofen was fatally wounded over the River Somme. He managed to land his Fokker Dr.1 but died almost immediately. The "Red Baron" had come down in a sector of the line controlled by the Australians and it was they who gave him a funeral with full military honors.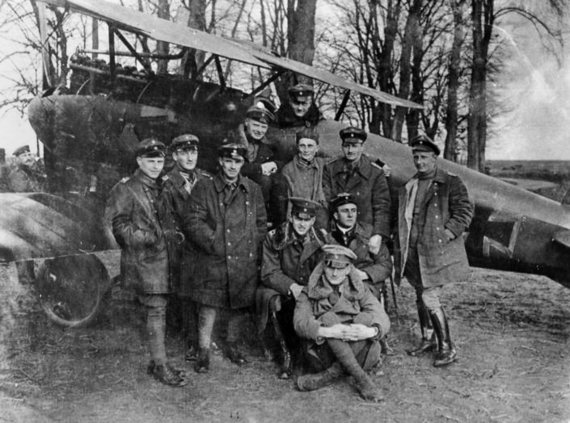 Manfred von Richthofen with other members of Jasta 11, 1917 as part of the Luftstreitkräfte
The French air service was highly innovative and developed two great fighter families of aircraft: the Spad and later the Nieuport. Captain Rene Fonck was the leading Allied ace with a score of 75 combat victories. By 1918, Fonck was flying the Spad S 13, a more powerful version of the capable Spad S 7 he had flown earlier. He survived the war unscathed. Unlike most aces, he was never wounded, and amazingly not a single enemy bullet ever hit his aircraft.
France's second highest ace, with 53 kills, was Captain Georges Guynemer. Descended from the French Bourbon kings, he was popular and a French national hero. Georges Guynemer was awarded the Medaille Militaire and two grades of the Legion d'Honneur. He had previously been shot down seven times and survived. Flying his Spad S 13 on September 11, 1917, Guynemer disappeared on a combat mission and was reported shot down behind enemy lines. His body was never recovered.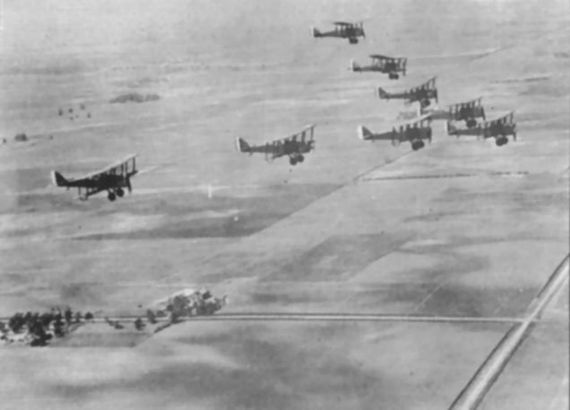 Formation Flying Over the Western Front
The British did not give a lot of publicity to their air aces, feeling that it was detrimental to the morale of other flyers. The highest scoring ace in the Royal Flying Corps was Major Edward Mannock with 73 air victories. He was killed in his S.E. 5A in July 1918 at the age of 31. The Canadian Lieutenant Colonel William "Billy" Bishop was the second highest ace with 72 kills. On April 1917, flying a Nieuport 17, Bishop survived an encounter with Manfred von Richthofen. Always leading "at the front of the pack," Bishop was awarded the Victoria Cross and survived the war.
During World War I the United States did not produce any of its own combat aircraft, relying instead on British and French machines to equip the squadrons of the Army Air Service. Captain Edward "Eddie" Rickenbacker was America's top ace with 26 air victories to his credit. Formerly a racing car driver and designer, Eddie Rickenbacker had great difficulty, at first, joining the Army Air Service because of his lack of formal schooling. He was finally accepted into the 94th Aero Squadron, the "Hat in the Ring" squadron, which he went on to command.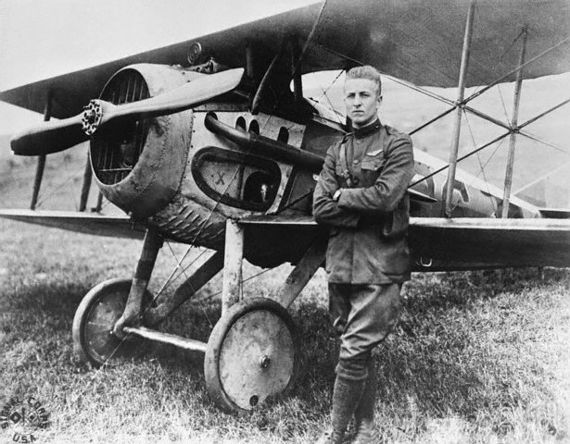 American Pilot Frank Luke
With 21 "kills," Second Lieutenant Frank Luke Jr. was America's second highest scoring ace. He was a crack shot but an undisciplined loner. Luke did shoot down aircraft but his specialty was balloon busting. Between the twelfth and twenty-ninth of September 1917, Luke was credited with shooting down fourteen German balloons and four airplanes. These eighteen victories, which Luke gained during just ten sorties in eight days, was a feat unsurpassed by any pilot during the war. On September 29, 1918, while attacking three more balloons, Luke was severely wounded. Despite his wounds, he landed his aircraft and fought off a German patrol with his pistol until he succumbed.
Ace fighter pilots were portrayed in the popular press as the 20th century equivalent of medieval knights. Their exploits may also be the origins of the concept of the "super hero". That term, which first became prominent in 1917, would go on to spawn a broad category of popular literature.
Calling all HuffPost superfans!
Sign up for membership to become a founding member and help shape HuffPost's next chapter